Analysis
MLB Free Agency: Best of the Rest During Spring Training
After a wild offseason of trades and signings, these are the best players remaining in free agency as spring training gets underway.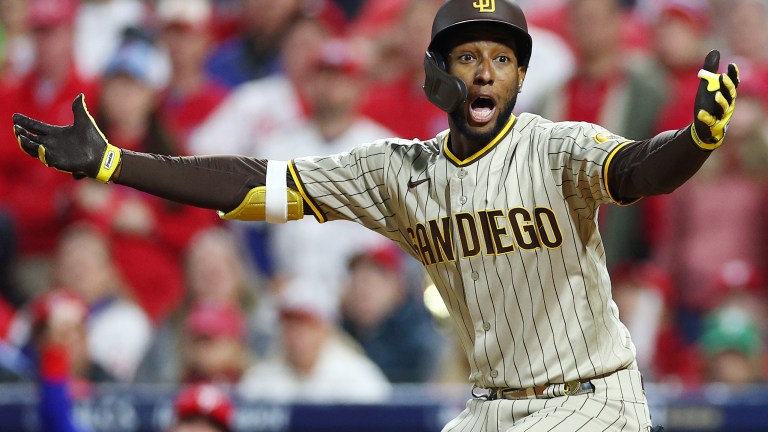 With spring training underway and the start of the regular season slowly coming into view, a wild offseason and another free agency period are slowly drawing to a close.
From the New York Mets spending wildly on free agents to Carlos Correa eventually returning to the Minnesota Twins, there were lots of highs and lows from the 2022-23 offseason. All that action will surely set the stage for a 2023 campaign that's going to look a lot different after a handful of rule changes were introduced.
Although spring games have already begun, there are a handful of players still looking for a place to play during the upcoming season. Let's take a quick look at some of those available players.
Jurickson Profar – OF
A product of Willemstad, Curaçao, outfielder Jurickson Profar is a free agent after spending the past three seasons with the San Diego Padres and opting out of his $7.5 million player option.
Through 345 games with the Padres, Profar put together a .244/.333/.375 slash line with 59 doubles, 26 home runs, and 116 RBI, along with a .707 OPS and a 103 OPS+. Defensively, Profar has recently split his time between 1B and the outfield, though he spent the entire 2022 season in left. He took the field 146 times, posting 2 DRS and sitting in the 9th percentile in OAA.
After posting 3.1 bWAR last year, Profar was reportedly looking for $10 million per season, which is now unlikely to happen this far into spring training. Profar is likely looking for a one-year "prove it" deal at this point. He is currently playing for the Kingdom of the Netherlands in the World Baseball Classic, which will hopefully help boost his chances of landing a deal once the tournament is over.
Fits: Kansas City Royals, Detroit Tigers
Gary Sánchez – C
With Jason Castro retiring, Gary Sánchez is one of the last remaining viable catching options on the open market.
Originally signed by the Yankees back in 2009, Sánchez spent parts of seven seasons with New York, putting forth a .804 OPS through 538 games. Last offseason, Sánchez and Gio Urshela were moved to the Minnesota Twins in exchange for Josh Donaldson, Isiah Kiner-Falefa, and Ben Rortvedt.
In his lone year with Minnesota, Sánchez struggled at the plate, posting a .205 batting average and an 89 OPS+ while striking out in 28.9% of his at-bats. Behind the plate, Sánchez sat in the 50th percentile in framing and the 79th percentile in pop time, throwing out 28% of would-be base stealers.
Sánchez can still get things done behind the plate, as evidenced by his 154 home runs dating back to 2016. Last season, his HardHit% and Barrel% both ranked in the 92nd percentile, but his strikeout numbers and low batting average were a serious concern, as usual. He is currently with the Dominican Republic at the World Baseball Classic and might be a good fit for a team looking for one year of a starting catcher who can DH as necessary.
Fits: Los Angeles Angels, San Francisco Giants
José Iglesias – SS
After 11 years in the big leagues, shortstop José Iglesias could potentially join his seventh franchise this season at 33 years of age. An All-Star back with the Tigers in 2015, Iglesias has moved around the past few seasons and spent the 2022 campaign with the Colorado Rockies, putting forth a solid campaign at the plate (.292/.328/.380 slash line with a .708 OPS).
While he doesn't hit for power (47 career home runs) or walk much, Iglesias doesn't strike out often either. He finished last season in the 96th percentile in K% while also sitting in the 4th percentile in HardHit% and in the 2nd percentile in BB%.
On the other side of the ball, Iglesias can still carry his own weight (50th percentile in OAA last season) and is currently one of the last remaining shortstops available in free agency.
The Cuban-born shortstop is not playing in the World Baseball Classic. After posting 1.2 bWAR last year, he could be an option for any team looking for depth on the left side of second base. Most notably, the Los Angeles Dodgers are going to be without shortstop Gavin Lux this season after he tore his ACL, so a fit between Iglesias and the Dodgers makes lots of sense should the team want additional depth outside of Miguel Rojas and potentially Chris Taylor.
Fits: Los Angeles Dodgers
Veteran Arms Available in Free Agency
Each offseason, there is always a list of veteran arms – both starters and relievers – looking for another opportunity heading into a new campaign. While a majority of this winter's free agent arms are already with new squads, a long list of veteran pitchers remain unsigned. This includes Mike Minor, Michael Pineda, Dylan Bundy, Chris Archer, Dallas Keuchel, Garrett Richards, Corey Knebel, and Archie Bradley (amongst many others).
At this point, many of the players above could look to head overseas to revitalize their careers or look into signing an MiLB deal. The Cubs expressed some interest in Minor this past week, while Pineda, Bundy, and Archer are the best starters available for any team that might want to add additional depth on the mound.