Analysis
MLB Best Bets Today: Predictions, Odds for Brewers vs. Cardinals, Dodgers vs. Diamondbacks, Blue Jays vs. Angels for May 29, 2022.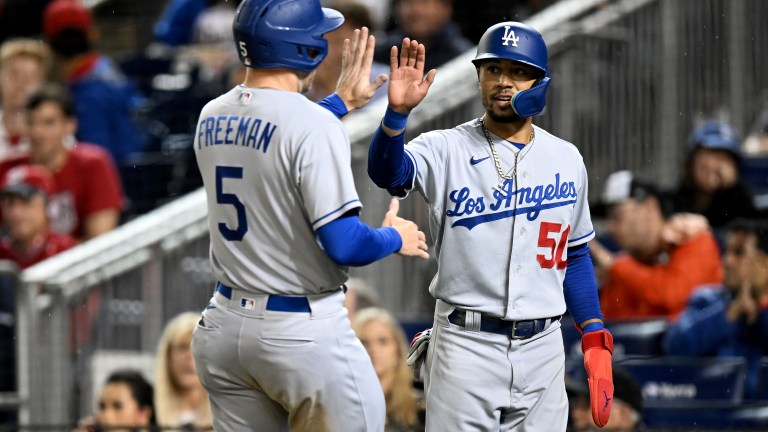 We gave out one pick, and it lost yesterday. I was confident the Giants bats would get to one of the worst pitchers in baseball, but instead, he shut them down. On top of that, the Reds ended up winning the game.
While we have not had a good week, I'm very optimistic about today's slate. I see a lot of value on some road teams today, so let's kick it in gear with three MLB Best Bets.
I will be dropping a pick for Sunday Night Baseball between the Mets and the Phillies. You'll find that pick on my Twitter.
2022 MLB Regular Season Record: 77-63 (55%) +8.91 units
Subscribe to my New Gambling/Fantasy Baseball Podcast: Not Gambling Advice.
Milwaukee Brewers @ St. Louis Cardinals: 2:10 PM EST
Corbin Burnes (RHP, Brewers) [2-2, 2.18 ERA, 0.87 WHIP, 57.2 IP, 67 K, 10 BB]
Miles Mikolas (RHP, Cardinals) [3-2, 1.96 ERA, 0.98 WHIP, 55 IP, 41 K, 11 BB]
This is the final game of a four-game set in St. Louis. The Brewers took the first game while the Cardinals won the next two, including an 8-3 win yesterday.
Corbin Burnes will toe the rubber for Milwaukee, and he's been incredible yet again this year. The 2021 NL CY Young award winner looks just as good as last year, and he should dominate a Cardinals lineup when the Brewers need him most.
Burnes' surface-level stats against the Cardinals last year were excellent. In four starts, he threw 22 innings while only allowing four earned runs.
The lineup is very similar to last year, except for Nolan Gorman. While the opponent average against Burnes is high at .293, the xBA versus the Cardinals' current roster is .209. Whenever the Cardinals muster hits against Burnes, it seems to be soft contact.
Miles Mikolas will get the ball for the Cardinals, and I believe he's due for regression. We've started to see it happen, as he's allowed three runs in each of his last two starts. His 3.30 xERA tells us that he's a solid pitcher, but the 1.96 ERA should normalize. I think he can turn in a fine start, but he won't be able to keep up with Burnes.
This will be the Brewers' second time this year seeing Mikolas, while the Cardinals haven't faced Burnes this year. That's an advantage for the Brewers. Both bullpens are solid, but the Brewers rank higher in ERA, FIP, and xFIP.
By the numbers, the Cardinals bullpen is due for significant regression. They have the 14th best bullpen ERA but the 29th ranked FIP and the 23rd ranked xFIP. I'm predicting a low-scoring game until the Brewers get a couple late against the Cardinals bullpen.
These games are competitive. Inter-divisional rivals more often than not split series, and with Burnes on the bump, I think the Brewers can get it done.
The Pick: Milwaukee Brewers ML (-135)
_______________
Los Angeles Dodgers @ Arizona Diamondbacks: 4:10 PM EST
Tyler Anderson: (LHP, Dodgers) [5-0, 3.30 ERA, 1.01 WHIP, 43.2 IP, 42 K, 5 BB]
Zach Davies: (RHP, Diamondbacks) [2-2, 4.81 ERA, 1.37 WHIP, 43 IP, 32 K, 17 BB]
This is the final game of a four-game set between inter-divisional foes. The Dodgers took the first three games of the series, including a 3-2 win yesterday.
I'll keep this one short and sweet because I'm taking a different type of bet than what we usually do. I'm tailing the Dodgers against Davies and the Arizona bullpen by taking the Dodgers team total.
Zach Davies is not a good pitcher. This will be the third time the Dodgers get to see him, and in two starts this year, he's thrown eight innings while allowing eight runs. The Dodgers are the best team in baseball by OPS and wRC+ against RHP.
Davies has also been bad lately. In his last two starts, he's allowed nine earned runs in less than eight innings.
Following Davies will be one of the worst bullpen units in the majors. They rank 27th in ERA, 28th in FIP, 30th in xFIP, and are one of two bullpen units with a negative fWAR.
The wind should be blowing out to right field today with high temperatures in Arizona. Ballparkpal calls for a 13% increase in runs and a 21% increase in extra-base hits. The Dodgers have a .510 xSLG against Davies.
We see a very high total of 9.5 today, and I lean towards the over. The only problem is I never know what version of this Arizona offense we will get. I also lean Dodgers spread, but what will we get from Arizona?
I see the Dodgers putting up six runs or more, so I'll take the Dodgers team total, as it's posted at 5.5. Let's not worry about those pesky Diamondbacks and put our eggs in the Dodgers basket.
The Pick: Los Angeles Dodgers Team Total Over 5.5 (-110)
________________
Toronto Blue Jays @ Los Angeles Angels 4:07 PM EST
Jose Berrios: (RHP, Blue Jays) [3-2, 4.75 ERA, 1.44 WHIP, 47.1 IP, 35 K, 13 BB]
Pablo Sandoval: (LHP, Angels) [3-1, 1.79 ERA, 1.17 WHIP, 40.1 IP, 38 K, 17 BB]
Toronto is looking to try and sweep the series on the road against the Angels this afternoon. All three games in the series have been close so far. Thursday's game resulted in a 6-3 final, and Friday and Saturday were decided by just one run (Friday: 4-3, Saturday: 6-5).
The Blue Jays were able to string together three eighth-inning runs against Angel's bullpen last night, which seems to be the theme of this series.
The main thing here is that the Jays have beaten up on left-handed pitching during this series. They plated three runs in the top of the eighth inning against the lefty Aaron Loup on Friday, and they strung together three straight singles to tie the game off the lefty on Thursday.
The Blue Jays face another left-handed starter today in Patrick Sandoval. I know he has been fantastic all season, but I still have my doubts that he is among the elite starting pitchers in the game today.
Sandoval's 3.05 xERA tells us the regression is coming, as does his 2.60 FIP and 3.78 xFIP. He's a solid pitcher, but I like what I've been seeing from these Blue Jays bats. I think they can muster a few runs against him through the early goings of this game.
Jose Berrios is slowly starting to look like himself again. While his overall numbers in May are not very good, he's posted back-to-back quality starts. He's given up just three earned runs in the past 13.1 innings.
This should be a low-scoring game through the first five innings, but I'd instead not take the under because I genuinely think the Blue Jays can score a few runs. I'm not expecting a shutout from Berrios, but if you give me a -125 line that can tie them after five innings, I will gladly take it.
The Pick: Toronto Blue Jays First 5 Innings +0.5 (-125)
________________
I've wrI'ven up a quick guide with critical terms and helpful tips.