Analysis
MLB Best Bets, Odds, Predictions for Braves vs. Giants, Cubs vs. Mets for September 12, 2022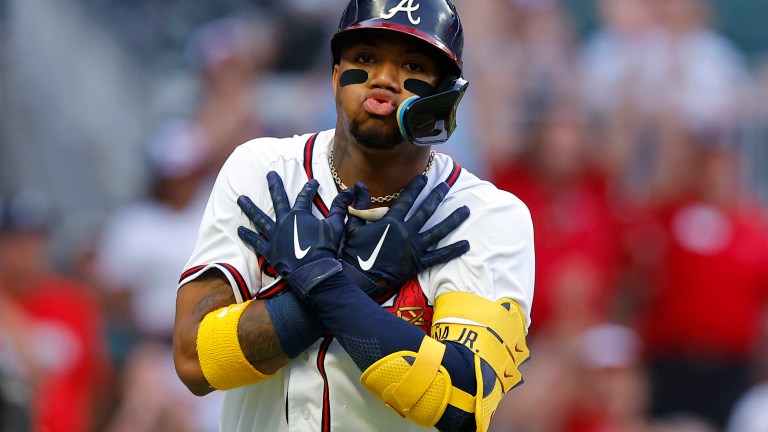 We are coming off a 2-1 day on Saturday which brought us to 9-3 on our MLB Best Bets. We had a tough week last week and rebounded in a great way.
We have now surpassed 35 units this year in MLB and I have two more picks to put us at 37 units. I also have a spread and a total pick for the Monday Night Football game as well as three props in the NFL & MLB that are available on the podcast.
2022 MLB Regular Season Record: 202-168 (55%) +35.09 Units
Atlanta Braves vs. San Francisco Giants: 9:45 pm EST
Spencer Strider (RHP, Braves) [10-4, 2.69 ERA, 0.97 WHIP, 120.2 IP, 183 K, 41 BB]
Alex Cobb (RHP, Giants) [4-5, 3.98 ERA, 1.18 WHIP, 92.2 IP, 80 K, 20 BB]
We head to San Francisco for the first game of a three-game set. It's currently unclear whether Spencer Strider or Kyle Wright is pitching, but most places say that Strider is. With this information, we will be all over the Braves today as the Giants fit the Sunday Night Baseball system.
That system is fading the offense off Sunday Night Baseball. The Giants' offense lately should be faded regardless, but the travel from Chicago to San Francisco makes it all the more enticing. You throw in Strider's dominance, and you have the makings of big Braves win.
Alex Cobb will most likely turn in a nice start. He's been fantastic at home this season, rocking a 2.57 ERA compared to a 5.16 ERA on the road. He's been one of the more unlucky pitchers in baseball this season, but the disparity between his xERA of 3.18 and his 3.98 ERA has gotten closer to what it once was. He should have a few nice starts on the road, but it'll be challenging for the Giants to plate any runs today.
The Braves have been a top 10 offense against right-handed pitching all season. They rank sixth in OPS over the full season, ninth in wRC+ over the last month, and tenth in wRC+ in the last two weeks. Any way you splice it, they have a well above-average offense.
Alex Cobb should give them troubles today, but the Giants bullpen behind him shouldn't. Camilo Doval, the best reliever in the bullpen, has thrown over 30 pitches in the last two days. Logan Webb gave them seven strong innings two days ago, but yesterday was a bullpen day for the team. They used most of their better arms, and now they'll have to piece it together in the later innings.
Unless Alex Cobb puts together some sort of incredible performance, the Braves should really dominate this one. I think the Braves have a clear advantage here. They have the better starter, offense, and bullpen and the only thing they are missing is the home-field advantage. That's even better when taking a run line, as we are guaranteed nine innings of hitting.
The Pick: Atlanta Braves -1.5 (-105)
1.05 Units to Win 1 Unit
________
Chicago Cubs vs. New York Mets: 7:10 pm EST
Javier Assad (RHP, Cubs) [0-1, 2.93 ERA, 1.43 WHIP, 15.1 IP, 12 K, 7 BB]
Chris Bassitt (RHP, Mets) [13-7, 3.24 ERA, 1.13 WHIP, 161.1 IP, 153 K, 41 BB]
We head to New York for the first game of a three-game set. The Mets have won four of their last five games and now find themselves 1.5 games above the Braves for the division lead. They'll need to keep their foot on the gas as that lead could evaporate in seconds as it did just a few days ago. Luckily for them, they'll face a Cubs team that fits in our Sunday Night Baseball system.
The system is simple, we fade the offense of the team coming off Sunday Night Baseball. It's a bit challenging to do so, as the team total line's for the Cubs are incredibly low and juiced towards the under. The best value I can find is taking the Met's spread, even though I prefer not to do that, especially with home teams.
I can see the path to victory in this one. The Mets are one of the best teams in baseball against right-handed pitching this year, and they'll face off against Javier Assad. Assad has enjoyed a nice start to the season, but he's due for a rough start.
Assad relies on three variations of a fastball; a sinker, cutter, and four-seam. He mixes in a curveball, slider, and changeup but doesn't have good command of any of them. None of these are real out-pitches which has contributed to a 17% strikeout rate combined with a 10% walk rate. His calling card is his ability to keep the ball on the ground, and if he's able to do that, he might be able to turn in a decent start.
The issue with the Cubs is the bullpen has been terrible. The addition of Hayden Wesneski has been great for them thus far, but he threw 3.2 innings yesterday so he won't be available. The pitchers that will pitch have contributed to one of the worst bullpens since the All-Star break in FIP and ERA.
The Mets have the third-best wRC+ against right-handed pitching over the last month and they are number one in the past two weeks. This offense should take care of business while the Cubs struggle to put up a couple of runs.
The Pick: New York Mets -1.5 (-130)
1.3 Units to Win 1 Unit
_________