Analysis
Power Ranking the Best Starting Rotations Among NL Contenders
The NL playoff field is anything but decided at this point, but with eight teams still in the race, who has the best postseason rotation?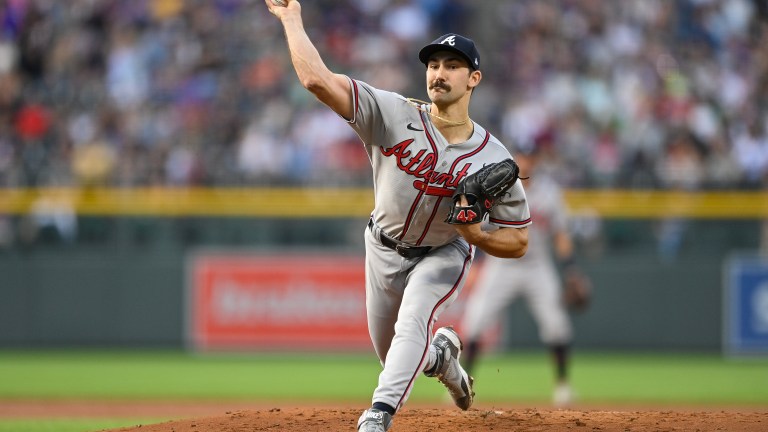 With so many teams still contending for a playoff spot in the National League, we still have no idea what the final playoff field will look like once the dust settles in a crazy Wild Card race. The division winners are all but decided, with the Atlanta Braves and Los Angeles Dodgers having already clinched and the Milwaukee Brewers set to very soon.
Meanwhile the Philadelphia Phillies have the best hold of a playoff spot, while the Arizona Diamondbacks, Chicago Cubs, Cincinnati Reds and Miami Marlins are all vying for those last two spots.
There is a lot of truth to the old maxim that pitching wins in October, and with the playoffs fast-approaching, it is time to dive in and rank the starting rotations of the contenders from the National League.
For the purposes of this exercise, contenders are defined as the top eight teams in the NL according to Fangraphs playoff percentage. I will be looking at both how the staff has performed over the course of the season, the strength of their top couple of starters, any injury concerns, and any potential "X-Factors" that could help them in the postseason.
No. 1 Milwaukee Brewers
Starting Rotation: Corbin Burnes, Brandon Woodruff, Freddy Peralta, Wade Miley, Colin Rea
The Milwaukee Brewers have ridden their rotation to a National League Central title, and that rotation has positioned them to make a deep run in the playoffs.
Corbin Burnes has anchored the rotation for the Brew Crew all season to the tune of a 3.56 ERA over 184 innings. The return of Burnes's co-ace Brandon Woodruff has been a massive addition for Milwaukee, as Woodruff has been absolutely lights out through his first 10 starts, posting a ridiculous 1.89 ERA.
Freddy Peralta has also had an incredible season, with a 3.71 ERA and an xERA of 3.22, indicating that not only has his success been legitimate, but that he has actually been better than his surface numbers suggest. Wade Miley has also turned in a solid season, and the veteran would likely take the ball as a fourth starter if needed come the postseason. All four of these starters have the pedigree and the stuff to take the ball and dominate in the playoffs, and the unit leads all of the NL contenders in ERA over the course of the season.
No. 2 Atlanta Braves
Starting Rotation: Spencer Strider, Max Fried, Charlie Morton, Bryce Elder
The Braves very nearly took the top spot in this list, with a trio of pitchers with postseason experience at the top of their rotation. Spencer Strider is one of the most dominant pitchers in baseball, and is the best strikeout pitcher in the game.
Like the Brewers, the Braves rotation was bolstered by the return of an ace, Max Fried, who has posted an impressive 2.64 ERA as he rounds himself into playoff shape.
Charlie Morton is as proven a postseason pitcher as a team could hope for, and is a more than capable third starter with his 3.66 ERA and ridiculous 9.5 HR/FB percentage, which is a significant number considering the importance of avoiding the "big blow" in the playoffs.
He would be followed by Bryce Elder, who despite some less-than-stellar underlying numbers has turned in an incredible season.
The rotation leads the NL in K/9, and is second amongst NL contenders in FIP and xFIP. The only separator between the Braves and the Brewers is the Brewers top-end starters have a better track record of working deep into games, which is invaluable in October.
No. 3 Philadelphia Phillies
Starting Rotation: Zach Wheeler, Aaron Nola, Ranger Suarez, Taijuan Walker, Michael Lorenzen,
The Phillies World Series run last year was thanks in large part to their rotation, and the core of that rotation is back this season and has Philadelphia poised for another deep run. The Phillies starters lead the National League in fWAR, and that is due to the three workhorses at the top of the rotation, Zach Wheeler, Aaron Nola, and Taijuan Walker.
Wheeler and Nola, who will likely take the ball in games one and two of the Phillies first playoff series, have each thrown 181 innings thus far, and both have sub four xERA and xFIP. With expected statistics this good, and their playoff experience from last season, these two are a formidable one-two punch.
Suarez was also on the team last year, and although his numbers are a bit more pedestrian this season, the left-hander certainly knows the intensity of playoff baseball and has proven that he can turn it on when the lights are brightest.
Walker was signed this offseason to be the Phillies No. 4 starter and he certainly did a great job bringing consistency to the starting rotation for the regular season. With that said, Walker certainly leaves something to be desired when it comes to handing him the ball for a playoff start.
Lorenzen, who was acquired at the trade deadline, has struggled a bit this season, but he and Christopher Sanchez provide valuable depth for the Phillies. Still, the lack of production after Nola and Wheeler lands the Phillies third on this list.
No. 4 Chicago Cubs
Starting Rotation: Justin Steele, Marcus Stroman, Kyle Hendricks, Jameson Taillon, Jordan Wicks
Should the Cubs get into the playoffs, their rotation will give them a chance to make a deep run. The Cubs are second amongst National League contenders in both fWAR and ERA. Justin Steele has emerged as the Cubs ace, and has been as good as anybody in the National League this season.
He sports an 3.00 ERA, and has thrown his way into the Cy Young conversation. He is followed by Marcus Stroman, who is turning in yet another stellar season. The veteran is sporting a 3.85 ERA, and his expected statistics suggest that that number should actually be lower.
His 0.56 HR/9 shows an incredible ability to keep the ball in the ballpark, and his nearly 58% ground ball rate shows he does not give up the big hit. The only issue with Stroman is that he missed six weeks due to hip and rib injuries and is currently working his way back by pitching in the Cubs bullpen.
Stroman has proven to be a weapon out of the pen for the Cubs, but he might not be able to get build all the way back up to take the ball out of the rotation, which they desperately need.
If not Stroman, Kyle Hendricks would likely start game two for the Cubs. The veteran right-hander has turned in similar production to Stroman, with a 3.77 ERA on the season. Hendricks is also the one holdover from the Cubs championship rotation back in 2016, so he has plenty of playoff experience.
While he may not have the most electric "stuff," Hendricks is the epitome of what it means to pitch; he tunnels extremely well, and his pinpoint command induces incredible amounts of weak contact. Jameson Taillon and Jordan Wicks round out a potential playoff rotation if Stroman isn't stretch out in time.
While the Cubs have work to do to make the playoffs, their rotation is certainly one to be reckoned with should they find themselves in October.
No. 5 Miami Marlins
Starting Rotation: Braxton Garrett, Jesus Luzardo, Sandy Alcantara, Eury Perez, Edward Cabrera, Johnny Cueto
Should the Marlins get into the playoffs, they have the potential to be one of the best rotations in the tournament.
Braxton Garrett could be their game one starter. With his 3.48 ERA and 3.41 FIP, Garrett has been remarkably consistent and has become a guy that you would want taking the mound to start a playoff series. He would likely be followed by Jesus Luzardo, whose 3.68 ERA and 3.67 FIP have cemented his status as one of the bright young pitching stars in baseball, and continues the long line of outstanding starting pitchers produced by the Marlins organization.
Now comes the question marks for Miami.
Reigning Cy Young Award winner Sandy Alcantara would presumably take the ball in game three, assuming he continues on his current rehab timeline. While Alcantara has not been the same pitcher this season that he was a year ago, he still has absolutely electric stuff and gives the Marlins a chance to win every time he takes the baseball.
The Marlins would then like to turn to 20-year-old phenom Eury Perez, who has lived up to every bit of hype surrounding him. The problem for Perez is that he is up against an innings limit, which could certainly see him shutdown before we even get to October.
Still, despite his innings limit, he has already accumulated 1.5 fWAR. His 10.80 K/9 leads the team, and if allowed to pitch he is as good of a fourth starter as anyone in the National League.
If Alcantara can't make it back to the rotation and Perez is shut down, the Marlins will instead have to rely on Edward Cabrera and Johnny Cueto to round out the back-half of their playoff rotation, which would leave a lot to be desired.
No. 6 Los Angeles Dodgers
Starting Rotation: Clayton Kershaw, Bobby Miller, Lance Lynn, Emmett Sheehan, Gavin Stone, Ryan Pepiot
The Dodgers have seen their pitching depth tested in a big way this season, as they have been without their ace Walker Buehler all year and have seen Dustin May and Tony Gonsolin each go down with injuries as well. Julio Urias is out of the picture due to a domestic violence incident, leaving the Dodgers with not much they can count on beyond Clayton Kershaw.
Luckily the Dodgers still have their longtime ace, as the lefty has been absolutely lights out this season with an incredible 2.52 ERA. Even in his age 35 season, Kershaw can match up with any pitcher in the game. Kershaw will be followed by a man 11 years younger, Bobby Miller.
Despite the age gap, Miller has been just as effective as Kershaw, as both have accumulated 2.2 fWAR over the course of the season. Despite his youth and inexperience, Miller is a pitcher I have confidence in taking the ball in a big game.
After the top two, though, the rotation is a bit more suspect.
Lance Lynn, although he has pitched better since getting traded to the Dodgers, has a 5.92 ERA and 5.53 FIP on the season. While there is no doubt that Lynn is the ultimate competitor, those numbers do not inspire confidence. Behind Lynn, the Dodgers have three young pitchers they could turn too.
Emmet Sheehan, Gavin Stone and Ryan Pepiot are all options to make playoff starts, and each have the good enough stuff that they could surprise in a postseason environment. With that said, none have really established themselves as quality big league starters this year.
No. 7 Arizona Diamondbacks
Starting Rotation: Zac Gallen, Merrill Kelly, Brandon Pfaadt, Zach Davies
Similar to the Dodgers, the Diamondbacks have a strong one-two punch at the top of their rotation with Zac Gallen and Merrill Kelly, but face a significant drop-off in production after their top two starters. Gallen has been phenomenal this season, pitching his way into Cy Young consideration with a dominant 3.60 ERA and 3.37 FIP.
Kelly has been equally as impressive, posting a 3.45 ERA and a 3.80 FIP.
While these two have yet to prove themselves in the playoffs, they have both posted good enough numbers over the course of the season that there is no doubt in my mind they will hold their own in October should the Diamondbacks make the playoffs.
After that, though, things become a bit more complicated.
Brandon Pfaadt and Zach Davies, who would likely be their game three and four starters (the Diamondbacks do not even have a fifth starter listed on their MLB.com depth chart) have struggled this season. Pfaadt, despite being a highly-regarded prospect, has pitched to a 5.85 ERA, and has often been hurt by the long ball. Zach Davies has also struggled, posting a 6.81 ERA.
If the Diamondbacks are going to make a run this October, it will require Pfaadt and Davies significantly stepping up their game.
No. 8 Cincinnati Reds
Starting Rotation: Andrew Abbott, Hunter Greene, Brandon Williamson, Ben Lively, Connor Phillips
The Cincinnati Reds have had 17 different pitchers start games for them over the course of the season, which has been the result of both inconsistent play and a slew of injuries. Nick Lodolo, Graham Ashcraft, Connor Overton, and Justin Dunn are all currently on the 60-IL.
While the Reds are near the bottom of nearly every statistical category in terms of starting pitching, Andrew Abbott has been a bright spot for the Reds, posting a 3.68 ERA across 102 innings. Should Cincinnati make it into the playoffs, he would likely be the team's game one starter, followed by young phenom Hunter Greene.
While Greene has a lot of arm talent, he has at times struggled to find the zone, posting a 3.98 BB/9. If the Reds are going to get in and make a run, Greene will have to dial in his command. Luckily, Greene is coming off his best start of the season, if not his career.
Pitching against the Minnesota Twins yesterday, Greene struck out 14 batters over seven innings pitched, walking one and giving up just one run. If the flamethrower has another big start and the Reds sneak into the dance, their is every chance he could take the ball first.
Brandon Williamson and Ben Lively round out the Reds projected playoff rotation, but both pitchers have struggled this season, posting a 4.56 and a 5.48 ERA, respectively.