Analysis
Manny Machado Rules and You're a Fool for Believing Otherwise
The All-Star third-basemen deserves to be talked about for reasons other than the misleading "no-hustle" narrative.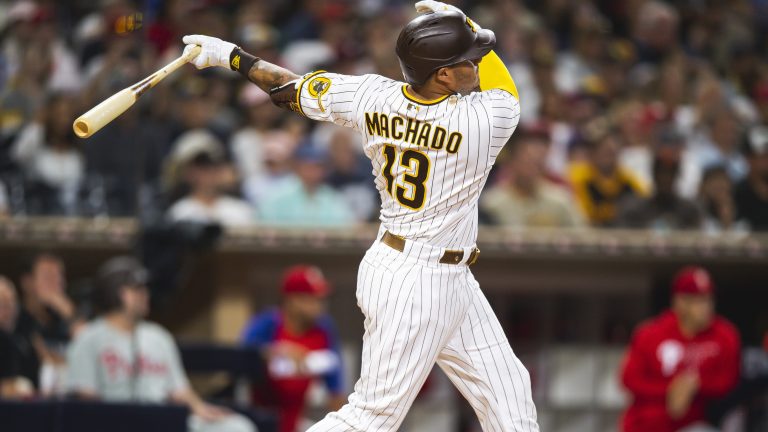 A few months ago — even before this beautiful website had launched — I found myself sitting on my annoyingly comfortable couch, spending a Sunday afternoon watching the Padres play the Rangers. It's a fine, regular game and I'm riding high after Joe Musgrove, a San Diego native, tossed the first no-hitter in the history of the Padres only a few days prior. Sports, every now and again, make you happy! But then, the narrative that can't seem to die — like it's the T-1000 from Terminator 2: Judgement Day — rears its ugly head as the broadcast announcers for the Rangers, who I don't feel deserve the honor of me actually googling their names, make a not-so-subtle comment about Manny Machado not hustling.
I should've known that the wholesomeness I was experiencing would come at a cost — only the most naive of souls leave their guards down when it comes to the realm of sports — but alas my carelessness may be a sign that I'm better suited to being a court jester for your typical Hot Take Emporium than a trustworthy expert. The Machado no-hustle narrative is ironically lazy in itself and lends itself better to those still using Wins and Losses as an appropriate statistic for measuring starting pitchers rather than, well, people who try (i.e. reading literally one article) to understand how things work.
So, it's about time I attempt to serve some modicum of justice for this putrid excuse for a planet and spread some Manny Machado propaganda. We need to discuss the fraudulent narrative and praise his greatness as an elite ballplayer. I'll go as far as saying that completing this puff piece makes it so I can truly die in peace; if the caps were to melt, or the meteor hurtles through our stratosphere, or the aliens enslave us within the next week of this I'd be perfectly content.
(EDITOR'S NOTE: While writing this, Javier watched as the Padres were no-hit by Tyler Gilbert, a pitcher making his first career start for the Arizona Diamondbacks, the worst team in baseball. That should explain why his tone is so…bitter.)
The "No Hustle" Myth
The genesis for most of the slander Machado receives revolves around the idea of his lack of hustle, yes, but it's also something he did help create. Back in 2018, when Machado was playing for the Dodgers following a mid-season trade from the Orioles, Machado infamously unleashed his "Johnny Hustle" comments to the sports world following the NLCS. It's a quote that, despite Machado being quite good in that specific series (.296/.367/.444 with 1 HR and 3 RBIs), lingered into the offseason and stuck with him thanks to our obsession with excoriating players that don't play like Russell Westbrook every single day as a sign of not caring.
Instead of the story being about the Dodgers coming up short in the postseason yet again — because another obsession of ours is forgetting that team sports are, indeed, team sports — Machado became the punching bag for a myriad of talk show pundits. I even recall hearing takes that teams shouldn't invest a lot into him given his "poor behaviour", or that his market wouldn't be nearly as fruitful or eager as other free agents. These takes are, and I mean this in the most condescending way possible, adorable in retrospect.
It was essentially the same ordeal as what happened with Robinso Cano during his stint with the Yankees and especially during his free-agency; the idea of athletes not caring is the most classic and useful of cannon fodder for media to rely on. But of course, it's all bogus. I spent a countless number of hours, staying up through the dead of night, in order to make this informative table that addresses Machado's hustle concerns and how it affects the team:
| | |
| --- | --- |
| 2015 | 162 Games |
| 2016 | 157 Games |
| 2017 | 156 Games |
| 2018 | 162 Games |
| 2019 | 156 Games |
| 2020 | 60 Games |
| 2021 | 116 Games |
The intensely complicated, advanced-analytics table you're looking at showcases the games played by Machado, each year, since 2015; that's right, Manny Machado simply doesn't miss (time). Out of a possible 989 games, Machado has only missed a grand-spanking total of 25 games. There is no player in baseball that has played in more games than him during this span of time. Take that for data.
Any serious baseball fan shouldn't care about Machado outrunning a ball that was absolutely rocketed to the left side of the infield. In fact, Machado tends to rocket baseballs at a fairly high frequency. This season he's currently got the 8th best hard hit percentage (54.2) amongst all players in baseball and the best among qualified 3rd-basemen (next best is Rafael Devers at (52.3). Plus, he's continued his excellent batting skills with having the 20th best barrel percentage (13.5) amongst all qualified players through the season so far. As far as I'm concerned, you've earned the right not to run like Speedy Gonzales to first base when all of these things are taken into account.
Machado deserves more credit for how he's able to consistently produce while also consistently staying on the field; even some of the greatest champions in the sport have struggled in this area. With such a beefy contract to live up to, combined with the fact that his relatively young age (28), his sustained production over the next decade could eventually earn him a shot at the Hall of Fame. While the statement that the best ability is availibility has become a bit of cliché, many seem hellbent on overlooking it in this particular player's case.
Hold on to your butts: Manny Machado is, indeed, good at baseball
But let's not stop there! Aside from the hustle narrative, Machado often gets short-changed on his general value as a player. It's possible this could be due to people simply being bored — or recency bias, as some so acutely describe it — or him not playing in the largest media market. Regardless, Machado is a genuine superstar. There are very few players that possess his kind of skill on both sides of the ball.
Since the start of the 2020 season Machado has the 8th highest WAR among qualified batters in all of baseball. People sometimes forget, given the weirdness of last year in general, how Machado has been living up to his massive contract. His walk/strikeout ratio is the 15th best in baseball during this same period, and only 2 of the players ahead of him (Freddie Freeman and Mookie Betts) have a higher WAR than his. It's that kind of mixture of plate discpline and power that make him so lethal; if you like using wRC+, he's got the 20th highest mark, 3rd amongst third basemen, in baseball since 2020.
And of course, you can't discount his abilities as a fielding machine. Since 2020, he ranks 12th in defensive runs saved (11) among all players and second at his position trailing only the inimitable Nolan Arenado. He hasn't been putting up the same level of defensive wizardry that netted him a gold glove in his Orioles days (in his second major league season, in 2013, he had 27 defensive runs saved which was 5th among ALL players in baseball) but the bottom line is it's exceedingly rare to find a player as efficient on both sides of the ball as Machado.
Perhaps another one of the reasons Machado's output isn't discussed as much is that while he's been having a great season, he hasn't had the kind of mythological, video-game stretch of destruction over a short period that generates fanfare. He hasn't had a home run stretch akin to Joey Votto or Kyle Schwarber, a single ungodly defensive play like Ke'Bryan Hayes, or a particularly profound moment hype like Tim Anderson's walk-off in the Field of Dreams game. But with still a month and a half of games remaining, and the Padres vying for a playoff spot, such a thing could absolutely come to pass.
Playing Devil's Advocate
Even in the midst of my sea of unrelenting wrath and bitterness, even I'm able to step back for a second and acknowledge that there are some fair criticisms for Manny Machado. His 2019 season, for one, wasn't exactly the kind of year that proves any naysayers wrong. While his first season with the Padres and with his brand new contract wasn't terrible — he did still manage 32 bombs — it did leave much to be desired. I came up with three poorly-researched stats for why this happened:
SAOY (Simply An Off Year)
LM (Lineup Morale; the Padres didn't really have a great lineup, as this was before they acquired guys like Trent Grisham, Tommy Pham, and Jake Cronenworth on top of Fernando Tatis Jr. struggling with injuries)
UUM (Ultimate Uniform Morale; the generic, lifeless blue uniforms didn't do anything for Machado. As evidenced by everything Machado has done since the switch to the brown and yellow, this may be the most important stat of all)
Aside from these totally serious data points, it should also be mentioned that Machado struggled uncharacteristically against offspeed pitches that season. He batted .135 against such pitches, which was the worst output he had against a pitch since 2015 when he hit .184 against breaking stuff. With such an underwhelming season, it might have exacerbated any bad feelings people had against him up to that point.
Those bad feelings people may have had stem mostly from Machado's penchant for being a dirty player, which is the second aspect that can't be ignored. Even if you're like me and don't view Machado's incident with Dustin Pedroia — a player whose city's fans love to pretend was as beloved nationally as he was in Boston — that still leaves plenty of other infamous moment like the one with Josh Donaldson and Jesus Aguilar. While his tenure in San Diego hasn't been nearly as badly tainted with this sort of reprehensible behviour, the past actions do matter. The narrative of Manny Machado not hustling is largely misleading, but the optics of him being a dirty player are, at the very least, something he needs to shed over time.
But despite all that, the bottom line remains the same: Manny Machado is a warlock. He's been one of the most consistently efficient stars in the game and most of the discourse surrounding his percieved laziness borders more on blaspehmous than befitting. Instead of focusing on his defects — which, if you couldn't tell, I've spent the last 1000 words dispelling — we should be enthusiastically gushing over what the next bunch of years are going to look like for him. The question of whether or not Manny Machado has the potential to be a hall-of-famer, rather than whether or not he doesn't hustle, is what baseball nerds should be centering their conversations around. Here's to hoping we, along with the Hot Take Media Gatekeepers, get there at some point in the most immediate future.