Analysis
Manny Machado Is Doing It All for the San Diego Padres
No one has gotten off to a better start this season than the Padres third baseman, who is looking like a favorite to win the NL MVP.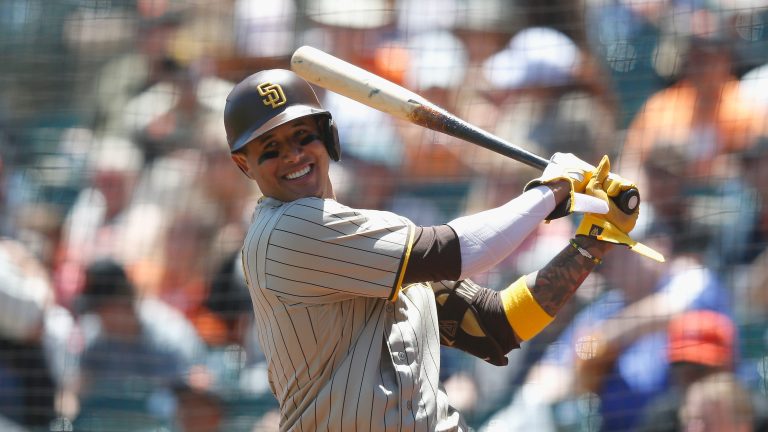 A decade is a long time. A lot can happen in 10 years, and a lot of things can change over that time period. When Manny Machado posted 109 wRC+ in his first year of a 10-year deal, people were quick to pass judgement. Critics claimed his 10-year, $300 million deal was a disaster, despite nine years left to pass fair judgement.
That criticism has been awfully quiet since, and is now quieter than ever in 2022. Machado has arguably been the best player in baseball, leading MLB in fWAR (3.4) and sitting fifth in wRC+ (189).
Machado has nearly matched his WAR from last season (4.2) and is halfway to a career-high. Though it is unlikely he continues at this pace for 162 games, a career year seems likely. It would nearly lock up his Hall of Fame case and cement the deal as a win for the Padres.
The amazing thing about what Machado is doing this year is that not much has changed. He is doing the same things that have always made him great and they are working in a big way. However, there is one slight difference in how he is attacking pitchers that is paying off in a big way.
Comfort With The Curve
Manny Machado is demolishing breaking balls and off-speed stuff this season. His .354 batting average against breaking balls is a career-high and up .080 from last year's .274 mark. He has been even better against off-speed pitches, hitting an even .400. That number is also a career-high and up over .100 points from .264 last year.
One of the main reasons that is happening is because Machado is being more selective with these kinds of pitches. His Whiff% on breaking balls is down over six points from 2021 to a career-low 26.9%. He is also swinging-and-missing at a career-low rate against off-speed pitches, down nearly 4% from last year to 21.9%.
Being more selective has unlocked never-before-seen power for Machado against off-speed stuff. He is slugging an astronomical .760 against off-speed, which is more than .200 points above that same number from 2021. That has helped put together another career-high, this time in overall slugging percentage at .590.
The amazing thing about what Machado is doing is he is not even really barreling up the baseball. He is in the 40th percentile in Barrel% so far this year, by far a career-low, but is in the 93rd percentile in Hard Hit%. He is still managing to hit the ball hard even if he does not get the barrel on it and is slugging like he never has before.
And it is not like Machado was not an elite power hitter already. He is one shy of 260 career homers and his .491 career SLG% is 16th among active players with at least 4000 PAs. He is an elite power hitter that is only becoming better with time as he enters his peak at 29. That is a scary thought for Major-League pitchers.
Shouldering The Load
When Fernando Tatis Jr. went down for the first few months of the season following a motorcycle accident, it was easy to question how the Padres would fare without him. Thanks to Manny Machado, they have been more than alright.
San Diego is 28-16 and sits just 1.5 games back of the Dodgers for first place in the NL West. They are 3.5 games up on the Giants in second place and are tied with the Brewers for the fourth-best record in baseball.
It is hard to say it is all Machado, but he is carrying the Padres offense. The Pads have just four players with over 100 wRC+ and their team 94 wRC+ is 19th in the league. The next highest fWAR on the team is Eric Hosmer's 1.4 and Jurickson Profar (who is hitting .212) is the only other player over 1.0. Without Machado the Padres are likely a bottom-five lineup and it would be hard to picture them contending.
It is not just what he is doing at the plate, either. Machado is anchoring a defense that is ninth in defensive runs saved (DRS) with gold-glove caliber defense at third. His 2 DRS is third among all third baseman behind (who else?) Nolan Arenado and Ke'Bryan Hayes.
It is easy to forget just how great a defender Machado really is. If it were not for facing off against Nolan Arenado every year, he would likely already have a stash of Gold Gloves. His 102 career DRS at third is third among active players at any position.
He is doing it all for the Padres right now and playing better than we have ever seen. He is the best player in the National League this season and the early favorite for NL MVP.
Cooperstown Calling?
Manny Machado is one of the great players of this generation and, somehow, is only 29. He is just now reaching his peak and still has at least a few years of his prime left in San Diego. Adding an MVP to his resume would be a huge boost to a Hall of Fame case that already looks tremendous.
Machado has 42.6 career fWAR, is a five-time All-Star, has two Gold Gloves and more than enough time to shoot for 3,000 hits and 500 homers. His fWAR is 13th among active players and pretty much every player in front of him either is a guarantee, has a case or is well on their way to Cooperstown.
He will be 30 on July 6th and has six years remaining on his deal with the Padres after 2022. For as great a career as he has had, he has never been this good and seems to only be getting better. If he can hold this peak for another year or two, he could have the Hall of Fame on lock before age 33. He is already on a good pace and an MVP season will only speed that up.
A decade is a long time and a lot of things can change. Just a few years ago, it may have seemed the Padres would regret giving Machado a 10-year deal. Now they are probably wishing they could have another decade of their franchise cornerstone.