Analysis
MLB Hitting WAR Leaders in an Injury Free World
In a world without injuries, which qualified players have been the most valuable in the eyes of WAR?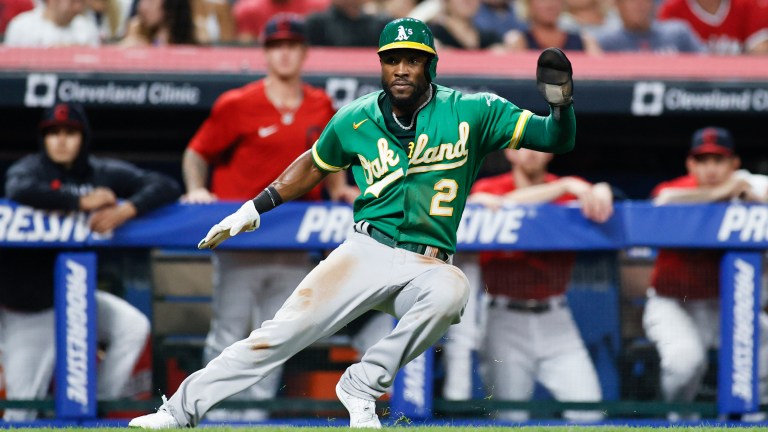 Let's explore the MLB WAR leaderboard if we lived in a world where every hitter is on the field for 162 games. Dansby Swanson, Whit Merrifield, and Marcus Semien are the only players to play every game this season, but imagine Cal Ripken, the Iron Man himself, cast a spell on the league giving them unlimited stamina. There are no injuries or rest days, even for catchers.
WAR Overview
Before we dive in, let's understand the ins and outs of WAR, or Wins Above Replacement. WAR is a cumulative statistic that measures player impact in the form of wins above a replacement level player at the same position. For this reason, it is harder for first basemen to accumulate WAR compared to other positions with more scarcity like shortstop and center field. There is less emphasis put on defense for first basemen, which makes it an easier position to play in the eyes of WAR.
For this analysis, I compiled WAR totals for players with more than 200 plate appearances. The full season WAR calculation for hitters are as follows:
Hitter Full Season WAR = (Current WAR/games played)*162
Although it's not realistic for every player to play all 162 games, creating a level playing field is great way to compare potential performance. Below are the top hitters in WAR per 162 games this season.
The Top Hitters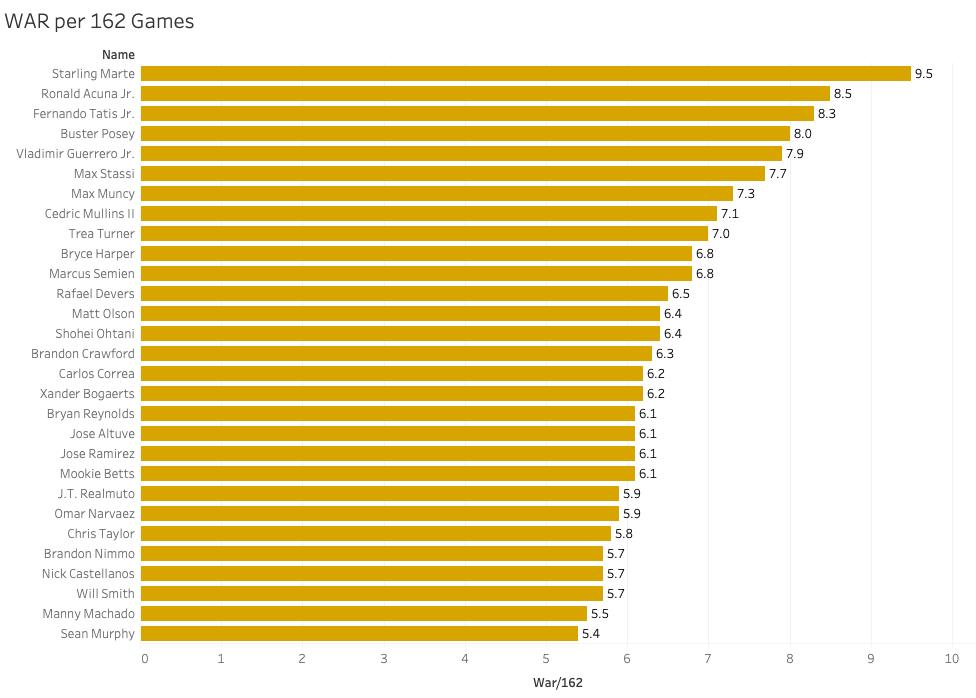 Starling Marte is Prime Jacoby Ellsbury
No, your eyes and brain are not deceiving you. Starling Marte really is leading baseball in WAR on a per game basis by a large margin. Over a full 162 game season, Starling Marte would be worth 9.5 WAR at his current pace. For reference, there have only been seven seasons at or above 9.5 WAR since 2010.
| | | | | |
| --- | --- | --- | --- | --- |
| Name | WAR | wRC+ | DEF | SB |
| 2021 Starling Marte | 9.5 | 148 | 12.9 | 64 |
| 2018 Mookie Betts | 10.4 | 185 | 11.6 | 30 |
| 2013 Mike Trout | 10.2 | 176 | 0.5 | 33 |
| 2012 Buster Posey | 10.1 | 164 | 36.5 | 1 |
| 2012 Mike Trout | 10.1 | 167 | 10.2 | 49 |
| 2016 Mike Trout | 9.7 | 170 | 4.3 | 30 |
| 2018 Mike Trout | 9.6 | 188 | 4.2 | 24 |
| 2011 Jacoby Ellsbury | 9.5 | 150 | 18.0 | 39 |
First, let's just admire the greatness of Mike Trout for a second. The future hall of famer, who will go down as the greatest player of this era, has compiled four seasons above 9.5 WAR in seven full seasons excluding 2020 and 2021 and to put Starling Marte's current 2021 pace in the same conversation is mind blowing.
Due to a rib injury back in April, Marte has been limited to 76 games, but when on the field his play has been borderline unimaginable. He has successfully stolen 31 bags in 34 attempts, which puts him on pace for 64 stolen bases in a full season. That would be tied with 2014 Dee Gordon for second most stolen bases in a season since 2010 and Marte's success rate of 91.2% ranks seventh since 2010(minimum 30 stolen bases). The importance that speed and stolen bases has on player impact cannot be understated. Seven of the top 10 in WAR/162 have more than 10 stolen bases and four have more than 20 stolen bags.
In the field, Marte makes his presence known. He is tied for fifth among outfielders with five outs above average and ranks sixth among outfielders in Fangraphs Defense statistic. He is truly a human highlight reel.
At the plate, Marte is getting on base 41% of the time while posting a career high walk rate and the 13th highest wRC+ in baseball (min. 300 PA). When the moment demands performance, Marte has answered the call. He ranks eighth among hitters in Win Probability Added and has done everything in his power for his new team to fall in love with him, including a walk-off dinger against the Rangers on August 7th.
All in all, The Marlins are probably wishing they had extended the star center fielder that compares to Jacoby Ellsbury in his prime, but the recent hot streak from Lewis Brinson and five years of control of Jesus Luzardo should put their worries at ease for now. Before entering free agency this off-season at the age of 33, Marte's focus is on pushing the A's into the playoffs and they need him more than ever after losing Ramon Laureano to a PED suspension.
The Importance of Catcher Defense
Six catchers find themselves in the top 29. It's apparent that catchers provide a large chunk of their value on defense and even a league average hitter like Omar Narvaez can be immensely valuable with elite defense and framing.
| | | | |
| --- | --- | --- | --- |
| Player | WAR | FRAA(Fielding Runs Above Average) | wRC+ |
| Buster Posey | 8.0 | 4.1 | 166 |
| Max Stassi | 7.7 | 7.3 | 139 |
| J.T. Realmuto | 5.9 | 8.9 | 119 |
| Omar Narvaez | 5.9 | 5.3 | 107 |
| Will Smith | 5.7 | 4.2 | 141 |
| Sean Murphy | 5.4 | 8.2 | 115 |
Like pitchers, catchers are involved in every pitch of the game. Their duties include framing balls into strikes, blocking wild pitches and fielding their position on bunts and tags. A good defensive catcher can be the difference between a bases loaded walk or a strikeout to end the inning, so the impact they have on wins and losses is huge. All catchers listed above, except for Max Stassi, play for playoff teams and three of the six play for first place teams. The best teams in baseball know that elite defensive catchers with even average hitting statistics give their team an advantage.
Max Stassi has emerged as a star in the making behind the dish. Once a top prospect for the Astros, he was traded to the Angels in 2019 for scraps and has established himself as the starter in Anaheim. In 306 plate appearances since 2020, Stassi has 17 home runs and a 140 wRC+, which ranks 24th in baseball. The Angels haven't made the playoffs since 2014 and are desperate for talent to surround Mike Trout, Shohei Ohtani and Anthony Rendon. Stassi could be the piece that takes the Angels to the next level on both sides of the ball.
Of course, the best ability is availability, which is why WAR per 162 is not a more streamlined stat. That being said, it is a fun barometer to even out the measurables across varying sample sizes.