Analysis
San Francisco Giants Offseason Outlook
After putting together the best record in baseball in 2021, the San Francisco Giants enter a pivotal offseason to prove their dominance was no fluke.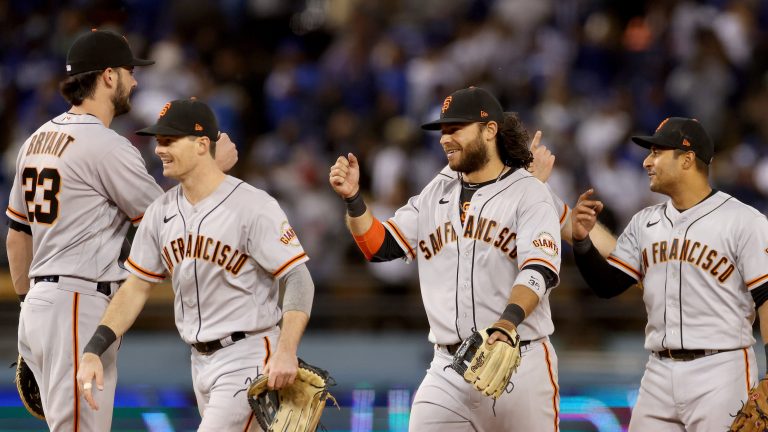 The San Francisco Giants enter the offseason after catching everybody by surprise with an epic 107-win season in 2021.
A team expected to be in rebuilding mode turned into a juggernaut and took the league by storm. However, they came up short of the ultimate prize in a five-game NLDS for the ages against the Dodgers.
The Giants early exit was more about a flaw in the postseason system than the team itself, but it still left a bad taste in their mouths. A team with a history of October success had to be disappointed no matter what the preseason expectations were.
Next season will bring a new reality to fans in the Bay Area: life without Buster Posey.
The man at the center of so much of that postseason success recently decided to hang up the chest protector. Posey retires as a Giant and baseball legend with 57.6 fWAR, an MVP, Rookie of the Year, seven All-Star appearances, four Silver Sluggers and three World Series rings. His next stop should be in Cooperstown in five years time.
Hats off to you, Buster Posey, the rare legend who chose to go out while still at his best.
The good news is the Giants have been grooming Posey's replacement for a few years now. Former number two overall pick Joey Bart should slide right into the catcher position on Opening Day 2022.
The Giants have a chance to build off last season's success with another good offseason. Before they think about who to add, they must consider who to retain as three of their best players from 2021 are free agents. Here is a look at what is in store for the San Francisco Giants this offseason.
Three Major Free Agents
The Giants enter this offseason with $87M on payroll and 14 players under contract, but $22M of that will come off the books with Posey's retirement. Based off their $197M payroll in 2021, they should have a ton of money to spend this offseason.
There are three main guys internally that they must make a decision on: Brandon Belt, Kris Bryant and Kevin Gausman. All three played a major role for the Giants last year and they should have strong interest in retaining each. Belt is a club legend, Bryant had a strong season and Gausman was their ace. While it may seem unrealistic to bring all three back, all of them should be no-brainers. The Giants have the money to splurge as they look to build another core capable of winning multiple championships.
Brandon Belt
Starting with Belt, the 33-year-old had 158 wRC+ in 97 games played and led the team with 29 home runs. The Giants felt his absence in the postseason as the offense struggled without him in the lineup. He has had first base locked down for years and has shown no signs of slowing down despite his age. Without Posey, he and Crawford remain the lone pieces left from the World Series core and it would feel wrong if he was not in San Francisco next year.
Crawford was given a two-year extension during the year, and it is curious why Belt was not as well. The Giants have given him the qualifying offer which would top his salary from last year of $17.2M. This year's qualifying offer is $18.4M, which would put him behind only Evan Longoria in earnings on the current roster.
It is hard to imagine Belt in any other uniform in his career and especially at that price tag. The qualifying offer would allow the Giants to give Belt a hefty pay day next year then work on an extension to keep him in the Bay for the rest of his career. After his past two seasons, the Giants would be making a huge mistake allowing Belt to walk.
Kris Bryant
When the Giants acquired Bryant it seemed like a natural fit. The 29-year-old recently became a father and wanted to get closer to home. The Giants are an organization with a family atmosphere and loving fanbase. The two seemed to be right for each other and the acquisition worked for both. Bryant got another shot in the postseason and the Giants got a versatile player that helped lead them to a division title.
Now the best part of the trade is that they are in prime position to sign Bryant long-term. He was very solid after coming over, hitting .262 with a .788 OPS and 113 wRC. He had a bit of a power outage down the stretch, but slugged .444 and hit seven homers in 212 plate appearances.
Perhaps his biggest value was his defensive versatility. Bryant played all over the diamond for the Giants, and started in four different spots in the NLDS alone. He did not even start in his natural position, third base, in that series!
The best part about Bryant's defensive versatility is it allows him and Evan Longoria to be in the same lineup. It also takes some pressure off Longoria to play everyday because they can spell him with the younger Bryant. He also helped solve their hole in center field as he played there a lot. He was their best player in the NLDS, going 8-18 (.471) with a homer.
Bryant's 123 wRC+ were the lowest of his career in a 162-game season, which shows the kind of player he is. For some reason people seem to believe Bryant is no longer a cornerstone type player, but he has 134 career wRC+ and 31.8 fWAR as he approaches 30. He still has a good chunk of his prime years ahead of him and the Giants could give themselves a franchise third baseman for a long time.
It seemed like when he went to the Bay it became a foregone conclusion he would remain. If the Giants are going to match their 2021 payroll, they will have plenty of money to spend. Bryant made $19.5M last year and will be looking to top that in a big way. It would not make a lot of sense for the Giants to have a player like Bryant in their back pocket and let him slip away.
Kevin Gausman
Kevin Gausman has had a revitalization in San Francisco and turning himself into a frontline starter. Gausman dazzled in the first half of the season and was a Cy Young candidate early on. However, he struggled a bit in the second half and fell out of contention. Still, he had a great year posting a 2.81 ERA, 1.04 WHIP and 227 strikeouts in 192 innings pitched.
The Giants need to start locking up some pitching and it should begin with Gausman. He found the formula that works for him in San Francisco and Oracle Park is certainly an attractive place to pitch. We will talk about the Giants need for pitching in a bit, but retaining Gausman should be a no-brainer.
He will likely command just a little bit more than the qualifying offer and is only 30 years old. They can give him a four or five year deal that would make sure the best years of his career are by the Bay. They desperately need to lock down some starting pitching so why let the ace walk?
Pitching, Pitching And More Pitching
This is why you do not let your ace walk: the Giants have one starting pitcher under team control for the 2022 season.
After they declined the $22 million team option on Johnny Cueto, only Logan Webb is left. Their other three—Gausman, Anthony DeSclafani and Alex Wood—are all free agents. Cueto had a 4.84 ERA in 26 starts and did not appear once in the NLDS. That $22 million would have been an insane price for him at this point in his career, and it seems his time in San Francisco is up.
Wood found himself again in 2021, pitching to a 3.83 ERA and 1.18 WHIP in 29 starts. A return on a cheap one or two year deal would make a lot of sense for both sides.
DeSclafani had a great year in San Francisco, posting a 3.17 ERA and 1.09 WHIP in 31 starts. He is yet another reclamation success story for the Giants organization and should still have plenty left at the tank entering his age-32 season. It would also make a lot of sense for him to return on a cheap deal, but it is possible he could cash in on a long-term deal with a team in desperate need of a starter.
It is no secret that the Giants love their reclamation projects. They enjoy scouring the market for depressed assets to sign to cheap deals before helping those players revitalize their careers. They did it with literally all of the starters on their staff this year and ended up with the second-best ERA in baseball. It is difficult to predict who that guy could be because you never know what the Giants' scouting department is cooking up.
The good news is there is a lot of veteran starting pitching to choose from. I do not see them going after one of the big names like Justin Verlander, Clayton Kershaw or Zack Greinke. Instead, names like James Paxton, Drew Smyly, Chris Archer and José Ureña jump out as guys the Giants could take a flier on to help revitalize their careers.
What About Starling Marte?
This would be very unlikely if the Giants bring back all three free agents discussed earlier, but why not go after Starling Marte?
They had interest in him at the trade deadline and could afford to bring in a guy that can lock down center field. He is also the best option available at the position on the open market by a wide margin.
The 33-year-old had a career-high 133 wRC+ and 5.4 WAR in 2021. He hit .310/.383/.458, with 12 homers and an .837 OPS. He led MLB with 47 stolen bases, swiping seven more bags than Whit Merrifield, who came in second with 40 steals. It is one of the great contract years in recent memory and Marte earned himself a ton of money with an incredible year. It is possible that Marte could get as much as $20M per year on the open market.
Marte made it clear to the Marlins what kind of contract he is looking for. He was willing to take less money in favor of a four-year deal to find a home for the end of his career. A four-year deal would bring Marte into his age-37 season and could very well be his final contract.
Marte does everything well and is an extremely fundamentally sound player. He would make a great fit for the Giants who played such solid baseball all year long. With no obvious long-term center fielder in the organization, it would almost be malpractice to not at least check in on the best one on the market.
After Marte, the center field market falls off very quickly. The most attractive name might be former Giant Kevin Pillar or longtime Phillie Odubel Herrera. The better outfield options lie in the corners with names like Nicholas Castellanos, Michael Conforto, Kyle Schwarber and Joc Pederson all available, but none of those guys really seem like great fits for San Francisco.
Marte is a perfect fit for them and would be a significant upgrade at a position of need. A value signing in the outfield should also interest San Francisco. The Giants love positional versatility so how about a guy like Jonathan Villar, who can play the outfield and all around the infield?
Villar had a 105 wRC+ and 2.1 WAR with the Mets last year. If the Giants could get him to cut down on the mistakes and play more fundamentally sound, they could have a really nice piece on their hands.
With a thin market for outfielders, the Giants really should be looking at the high-end players. They have the money to make a big splash and none would send more ripples than Marte. His salary could hypothetically replace Posey's on the books, so they could pull it off even with retaining their own free agents. The only question would be how willing the Giants are to go all-in after losing their franchise cornerstone.
2022 Outlook
The Giants have a great chance to run it back with a 107-win ball club. They also have an opening to improve that team and go for it all. Losing Posey is a crushing blow to the organization, but his replacement is ready to take over the reigns. A big part of how they recover from Posey's retirement rests on Joey Bart and how he fills those giant shoes left by a club legend. It will be good for the Giants to finally figure out what they have in the former second overall pick.
The Giants showed last year that rebuilding is not for them. They quickly turned around what everybody thought was a club in transition and made it a winner. That mindset is why it is hard to see them letting all three of their big-time free agents walk. They can set themselves up to once again be a contender every year by just keeping it all together. A few key additions (and a better NLDS matchup) could help them get back to the World Series once again.
They were undeniably the best team in the regular season and it would make no sense to let what they built fall apart. With Webb looking like the next great homegrown front-line starter in the Bay Area, they have a chance to create a nasty duo with him and Gausman. They also have a chance to give Belt and Crawford a second wind by creating a new core. If Bart reaches his potential, they could have another cornerstone behind the plate. Add in Bryant and Webb and there is the Posey, Bumgarner, Crawford, Belt of 10 years ago.
There are still improvements to make. Every team needs bullpen help and more lineup depth. The Giants offense struggled in the NLDS and they will need to be better to go further in 2022. The standard for the organization is to be in October and after the bar they just set, anything short of that would be a massive disappointment.
The Giants have a big offseason ahead of them as they look to show that their dominant season was no fluke. With one offseason they can show that they are once again here to stay for many years to come.