Analysis
Kevin Gausman Has Been a Revelation
Gausman's success story is one of the most overlooked in baseball, and it's another reminder of why the game can be so unpredictable.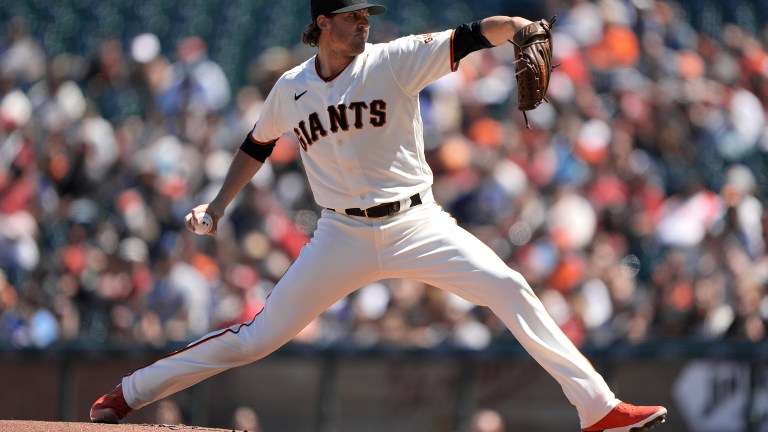 Aside from my beloved Padres' rise to the spotlight, or even the demi-god known as Shohei Ohtani, this 2021 season has had one particular storyline that's reminded me why I love sports: Kevin Gausman.
It's been a somewhat overlooked one — and bizarre one, given that he's a divisional rival — but thankfully I am here to enlighten all of you peasants that may be unfamiliar. Gausman has been amongst the most dominant pitchers in the entire game this season, owning the 2nd-best ERA in the majors (1.74) behind only Jacob deGrom (who, in fairness, may not be human), the 3rd best WHIP, the 6th highest outside-the-zone swing percentage, and the 5th highest WAR among starting pitchers (3.1). Plus, his splitter — which batters have only produced eight extra-base hits against since the beginning of 2020 — is perhaps one of the league's deadliest pitches.
But I'm not here to spew out stats; Gausman's story, at least to me, is a whole not more than that. The Giants, in general, have been a fantastic story, albeit one without the same flash and vigor of other teams. They're more like an island of misfit toys, really, and Gausman is at the center of that. He spent the majority of his career with the Baltimore Orioles (2013-2018) and, aside from occasional flirts with excellence, never exactly panned out. It's a shame, too, because not only were the Orioles one of the American League's premier teams during that time, but Gausman was a highly-touted prospect.
The talent was certainly there but, for whatever reason, it didn't quite pan out. I often get emotional when I think about players, as humans, and how much of a toll it must take on them when their careers — something they've worked their whole life for — are viewed as "disappointments". Gausman was yet another name in a long line of prospects that couldn't get it done, making some unremarkable pit stops in Atlanta and Cincinnati (combined 5.72 ERA in 2019 with both of them) before making his way to San Francisco.
Now, by Odin's Beard, Gausman has become a nearly unprecedented success story. I don't mean in the sense that there hasn't been a pitcher with his kind of numbers before, or even recently — believe me, the stat nerds will certainly be sure to let you know — but because of the aforementioned initial failures of his career combined with what little the Giants got him for. For 2020, he signed a meager 1-year contract worth 3.3 million, and then signed another 1-year deal for 2021 worth 18.9 million for this 2021 season. The former is especially remarkable, and lead me to thinking about what low-cost, short-term deals have worked out as well as Gausman's.

You could make the argument that D.J. LeMahieu's initial signing with the Yankees is up there, especially considering he was an MVP candidate during that stretch. It's close, sure, but I'm willing to chalk that up to teams being cheap or being silly enough to let a former all-star's one (1) down season prevent them from giving him another chance.
Aside from him, there's a motley crew of others like Charlie Morton, Rich Hill, Raul Ibanez (simply just for that insane hot streak in 2012), and maybe Taijuan Walker this year? It's exceedingly rare to find a specimen that checks all of these boxes of Unexpected Breakouts over the last decade, even. Oftentimes, such incredible values like Gausman's happen in trades involving young prospects, but not in this case (and I don't wanna hear about any of you old heads telling me about Bobby Rodeo Farmhouse Jr., or whatever, from 1954).
As human beings, we're attracted to good stories. A former prospect, many years removed from being hyped up as a future ace, and getting signed on a dime becoming a breakout star isn't the sexist story we've ever seen — there's no can't-miss personality in play here or tragic backstory that's separate from baseball. In fact, we'll probably see something like it again. But is there not beauty to finding sports stories like this. The ones that remind us how chaotic this whole thing can be? I'm well past the point in my life to feel ashamed of being romantic about things, even baseball. It doesn't even matter if Gausman is playing for my favorite team's divisional rival, sometimes you have to just there and appreciate what's in front of you.
Because even as much we pretend to quit being devoted to them, or as much as we try to pretend we know everything that's going to happen, stories like these are what keeps us coming back to sports.