Analysis
Clock is Ticking For Washington Nationals to Sign Juan Soto
The Washington Nationals have been in this position before, as they could lose another one of MLB's great young superstars to free agency.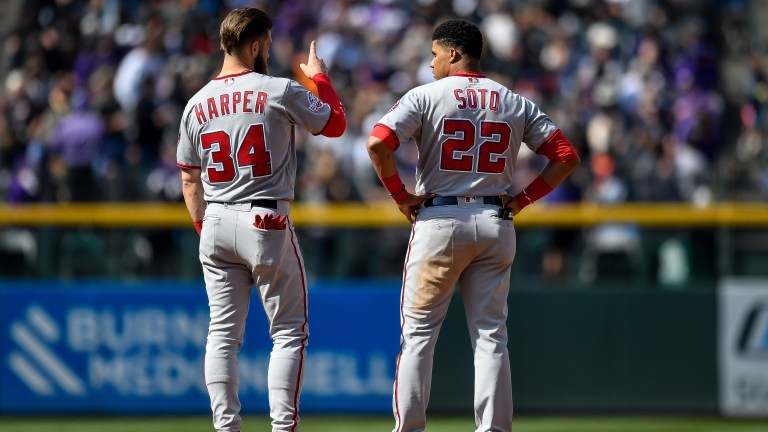 At this stage in his MLB career, Juan Soto has won two Silver Sluggers, one batting title and a World Series championship. Despite all the success he has achieved, Soto is just entering his prime as he turned 23 years old back in October.
After debuting at just 19 years old, Soto quickly established himself as one of the premier young talents in MLB, finishing as the runner-up to another superstar outfielder in Ronald Acuna Jr. in the Rookie of the Year voting back in 2018.
The service time clock begin ticking for Soto on May 20th, 2018, setting him up to hit free agency following the 2024 season. He can become a free agent at 26 years old.
The Washington Nationals are in an interesting predicament when it comes to their superstar, as they just entered a rebuild, yet only have a three-year window to win-now while their once-in-a-generation talent is still under team control.
Sure, the Nationals could simply sign Soto to an extension now, but how high will that number climb to get a deal done when this future MVP is sitting in the driver's seat?
If you think you have seen this movie before, it is because we all watched it play out with this exact franchise and a similar talent not even three full years ago.
Bryce Harper 2.0
Bryce Harper and Juan Soto once a shared an outfield, as the past crossed paths with the future in 2018. Similar to Soto, Harper had debuted for the Nationals at the ripe age of 19 years old back in 2012. When it comes to personal accolades, Harper ended up even more accomplished than Soto in the early stages of his career.
Harper and Soto have eerily similar numbers in their rookie campaigns, as they hit an identical 22 home runs, with Soto having one more extra-base hit than Harper at 48.
Soto's offensive numbers were actually better than Harper's overall, as he did his damage in 23 less games, posting a 146 wRC+ compared to Harper's 121 wRC+. Luckily for Harper, there wasn't an Acuna in his rookie class, so he took home the Rookie of the Year honors.
Harper was an All-Star in his first two seasons, an honor he would achieve in every season of his Nationals career except for in 2014, when he missed two months after tearing a ligament in his thumb early in April. Harper bounced back in a big way in 2015, winning his first MVP in his fourth season at just 22 years old.
Soto just completed his age-22 season, and again was tough-luck runner-up in an award race. Who won that NL MVP again?
Oh yeah, Bryce Harper himself took home the award, winning his second MVP as a member of the Philadelphia Phillies. Harper may be better at collecting hardware than Soto, but in the long-run he may not end up being the better player.
If we compare Harper's first MVP season to Soto's near-MVP season in 2021, the former certainly appears more impressive.
| | | | | | | |
| --- | --- | --- | --- | --- | --- | --- |
| Age-22 Season | Slash Line | HR | RBI | XBH | wRC+ | fWAR |
| Bryce Harper 2015: | .330/.460/.649 | 42 | 99 | 81 | 197 | 9.3 |
| Juan Soto 2021: | .313/.465/.534 | 29 | 95 | 51 | 163 | 6.6 |
Harper's 2015 MVP season is one of the greatest seasons in MLB history, leaving big shoes to fill for Soto. Still, Soto has maybe been a more consistent hitter in the early stages of his career, as his first four seasons compare more favorably to Harper's.
| | | | | | | | | |
| --- | --- | --- | --- | --- | --- | --- | --- | --- |
| First Four Seasons | G | PA | Slash Line | HR | RBI | XBH | wRC+ | fWAR |
| Bryce Harper: | 510 | 2143 | .289/.384/.517 | 97 | 248 | 210 | 147 | 19.4 |
| Juan Soto: | 464 | 2003 | .301/.432/.550 | 98 | 312 | 197 | 156 | 17.7 |
When trying to dissect the greatness of these two players, you really are splitting hairs. Still, this must be giving Nationals owner Ted Lerner and GM Mike Rizzo a big case of dé·jà vu.
We have all the same characters in play here. It is the same franchise with the same power structure. A young talent who has the potential to win MVP's any given season, hitting free agent at the exact same time in their career. And then you have the most interesting common thread of all, the same agent representing the Nationals superstar…
The Scott Boras Effect
Scott Boras may be one of the most polarizing figures in MLB, but one thing you can't say is that he is bad at his job. Boras is the best in the business at what he does and that is getting the biggest stars in the game the most money as possible.
Just this offseason, Boras capitalized on Steve Cohen's eagerness to win by getting Max Scherzer an unprecedented three-year, $130 million contract, setting a record with an AAV of $43.33 million.
Along with Scherzer, Boras negotiated contracts that combined for $500 million from the Texas Rangers for two of clients in Marcus Semien and Corey Seager. Seager's deal crossed the $300 million threshold at 10 years for $325 million, marking the third time a Boras client has eclipsed that mark.
The three largest free agent contracts in MLB history all belong to Boras clients, with Harper still owning the mountaintop with his guaranteed $330 million deal.
Bryce Harper: 13-year, $330 million (2019-2031)
Corey Seager: 10-year, $325 million (2022-2031)
Gerrit Cole: 9-year, $324 million (2020-2028)
Manny Machado: 10-year, $300 million (2019-2028)
Alex Rodriguez: 10-year, $275 million (2008-2017)
Alex Rodriguez: 10-year, $252 million (2001-2010)
Anthony Rendon: 7-year, $245 million (2020-2026)
Stephen Strasburg: 7-year, $245 million (2020-2026)
Albert Pujols: 10-year, $240 million (2012-2021)
Robinson Cano: 10-year, $240 million (2014-2023)
Boras clients own seven of the top-10 largest contracts in MLB history, with Manny Machado, Albert Pujols and Robinson Cano being the only players in the group that were not represented by the super-agent.
The game plan for Boras' top clients has always been the same. Earn as much as you can through the arbitration process, but make sure you find your way to free agency. Once these superstars enter the open market, Boras can play all 30 of the league owners against one another to find the teams most desperate to win-now who are willing to hand out record-breaking deals.
When Boras looks at Juan Soto, a player with plate discipline reminiscent of former greats like Barry Bonds, he undoubtedly sees his next ticket at setting a new standard for player contracts. Soto could win the next three MVPs before hitting free agency for all we all know, that is just how gifted he is.
If the Nationals want to even broach the idea of a contract extension, they will have to venture into waters we have never seen before when it comes to a player's mega-deal. The conversation starts at $400 million and could seriously end up at a place we have never seen before: A player earning a half a billion dollar contract.
Half a Billion Dollar Man
Scott Boras is always out to set a new precedent when it comes to his player's contracts. There is a reason why Alex Rodriguez's second 10-year contract came in at $252 million, instead of just at a still record-setting $250 million. It has long been reported that Boras wanted $252 million for A-Rod, because it was twice as much as Kevin Garnett's then record-setting $126 million deal with the Timberwolves in the NBA.
Mike Trout currently holds the record for the largest contract extension in MLB history, with the $426.5 million deal he inked with the Angels back in 2019. You can imagine that the starting point on a Soto extension is at least $427 million, because it always has to be more than the last guy.
For Boras, Soto is the perfect client. He is a remarkable talent that can test free agency at an age where a 13, 14, or even 15-year contract is not out of the question. Right now, Soto and the Nationals could come to terms on a 15-year extension that dwarfs the 12-year deal Trout signed and it could still be considering a good deal for Washington.
A 15-year contract would keep Soto in a Nationals uniform for his age-23 through age-37 seasons if a deal got done this offseason. If the AAV on that contract was $35 million, Soto would be looking at contract that totaled out at a whopping $525 million.
Is Ted Lerner really ready to pony up that kind of cash now that he already has a Commissioner's Trophy squared away in his office?
If not, the Nationals should probably be looking to do the unthinkable, which is trade Soto now, instead of waiting until he hits free agency and losing him for nothing but a comp pick like they did with Harper in 2019.
Unless the Nationals think they can catch lightening in the bottle for a third time and they have another 19-year-old prodigy up their sleeves, this situation with Soto is likely to define the next decade of baseball in D.C.
Washington can't realistically expect to contend in 2022, leaving just two more years to maximize their window with Soto. They can present the mega-deal now, hang onto Soto for the better part of the next two decades and extend a real championship window. If they aren't willing to do that, they have to seriously consider starting over from scratch once again.
At the end of the day, Soto and Boras have all the leverage here, putting the Nationals under an immense amount of pressure to not screw this up. If you ask for my humble opinion on the matter, the answer is simple.
Pay the man now because the price will just keep climbing as that swing (and Soto shuffle) is worth every damn penny.