News
Josh Naylor Unlikely to Play for Team Canada at WBC
Naylor spoke to reporters about why he might miss out on representing his country in the World Baseball Classic this March.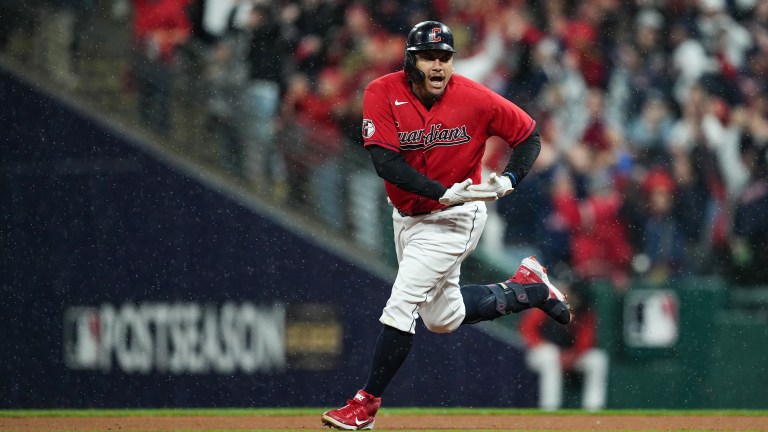 With the World Baseball Classic roughly a month and a half away, the 20 teams involved in the tournament are starting to narrow down their preliminary rosters. Prospective players are also starting to commit to their respective nations if they haven't done so already, like Shohei Ohtani (Japan) and Vladimir Guerrero Jr. (Dominican Republic). On the flip side, some players are backing out of the tournament and choosing not to play, citing reasons like previous injuries or joining a new team in the offseason.
Notable players to have opted out of the tournament include Ronald Acuña Jr. (Venezuela), Nick Martinez (USA), and Trey Mancini (Italy), amongst others.
Another player who will possibly miss the World Baseball Classic is Cleveland Guardians 1B/OF Josh Naylor, who would be suiting up for Team Canada alongside his brother Bo should he choose to play.
Josh Naylor Likely to Skip the World Baseball Classic
Speaking to reporters at Guards Fest this past weekend, Naylor cited previous injuries and trying to play a full season for the Guardians as his main reasons not to compete in the WBC, "Probably not… I'm still trying to make sure I'm fully recovered for this season. I would absolutely love to play for Canada, but I don't know if it's a smart decision on my end to do it. God forbid if I get hurt or I tweak something during that tournament. It's not going to be helpful for the Guardians. I want to play a full season again with this team."
Losing Naylor will be a pretty big blow to the Canadian squad, who would have likely used Naylor in either one of the corner outfield spots or as the designated hitter. Freddie Freeman has already committed to the team and will presumably get most of the reps at first base.
Naylor, who spent a good portion of 2021 and the start of 2022 on the IL after a horrific ankle injury, owns a career .253/.312/.417 slash line with 36 home runs, 138 RBI, and a .728 OPS through 325 games. Through four seasons in the MLB, Naylor owns a 2.0 bWAR, with 1.8 of that coming last season alone. The lefty batter was on the 2017 WBC roster for Team Canada but only had two at-bats, striking out in one. The Canadians failed to produce runs throughout the tournament, finishing with an 0-3 record.
Looking at the Naylor Family Tree
Josh's brother Bo is also in the Guardians organization. He's one of the club's top prospects, and he made his MLB debut this past October. Their youngest brother Myles is in his last year of high school with a commitment to Texas Tech. He was recently featured on MLB.com's Top 100 draft list heading into 2023. Both Naylor's could potentially find themselves on Team Canada's roster for the upcoming tournament.
While the roster has not officially been released, the nation is getting commitments from some of its top players, including Freeman, Guardians RHP Cal Quantrill, Mets prospect RHP Calvin Ziegler, Brewers INF Abraham Toro, and Cardinals OF Tyler O'Neill.