Analysis
Dodgers Could Break MLB All-Time Regular Season Win Record
The Los Angeles Dodgers continue to be the hottest and best team in all of baseball, putting themselves in line to make MLB history in 2022.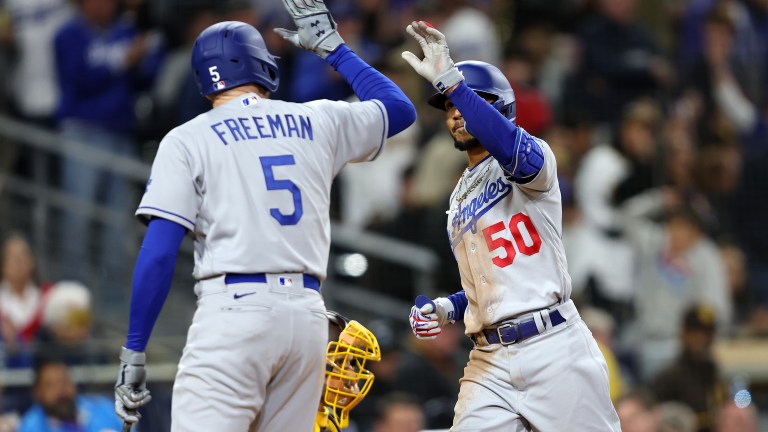 The Los Angeles Dodgers continue to be on an absolute tear in the 2022 season. LA is ripping through nearly every opponent on their schedule and the talk of a World Series title heading to Los Angeles is becoming progressively more realistic every single day.
The Dodgers are 18-4 in the month of August and have lost only one series since the All-Star break (to the Nationals, of all teams). LA features a .699 winning percentage, a pace which would be good for a franchise record 113-win season. The all-time regular season record is held by the 2001 Seattle Mariners with 116 wins and, somehow, LA feels like they are within reach.
The Dodgers have 24 games remaining on the season against teams under .500, including a six-game series to close out the regular season at home against the Colorado Rockies. With an 86-37 record, LA has 39 games remaining, meaning only 15 games will be against teams remotely near their caliber of play.
In other words, they have a real chance at reaching the record. What may be even more favorable for LA is that nine of those games are against a Padres team that they have absolutely dominated this season. LA has a three-game stretch on the road in New York against the Mets August 30th through September 1st that should be a playoff atmosphere. The Dodgers will also host a Cardinals team they took two games of three from in July at Busch Stadium. Still, the Dodgers are primed to make a run at the record.
It is worth investigating exactly how Los Angeles has gotten to this point of being a nearly unstoppable force. For starters, their top three hitters in their lineup have helped set them up beautifully for the league lead in OPS (.790), OBP (.338), SLG (.452), Runs (664), and RBI's (632).
Mookie Betts, Trea Turner, and Freddie Freeman have combined this season for 429 hits, 100 doubles, 61 home runs, 226 RBI's, and 41 stolen bases. If you average out those numbers, you get a player with 143 hits, 33 doubles, 20 homers, 75 RBI's, and 13 stolen bases to go with a .304 average. That'll play. While LA ranks first in five crucial offensive categories, their only minor flaw offensively is striking out.
The Dodgers have struck out 1,021 times. That total is ranked 12th in the league, so even at their worst LA is still ranking above average in the category. Will Smith deserves some love for some of the assistance outside of the top three hitters, posting a .270/.355/.470 line with 21 doubles, 18 home runs, and 73 RBI's hitting in the cleanup spot.
The re-arrival of Max Muncy over the last month (.267/.353/.581 with seven home runs) has been a welcome impact to the lineup. The acquisition of Trayce Thompson may go down as the most underrated move LA has made this season, with Thompson posting a .271/.362/.504 slash line in his limited playing time. The offense from top-to-bottom has produced at an elite clip and is a key reason for their success.
The pitching for the Dodgers continues to surpass expectations that anyone had for what many would have believed to be a depleted rotation. In addition to Trevor Bauer's ban, Walker Buehler, Clayton Kershaw, Andrew Heaney, and Dustin May have missed much of the 2022 season.
While Julio Urias has been delivering just as expected (13-7, 2.36 ERA, 0.96 WHIP, 14 Quality Starts), nobody anticipated the production the Dodgers have gotten from Tony Gonsolin (16-1, 2.10 ERA, 0.86 WHIP, 11 Quality Starts) and Tyler Anderson (13-2, 2.73 ERA, 1.02 WHIP, 13 Quality Starts).
While Buehler is out for the remainder of the 2022 season and all of 2023 due to Tommy John surgery, the trio of Dodgers starters have stepped up tremendously in his absence. The Dodgers lead the league with a miniscule 2.85 ERA and 1.05 WHIP, allowing the least amount of hits, runs, and earned runs.
The league is hitting .211 against LA pitching, the worst average against any team in the game. While Craig Kimbrel's performance in the 9th inning may be the one glaring weakness on the team, the Dodgers are expecting Blake Treinen to return soon following his current rehab assignment. Expect Treinen to be a force in the 9th inning or to be used in the highest leverage situations to keep that ERA at an elite figure.
The scariest thing about this Dodgers team is that they are not going away anytime soon. We are witnessing a team that may just be in the beginning stages of a true dynasty, as prospects such as Diego Cartaya, Bobby Miller, Miguel Vargas, Michael Busch, Andy Pages, Ryan Pepiot, and Gavin Stone continue to search for an everyday role on the team.
One day, Justin Turner will retire from baseball and probably manage a team because he'd be phenomenal. Turner's role will turn over to Vargas. Miller and Pepiot seem primed to take over spots in the rotation when Kershaw and Anderson exit. Busch may be the heir at second base if Gavin Lux shifts to shortstop with the potential absence of Trea Turner.
Diego Cartaya could take over at catcher, allowing Will Smith to DH or learn first and third base. Andy Pages is just another power bat LA can slot in the outfield, especially if they decide to move on from Cody Bellinger. The point is this: While LA is on a record-pace in 2022, their winning timeline is going to last for a very long time. In 10 years from now, we may be looking back on a team that comes off a decade of dominance, with 2020 and 2022 being the foundation of their success. If your team faces the Dodgers in October, all I can say is that I'm sorry.