Analysis
José Berríos Really Turned Things Around in May
After struggling last season, Blue Jays right-hander José Berríos has found a groove over his past ten starts.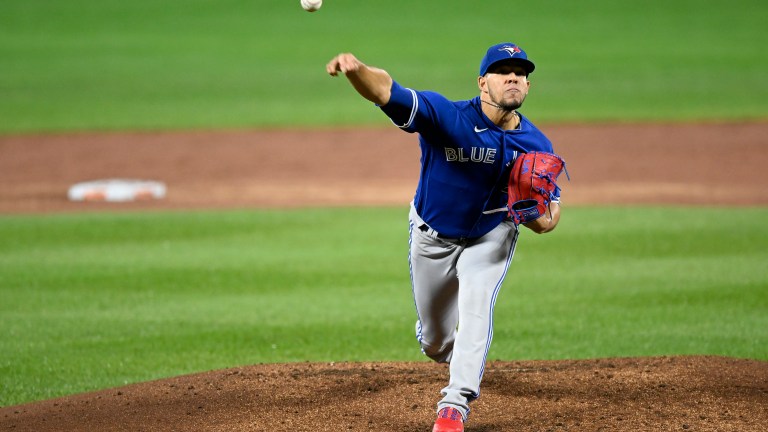 Last season, the Blue Jays saw a side of José Berríos that was a far cry from the consistent starter he was during his tenure with the Twins. In 2022, Berríos posted a 5.23 ERA, the highest among qualified starters, and allowed an AL-leading 199 hits and 100 earned runs that saw him fall out of favor amongst the Jays' starting corps.
While his first two starts this year were a continuation of his run in 2022 (12 earned runs through 9 2/3), the Puerto Rican right-hander has really turned things around over his last ten starts.
Through 61.2, Berríos has put up a 2.48 ERA and a 3.80 FIP while striking out 56 batters. He has allowed just 17 earned runs with five home runs during that time, and while his command has been a bit shaky (19 walks), he has limited the damage and his opponents' bats to just a .230 average and a .652 OPS. Since April 14, Berríos has had just one start in which he allowed five runs, whereas the rest of his outings have produced three or fewer, including two outings with zero allowed.
As well, Berríos has been doing this against some strong teams, including the Atlanta Braves, the Houston Astros, the New York Yankees, and the Tampa Bay Rays (twice).
José Berríos – Past Ten Starts
While his Baseball Savant percentiles sit in the middle of the pack in most pitching categories, Berríos has really limited hard-hit balls (87th percentile) and kept his average exit velocity down (80th percentile). He ranks first among Blue Jays starters with an 87.1 MPH average exit velocity and 31.7 hard-hit rate.
Last season, Berríos used his four-seam fastball at a 27.9% clip, and it was getting tagged for a .349 average and a +17 run value, making it one of his worst pitches, despite being the second most used pitch in his arsenal. This season, his sinker has become his second most used pitch, and Berríos is seeing improved results; both of his fastballs sit at a -1 run value (although his four-seam still has a .321 AVG against).
His best pitch is his slurve, which generates a 30.3 K%, misses bats at a 33.6% whiff rate, and keeps opponents off the basepaths with a .181 average as well. Throwing more sinkers (and fewer four-seams) behind his go-to slurve has really helped Berríos turn things around through these past ten starts.
At a time when the Blue Jays are seeing Alek Manoah struggle, and with little starting depth in Triple-A, it is highly beneficial for Toronto to have Berríos pitch as well as he has. After all, this club is looking for their starters to go deep and pitch well in a stacked AL East division, with postseason aspirations at an all-time high.