Analysis
Blue Jays Looking For José Berríos to Bounce Back in 2023
After struggling in 2022, Blue Jays starter José Berríos is one player the club will be counting on to bounce back this season.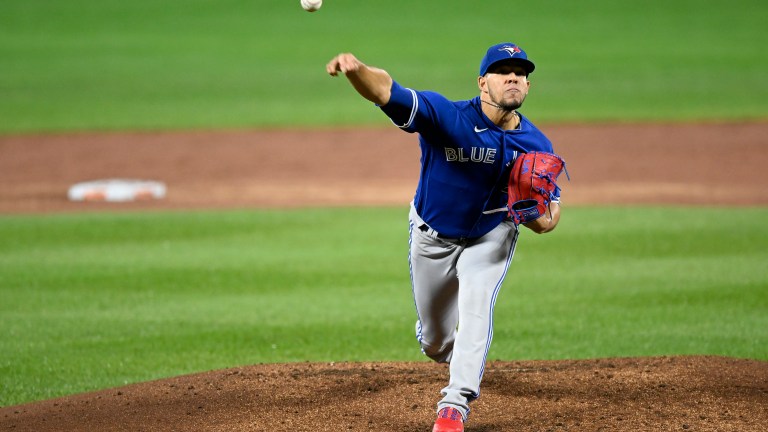 Last season was one that Toronto Blue Jays right-hander José Berríos would probably like to forget.
Acquired by the Blue Jays at the 2021 trade deadline and fresh off a seven-year extension worth $131 million, the Puerto Rican product posted the highest ERA total amongst eligible starting pitchers (5.23), while also sitting below the 15th percentile mark in Avg Exit Velocity (13th), HardHit% (11th), xBA (7th), and xSLG (5th).
Berríos also led the American League in hits (199) and earned runs (100) allowed and finished the season with a 74 ERA+, the lowest mark in his career other than his rookie season back in 2016 (14 starts and a 53 ERA+).
It was his worst season since becoming a full-time Major League pitcher with the Twins back in 2017 but when you peel back the overall numbers, there was still lots to like about Berríos 2022 campaign.
Blue Jays José Berríos Struggles in 2022
The right-hander amassed 17 quality starts last season, the same number as his 2021 campaign which was split between the Twins and Blue Jays that saw Berríos throw to a collective 3.52 ERA. The Jays' hurler pitched 16 games where he allowed two runs or fewer while going at least 5.0 innings while also collecting a 4.55 FIP, with some bad defensive luck contributing to the earned runs. Berríos also continued to stay healthy, appearing in 32 games and pitching 6.0+ innings on 17 occasions last season.
On the flip side, when Berríos was having an off night, it was downright horrendous. He had six contests where he allowed six or more earned runs, with two outings where he allowed eight runs apiece, with a 10.4 H/9 and a 1.5 HR/9, giving up a career-high 29 home runs.
While he tinkered with his delivery and approach on the mound, Berríos's fastball and sinker were left over the plate too much, with opponents crafting a .349 and a .317 batting average respectively.
Looking ahead to the upcoming season, the Blue Jays lost Ross Stripling to free agency this past offseason but gained a veteran arm in Chris Bassitt. This now means the club has three supplemental arms around Berríos, as well as a wild card in Yusei Kikuchi, who also struggled last season but is having an incredible spring training.
Berríos was doing well out of the gate in spring training as well, allowing just two earned runs through 5.0 innings of work with four strikeouts. But he started the second game for Puerto Rico in the World Baseball Classic and got shellacked against Venezuela, lasting just one inning and giving up a home run to Orioles outfielder Anthony Santander before getting pulled, allowing five earned runs on the night.
Berríos and His Role in 2023
The WBC outing, combined with his 2022 season, sent some panic through the Blue Jays fanbase but the veteran pitcher rebounded well in his next spring training start, going 5.0 innings and allowing just one earned run off of six hits, allowing just one walk against five strikeouts. This outing brought his ERA down to 2.70 throughout this spring.
While he won't be getting the nod for Opening Day, it will be interesting to see if the Jays will use Berríos in the third and fourth slot in the rotation, which will shape whether he gets his first start of the year against the St. Louis Cardinals or the Kansas City Royals.
He will likely continue to tinker with his delivery and approach on the mound as the season wears on, but with the Jays poised to be World Series contenders given their current core, they will need their prized 2021 trade deadline acquisition to find some more consistency on the mound this season. The Jays boast one of the stronger rotations in the AL but having Berríos return to his 2021 form would be icing on the cake for a Blue Jays squad looking to improve upon the Wild Card exit they experienced last season.