Analysis
J.D. Martinez, Jason Heyward Have Found the Fountain of Youth
Martinez and Heyward have found new life in L.A., helping the Dodgers to remain one of the best offensive teams in the game.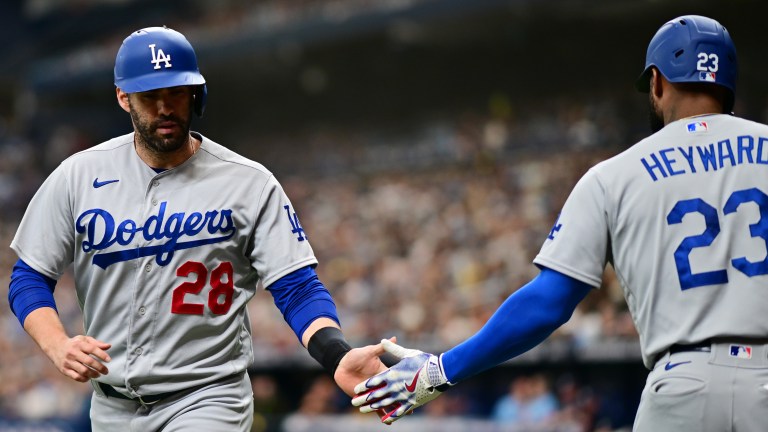 The Dodgers revive careers. It's simply what they do. And they do it better than any team in the game.
You can go through the list. They have executed this with handfuls of players on both sides of the ball (Max Muncy, Justin Turner and Tyler Anderson, just to name a few), often turning these older ballplayers into the best versions of themselves on the field.
This time, it's J.D. Martinez and Jason Heyward that have weaved their way to the front of the line to take a big gulp out of the Dodgers' fountain of youth. The jolt they have each given L.A. through the first two months of the season has played a large part in the team being 10 games over .500 and is a major reason they have been one of the premier offenses in baseball, ranking as a top-five team in OPS, home runs, wRC+ and isolated power.
J.D. Martinez
For six consecutive years (from 2014 to 2019), Martinez was on a very short list of baseball's premier hitters. Through that stretch, he deposited 171 long balls into the seats, smacked 344 extra-base hits, and put up a daunting .958 OPS, never allowing his wRC+ to drop below 135 at season's end.
After a rocky 2020, he returned to earn himself yet another All-Star selection when full-season baseball returned in 2021. But in 2022, it began to look like he was on the wrong side of time. Yes, he received his fifth career nod to the Midsummer Classic after yet another lucrative first half. But he slashed just .233/.301/.400/.701 in the second half of the season, wasn't hitting right-handed pitching the way he used to, and his HardHit% was declining. It seemed as if father time was right on his tail.
The Dodgers were not ready to utter those words. They inked Martinez to a one-year "prove it" deal worth $10 million. And one thing is safe to say: Martinez has, in fact, more than proven it.
At age 35, Martinez is on pace for a 40+ home run season. His OPS is sitting pretty above .900, along with a 140 wRC+, which currently ranks as his highest mark since 2018.
It is also not a fluke. He is hitting the ball extremely hard and with authority, as shown by his batted ball profile (99th percentile in xSLG, 96th percentile in Barrel%, 93rd percentile in HardHit%, per Baseball Savant).
Martinez has recorded a hit in 24 of his last 27 games. While his walk rate is down, it has in no way affected his offensive production in the grand scheme of things. He has provided some major thump in the middle of the Dodgers lineup all season long.
Jason Heyward
Judging by his final two seasons on the North Side of Chicago, it seemed like Heyward's big league career was pretty close to a wrap. He was struggling to stay on the field. His impact with the bat had dropped off. The defense, his true moneymaker throughout his career, was deteriorating.
While no team appeared interested in guaranteeing Heyward any specific dollar amount, the Dodgers offered him a chance. They extended him a minor league contract with an invite to spring training, hoping they could milk a little bit more out of his career.
Heyward didn't just find a spark. He is in the midst of holding a lightning rod, especially when you consider the expectations that were originally set.
When he slashed .240/.350/.480/.830 to go along with three home runs in April, Dodgers fans were given true hope for the resurgence of Heyward. When he doubled down with an .815 OPS for the month of May, the belief began to shift to reality that what Heyward was doing was real.
Heyward's plate approach has been excellent this season, and free passes have been his best friend. He is walking at a 14% clip (91st percentile), which is currently his highest rate in any full season since his rookie year in 2010. He is also striking out less than 20% of the time.
Heyward's profile for the majority of his career has featured his ability to draw walks and limit punchouts. But last season, his walk rate was down to a career-low 7.3%, while his strikeout rate jumped up to a career-high 21.2%. However, he has evidently put that in the rearview mirror.
He is running out a 123 wRC+ which, much like his walk rate, is his best output in a full season since his inaugural campaign. And best of all, his defense has returned. Heyward has recorded three Outs Above Average on the year while roaming the outfield (ranking in the 86th percentile). He is having, by far, his best season in years.
Closing Thoughts
The Dodgers' offense lost Trea Turner to the Phillies and Justin Turner to the Red Sox this past winter, on top of the departure of Corey Seager the year before. They did not make any A-list corresponding acquisitions, leaving their lineup with what appeared to be a couple of holes for the first time in recent memory. When looking past Mookie Betts, Freddie Freeman and Will Smith, it felt as if there was some uncertainty.
Martinez and Heyward quickly helped silence the doubters. On top of the Dodgers once again ranking as one of the most prolific offensive teams in the game, one way or another, they appear destined for the postseason for what would be the 11th straight year. And these two veterans are paving a large part of that path.
Not bad for what was expected to be a "down year" in the city of Angels.