Analysis
Los Angeles Dodgers Offseason Outlook for 2023-24 Free Agency
The Dodgers will need to make some big additions this offseason after once again failing to make it out of the first round of the playoffs.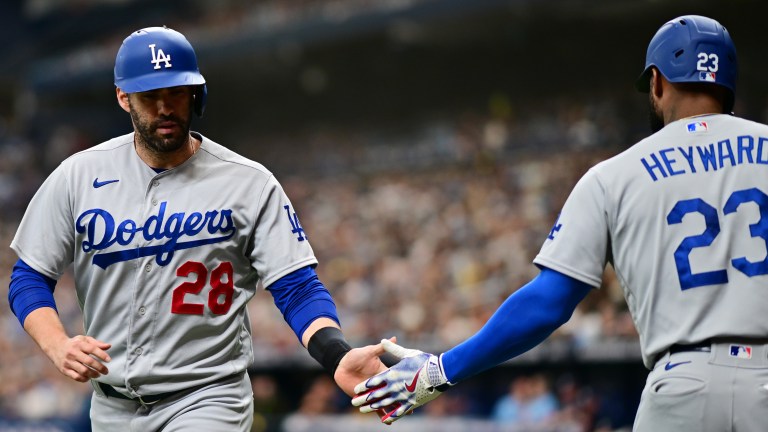 Despite immense regular season success, the Los Angeles Dodgers again had their season cut short of a World Series trophy in 2023 at the hands of a sweep by the Arizona Diamondbacks in the NLDS.
The Dodgers won the National League West title with 100 wins, which was good for third in the sport behind the Atlanta Braves and Baltimore Orioles.
As a team, the Dodgers were second in baseball in runs (906), home runs (249), RBI (877), OBP (.340), slugging (.455), wOBA (.341) and WAR (34.4). The only team better in all of those categories? You guessed it — the Braves.
With all of those gaudy numbers, there aren't that many holes on this team heading into 2024 offensively.
I, and the rest of the baseball world for that matter, are well aware of how poorly the team's starting pitching performed in the Division Series, but there will be some serious reinforcements coming back next season to remedy that.
Still, the Dodgers again fell short of their goals last season, and a division rival is the reigning National League Champion, so the front office will need to fill out the roster with guys that will both help get through the grueling 162 game schedule and help get over the hump in the postseason.
Shohei Ohtani Coming?
Before I even start to talk about the Dodgers' roster, needs, contract decisions, etc., the elephant in the room needs to be discussed — Shohei Ohtani.
Honestly, the two-way superstar will basically be able to write his own check, and the Dodgers are one of the few teams that can give that to him.
Aaron Judge got a nine-year, $360 million from the Yankees in free agency, but Ohtani will get more.
The Dodgers will undoubtedly be fishing to land the biggest free agent baseball has potentially ever seen. Whether or not they sign him, quite honestly, controls the way the Dodgers will handle the rest of their decisions this winter.
Contract Decisions
The Dodgers have a lot of guys coming off the books, but this isn't the organizations first rodeo with this issue. The one year "prove it" deal is a bit of a specialty for the organization at this point.
This list of players that played serious innings for the team are now free agents.
Clayton Kershaw
Lance Lynn
Julio Urías
Ryan Brasier
Enrique Hernández
J.D. Martinez
Amed Rosario
David Peralta
Kolten Wong
Shelby Miller
Jason Heyward
Notably, Kershaw had surgery on Nov. 3 to repair some ligaments and the capsule in his left shoulder, though he did say he hopes to be back playing baseball "sometime next summer." The Dodgers have a difficult decision here to make with Kershaw, who has been a franchise cornerstone player.
Martinez will be an interesting situation. He had a great season in 2023, but the Dodgers may be looking at the bigger fish at DH for next season. Namely Ohtani.
Part of why the Dodgers avoided extending Martinez the qualifying offer is because of their pursuit of Ohtani. If he signs elsewhere, they could always revisit bringing Martinez back to be their DH again for another season. +
Los Angeles will likely bring back one of Peralta or Heyward next season. If I had to predict, it's Heyward. Peralta turns 37 next year, and Heyward was the more impactful of the two in 2023.
Hernández and Miller will definitely be targeted to return to the team next season, though they will both have other suitors.
To plainly put it, Brasier needs to be re-signed. He was excellent in his short time with the Dodgers.
It's unlikely that Rosario and Wong come back, and Lynn and Urías are, I think, definitely not coming back.
These players are eligible for arbitration this offseason. The expected amounts are projections via MLB Trade Rumors.
Walker Buehler: $8.03 million
Ryan Yarbrough: $3.8 million
Caleb Ferguson: $2.3 million
Yency Almonte: $1.9 million
Will Smith: $9.3 million
Dustin May: $2.4 million
Brusdar Graterol: $2.5 million
Wander Suero: $900,000
Evan Phillips: $3.4 million
Gavin Lux: $1.1 million
J.P. Feyereisen: $1 million
Alex Vesia: $1.2 million
Victor Gonzalez: $1 million
The Dodgers could non-tender Suero and Feyereisen here, but aside from that, each of these arbitration players are pretty integral to what will make up the team next season.
Starting Pitching
Internal options for 2024: Walker Buehler, Bobby Miller, Michael Grove, Ryan Pepiot, Emmet Sheehan, Gavin Stone
As previously mentioned, the glaring weakness on this team in 2023 was the rotation, and it really showed in the Division Series sweep.
There is no shortage of legitimate options for the rotation next season, but after Buehler and Miller, the options are largely unproven. Even then, Miller will be going into his second full season, and Buehler will be coming off of injury.
If the Dodgers sign Ohtani, he would foreseeably join the rotation in 2025.
Potential free agent targets: Sonny Gray, Aaron Nola, Jordan Montgomery, Marcus Stroman, Blake Snell, Shota Imanaga, Yoshinobu Yamamoto
More than any other option, the Dodgers have been heavily linked to Yamamoto. This past year for the Orix Buffaloes in the NPB, the 25-year-old went 16-6 an ERA of 1.21 and 169 strikeouts in 164 innings of work.
Other options that have been linked to the Dodgers are Stroman, Snell and Imanaga.
Bolstering the rotation via free agency isn't the only option the Dodgers have this offseason.
For the right price, Dylan Cease is expected to be available via this winter. The Dodgers, with their loaded farm system, may be one of the only organizations in the league that have the ability to meet the Chicago White Sox's assumed astronomical asking price. Because of that, they have the ability to not necessarily feel it as much as other organizations.
There is work that needs to be done, and Andrew Friedman and the front office will be doing their due diligence on the frontline guys this free agency class has to offer.
Considering just how bad the performance was from the rotation in the postseason, I think Friedman will feel the need to press the issue and two of Yamamoto, Stroman, Snell, Imanaga and Cease will find their way to the Dodgers before next season.
Bullpen
Internal options for 2024: Brusdar Graterol, Evan Phillips, Caleb Ferguson, Ryan Yarbrough, Alex Vesia, Victor González, Yency Almonte, J.P. Feyereisen, Joe Kelly, Blake Treinen
There isn't much to do here, to be completely honest. This was one of baseball's best units in 2023.
After getting off to a rough start due to inconsistencies in the rotation, the 'pen finished with a 3.42 ERA and a 2.28 ERA after June 20.
Still, it is always good to look at making upgrades.
Potential free agent targets: Keynan Middleton, Reynaldo López, Phil Maton, Emilio Pagán, David Robertson, Josh Hader, Aroldis Chapman, Ryan Briaser, Shelby Miller
Honestly, the Dodgers really should make signing Will Smith their top priority this offseason. A proven winner, the guy has won three-straight World Series with three different teams.
All joking aside, like I said before, the Dodgers will probably look at bringing Miller and Brasier back. Outside of that, the back end of the bullpen is solid with Graterol and Phillips, but if they can't re-sign Brasier, the team could be in the market for another high leverage arm.
Infield
Internal options for 2024: Austin Barnes, Will Smith, Diego Cartaya, Michael Busch, Freddie Freeman, Gavin Lux, Max Muncy, Miguel Rojas, Chris Taylor (utility), Miguel Vargas, Mookie Betts (utility), Jorbit Vivas
Short of the Dodgers opting to trade out of a surplus to address other roster shortcomings, the current roster is loaded with infield options.
Does anyone need to be reminded of who plays first base for this team? The guy literally doesn't take any games off.
Will Smith undoubtedly the Dodgers' catcher. It will be interesting, however, to see how the team deals with the rise of Diego Cartaya and whether he is part of the long-term plan or not.
Gavin Lux is coming back from injury and is expected to play, more likely than not, the majority of the innings at shortstop. He will be spelled by Miguel Rojas or Kike Hernández if the team does opt to re-sign him.
Miguel Vargas really struggled at the dish in 2023, but he will likely get another shot at primary second base innings in 2024. If he again falls short of expectations, second base could be a revolving door of Mookie Betts, Chris Taylor and Rojas. Michael Busch is also an option here.
Max Muncy was just re-signed to a two-year, $24 million contract, so he will be getting the lion's share of playing time at third base.
An interesting caveat, though, could be if the Dodgers don't sign Ohtani to play DH, Muncy could transition to the DH role and the team could look for a reunion with Justin Turner on a shorter deal or Matt Chapman on a longer deal.
Martinez could be re-signed to play DH just as easily, though, and that is more likely than filling in a new name at third base.
Outfield
Internal options for 2024: Mookie Betts (utility), James Outman, Chris Taylor (utility), Jonny Deluca, Andy Pages
This is a spot the Dodgers need to look to make some upgrades — or additions in general — for next season.
Betts and Taylor will be getting some time in the infield, so Outman is the only full-time outfielder with major league experience on this team, and he is going into his second full season as a big leaguer.
Potential free agent targets: Cody Bellinger, Lourdes Gurriel Jr., Tommy Pham, Jason Heyward, Enrique Hernández, Hunter Renfroe, Teoscar Hernández
I don't think any Dodger fan one calendar year ago thought that Cody Bellinger would be a name the team was considering adding one year later, but here we are.
The 28-year-old slashed .307/.356.525 with 26 home runs and 97 RBI in 130 games with the upstart Chicago Cubs in 2023. Sliding Outman over to left field and Bellinger into center field just feels like an easy solution.
However, that does seem a bit unlikely as Bellinger is also linked to the New York Yankees, San Francisco Giants and a reunion with the Chicago Cubs on sizeable multi-year deals. Also who knows if Belligner would even want to return to the team that cut him a year ago.
Also, if the Dodgers land Ohtani, the team likely won't spend big time money elsewhere considering the amount of money he will command.
Lourdes Gurriel Jr. and Tommy Pham could both be considered. They made a World Series run with the Diamondbacks last season, and recent postseason success could be a targeted asset this offseason for the Dodgers as the team has won just one postseason game in the last two seasons.
Other options, though less likely are Renfroe and Teoscar Hernández.
Enrique Hernández is here as well as he would garner playing time in both the infield and outfield if he is re-signed. He fits what the Dodgers like to do and should be a priority for the team in the winter.
Final Thoughts
At the end of the day, the offseason for the Dodgers is about trying to land Shohei Ohtani.
The team would arguably have the greatest one-two-three punch of all time with opposing pitchers having to face Betts, Freeman and Ohtani in the first inning.
Yes, there are holes in the rotation and in the outfield, but Ohtani helps remedy one of those things in 2025, and indirectly helps the other right now.
Outside of Ohtani, starting pitching for 2024 will be a point of contention this winter. The bullpen and outfield will likely get some new additions, too.
Other than that, the Dodgers will fill out the roster by doing what they do best — finding unrecognized talent before anyone else does. So when Friedman signs a some guy who has a career 7.50 ERA or .150 batting average, don't bat an eye.