Analysis
Los Angeles Dodgers Atop the NL West, Aren't Going Anywhere
Despite a quiet offseason, the Dodgers are back to their winning ways — even without some key pieces of year's past now wearing new uniforms.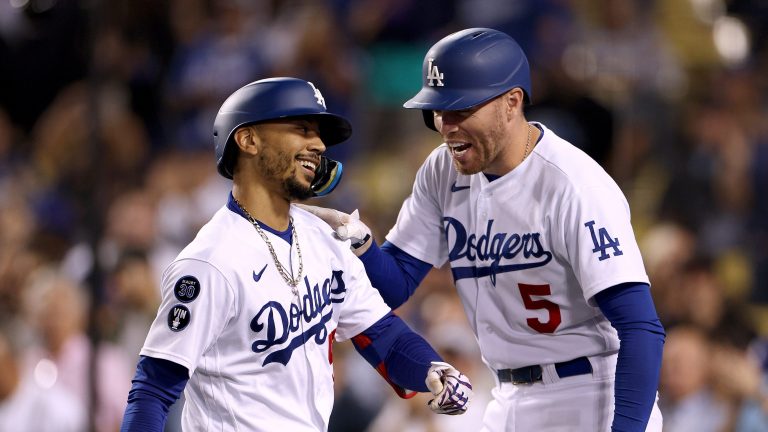 Coming off a 111-win season, the Los Angeles Dodgers did the exact opposite of what we've come to expect from the organization that has won nine of the last 10 NL West titles — they let talent walk without adding any big-name replacements.
Off the books came Trea and Justin Turner, Tyler Anderson, Andrew Heaney and Cody Bellinger, while the most notable additions they made were J.D. Martinez, Noah Syndergaard, Miguel Rojas and Shelby Miller.
There's certainly a difference in quality between those two lists.
With eyes on the 2024 free agency class — or one 2024 free agent in particular — the Dodgers prioritized shedding salary cap this past winter.
The result? While maybe not everyone had them pegged as the second-best team in the division, it was a popular take to move Los Angeles down the power rankings and likely behind division rival and the off-season darling San Diego Padres.
But as has been the case for the last decade, the Dodgers don't appear to be going away any time soon.
They're currently 29-17 — on a 102-win pace — have one of the best run differentials in the majors and lead the division by 3.5 games, which includes an 8.5-game lead over the struggling Padres.
Now 16-4 over its last 20 games, let's dive into what has helped the team maintain their organizational success despite losing some key pieces.
Clayton Kershaw, Forever and Always
First and foremost, the stars have been stars in Los Angeles.
Clayton Kershaw is back and only adding to his Hall of Fame resume with another outstanding season. Through nine starts and 53.2 innings, the three-time Cy Young award winner boasts a 2.52 ERA with his highest strikeout percentage (29.6%) since 2017.
Perhaps the most impressive part of Kershaw's dominance so far in 2023, is just how much the Dodgers' rotation has needed it.
Third-place Cy Young award finisher, Julio Urias, hasn't been nearly as effective through 10 starts this season, posting a 4.39 ERA and struggling to keep the ball in the yard.
Noah Syndergaard hasn't put it all back together through eight starts either. Los Angeles has proven the ability to take arms cast away by other teams and turn them into reliable, if not elite, options — which hasn't been the case with Thor as of yet.
Elsewhere in the rotation, Tony Gonsolin is back and has shoved through his first five starts, only allowing three earned runs in 24 innings of work. Gonsolin's spot in the rotation had been filled by Michael Grove and Gavin Stone the first five times through, with both young arms holding ERAs over 8.00 in their 20 combined innings.
So while Gonsolin's return provided a needed boost to a rotation that had regularly gotten solid starts from two of its five spots, that still may — no pun intended — be the case going forward as Dustin May will, in the best-case scenario, be out for 4-to-6 weeks.
May has been another standout for the Dodgers, posting a 2.63 ERA through 48 innings. Despite profiling differently in 2023, with a career-low strikeout rate and career-high fly-ball rate, the 25-year-old was helping the team win when he took the mound.
With all that said, Kershaw's continued stability at the front of the rotation has been, and will continue to be, vital to Los Angeles' success.
Top of the Order Getting it Done
Kershaw isn't the only star pulling his weight for the Dodgers in 2023.
On the other side of the ball, Mookie Betts, Freddie Freeman and Will Smith, as steady as ever, are leading the way with the bat.
Starting with Smith, the 28-year-old backstop had already established himself as one of the top catchers in MLB, but in 2023, he's taken his game to the next level.
| | | | | | | | | |
| --- | --- | --- | --- | --- | --- | --- | --- | --- |
| 2023 Stats | AVG | OBP | SLG | HR | K% | BB% | wOBA | wRC+ |
| Will Smith | .314 | .406 | .571 | 7 | 9.4% | 14.1% | .412 | 163 |
| Rank among MLB Catchers | 2 | 2 | 2 | T-3 | 2 | 3 | 2 | T-1 |
Will Smith's offensive ranks among catchers with 100 PAs.
Smith is walking more than he's striking out and is posting the highest slugging percentage of his career — a pretty good combination for a hitter.
The 2016 first-round pick has been the Dodgers' most valuable hitter by wRC+ and fourth in value by fWAR while only playing in 28 games.
Speaking of his fWAR total, Smith has posted a 1.5 mark in limited action. If we scale that out to say 133 games, his average games played the last two years, you're looking at a 7.1-win catcher.
The last time a catcher reached the 7.0 WAR mark came in 2014 when both Buster Posey and Jonathan Lucroy surpassed the threshold.
While Smith might not be able to break a nine-season drought based on the reliability of a 28-game sample, his impressive start to 2023 has been one of the best-kept secrets in baseball.
Of course, all the offensive statistics jump off the page, but the one number that may represent just how important he is to the Dodgers is their record with him in the lineup — 21-7.
As Smith barrels towards his first-career All-Star Game appearance, Betts and Freeman look poised to make their seventh trip to the Midsummer's Classic in a couple of months.
The duo has played their roles perfectly for the Dodgers.
They both are posting wRC+s north of 140 and have done so while walking more than 10 percent of the time and striking out in less than 19 percent of their plate appearances.
| | | | | | | | | | | |
| --- | --- | --- | --- | --- | --- | --- | --- | --- | --- | --- |
| 2023 Stats | AVG | OBP | SLG | HR | SB | BB% | K% | wOBA | wRC+ | fWAR |
| Freddie Freeman | .317 | .388 | .546 | 8 | 6 | 10.5% | 16.3% | .393 | 150 | 1.8 |
| Mookie Betts | .251 | .360 | .521 | 10 | 1 | 14.2% | 18.3% | .387 | 140 | 1.8 |
Players like Smith, Max Muncy and James Outman may be doing more to raise the 2023 Dodgers' ceiling, but Betts and Freeman serve as floor raisers. Their consistency and ability to help in different facets of the game year in and year out ensures that no matter who the front office puts on the field around them — or how those players perform — that Los Angeles will be in the mix with them on the roster.
Betts, for example, isn't posting the best season of his career and isn't mixed in the MVP conversation. But he might be the Dodgers' MVP so far this season. He's bringing a ton with the bat, getting on base and hitting for power, but his versatility defensively has also been a key ingredient in Los Angeles' recipe for success this year.
How many star right fielders would be able to help their team out if they didn't have a legitimate option at shortstop?
Very few, if any, other than Betts is the correct answer to that question.
No matter who is hot and who is not in LA, you can count on Betts and Freeman to be right in the middle of any success that comes to the Dodgers this season, helping out the club in any way that they can.
The Supporting Cast is Stepping Up
I may have given this section away a few paragraphs ago, by dropping Muncy and Outman's names.
But they have proven to be every bit as valuable to Los Angeles in the early going of 2023 as perhaps any two players not named Betts and Freeman.
The early clubhouse leader for NL Rookie of the Year, Outman has done his best to make Dodgers' fans forget about the now-departed Bellinger. Power, speed and defense, the 26-year-old has brought a little bit of it all to a new-look outfield.
Currently slashing .263/.353/.533 with a 141 wRC+, Outman arrived in 2023 with a bang, taking home the March/April NL Rookie of the Month honors and has continued to build on his debut campaign through May.
He is striking out 34.1 percent of the time, but has walked and limited his chase enough to work his way on base consistently, while still driving the ball when he is making contact.
A player who profiles similarly, is the team home run leader, Muncy.
With 15 round-trippers, Muncy looks to have shaken off his down 2022, in which he failed to hit above .200 but used his excellent approach to maintain some form of value at the plate, finishing with an above-league-average wRC+.
This season, he's putting it all together.
He's walking a career-best 18.1 percent of the time and is falling between the 75th and 85th percentile with his quality of contact.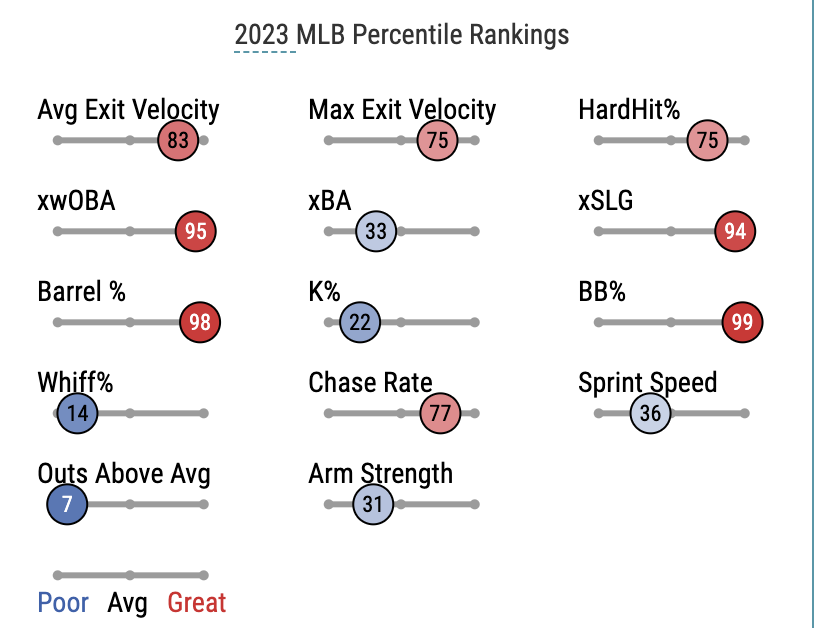 The result has been a .390 wOBA, which ranks top-20 in all of MLB and a 1.4 fWAR, putting him right in line with the team leaders Betts, Freeman and Outman.
While Betts, Freeman and Smith may be the stars of the team, getting the support from players like Outman and Muncy gives Los Angeles one of the deepest and most difficult lineups to navigate in MLB.
Of course, some other members of the Dodgers' supporting cast have chipped in as well, with Martinez and Miguel Vargas posting above-league-average lines.
With the stars stepping up and filling their roles and a number of players all across the roster putting together solid seasons, Los Angeles is proving that they're not planning on taking a step back this season and remain among MLB's top-tier contenders.
All stats courtesy FanGraphs, from before play on May 20