Analysis
Soon-To-Be Free Agent J.D. Martinez Still Has Plenty Left in the Tank
After a bounce-back season with the Dodgers, J.D. Martinez should have no shortage of suitors in free agency.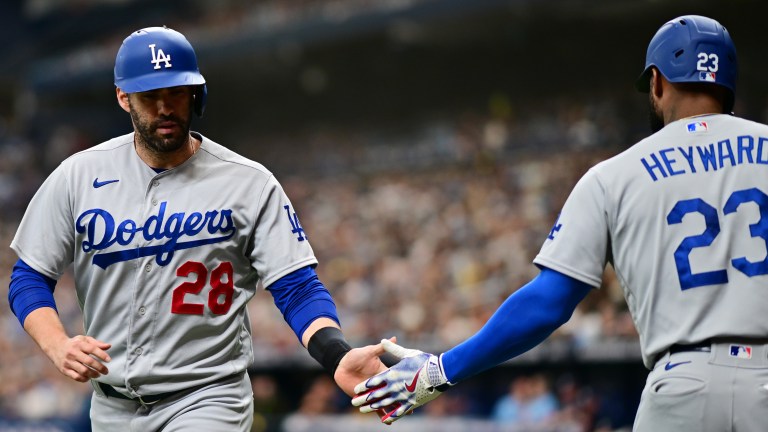 After a relatively average season in 2022 with the Boston Red Sox, J.D. Martinez did not receive a qualifying offer.
That year, he hit .274/.341/.448 with 16 home runs and 62 RBI. His WAR (1.0) and wRC+ (119) were his lowest (outside of the shortened 2020 season) since 2013 — his third year in Major League Baseball.
The batting average and on-base percentage were near his career averages, but the power numbers were just not there. Barring the 2020 season, his slugging percentage and home run output were also his lowest since 2013, and he posted his lowest RBI total since 2016.
To put it into perspective, his HardHit% (41.4%) and average exit velocity (89.1 mph) were career lows, too.
He just wasn't hitting the ball hard enough and looked like an aging hitter. Add in his defensive shortcomings, and many were left to wonder just how long the rest of Martinez's career was going to be.
The Dodgers, being the Dodgers and looking to revitalize Martinez and his swing, gave him a shot and signed him to a one-year, $10 million deal.
The clear "prove it deal" he received would lead one to believe there was no real long-term interest in Martinez from front offices across the league, and you can understand why.
But in his age-35 season (he turned 36 in August), Martinez wound up an integral part of the middle of the order for a vaunted Los Angeles Dodgers offense that scored the second most runs in baseball. He was an All-Star for the sixth time in his career.
Simply put, he looked like J.D. Martinez again.
In just 113 games in 2023, Martinez slashed .271/.321/.572 with 33 home runs, 103 RBI and a 135 wRC+. He also accumulated 2.2 WAR playing all but two of his games exclusively at DH.
Martinez did experience a career-high strikeout rate (31.1%) and his lowest walk rate (7.1%) since 2014, but it was clear he was selling out a bit for extra power. The home run and RBI output were his best since 2019.
When nobody was on base, Martinez was looking to do damage. Hitting .250, he popped 18 solo home runs and had a 128 wRC+.
But when the situation needed a different hitter, he was that different hitter.
When there were runners on base, Martinez hit .292 with a 143 wRC+. When runners were in scoring position, more specifically, he hit .325 with a 162 wRC+, which was huge for a Dodger team that, at times, relied a bit heavily on the home run ball.
The power numbers didn't exactly dip in those situations either, as he hit 15 and 10 home runs, respectively.
To add to it, the more crucial the situation, the more Martinez walked, and his lowest strikeout percentage came with runners in scoring position (28.8%).
With a career-high strikeout rate, Martinez had to make it count when he put the ball in play. And did he ever.
Hitting .324 on balls in play, Martinez established career highs in HardHit% at 54.8% and average exit velocity at 93.4 mph. He enjoyed his highest Barrel% since 2017 at 17.0% and slugging percentage since 2018 at .572.
Martinez did play just 113 games due to back, groin and hamstring injuries. Come time for free agency, some front offices may balk at his age and injury history. Still, there will be plenty of teams interested in his services.
A reunion with the Dodgers is not out of the realm of possibility, although they could be looking to land a bigger fish at DH: Shohei Ohtani.
Just one season ago, Martinez looked like a player whose future was in doubt. Yet after his 2023 campaign, numerous teams will likely be giving Scott Boras a call to check on his contract demands.