Analysis
Is Jorge Mateo's Hot Start a Fluke or for Real?
Jorge Mateo is off to a hot start for the Baltimore Orioles this year. Can he be their shortstop of the future, or is he just a placeholder?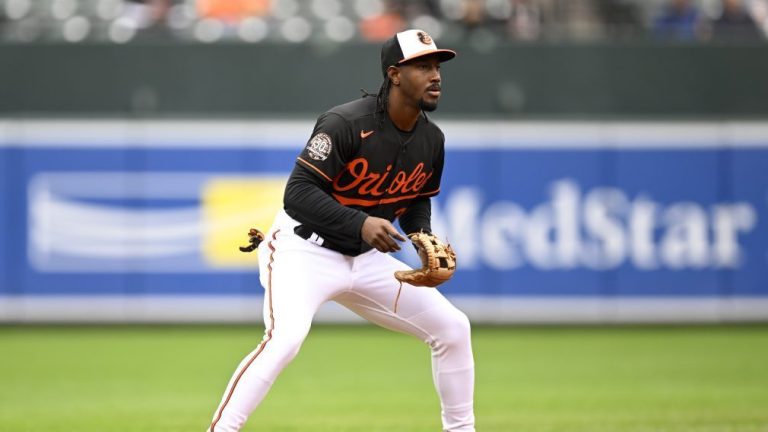 This is a pivotal year for the Orioles. They started the season with a problem that most teams would dream of having: a logjam of established veterans and MLB-ready prospects. That combination is going to lead to some tough decisions, and those decisions might have just become even tougher to make with the emergence of Jorge Mateo.
This is Mateo's second full season in Baltimore, and he is off to an absolutely scorching start. Coming into the year, Mateo felt like a placeholder for one of the many middle infield prospects that the Orioles have. With players like Jordan Westburg and Joey Ortiz knocking on the door, Mateo's days as the starting shortstop were numbered. That may not be the case anymore.
Career Prior to 2023
In order to fully grasp just how incredible this breakout is, you need some context. Especially if you are unfamiliar with Mateo, it is helpful to look at his previous seasons.
In 2016, Jorge Mateo was the 30th-ranked prospect by MLB Pipeline. After 2016, he would be bounced around the league in trade after trade. His performance fell, and by 2019 he was off the top 100 prospect list. The same problems continued to pop up in his prospect reports; evaluators had questions about his ability to hit and field the shortstop position.
Some even mentioned that he was destined for a move to either second base or the outfield. One thing that every report glowed about, however, was his game-changing speed. His best minor league season came in 2019 when he hit .289/.330/.504 with 19 home runs and 24 stolen bases.
Mateo received a big-league promotion with the Padres in 2020 and has played parts of three major league seasons since. From 2020-2022, Mateo hit .225/.271/.374 with an 80 wRC+ and a strikeout rate of 27.7%. He has been able to stick around in the majors because of his elite speed and defense. His 11 outs above average were good for fifth among shortstops last season. He also finished ninth in sprint speed last year.
2023 Season
As stated earlier, Jorge Mateo is off to an incredible start this year. Through 14 games he is hitting .362/.418/.638 with a 191 wRC+. This also includes eight stolen bases and three home runs. This start is good enough to have him in sixth place for bWAR (1.2) among position players. Given Mateo's history, one of the many questions surrounding him and the Orioles is whether or not this is sustainable.
Obviously, Mateo's current hitting stats are not sustainable over the course of a season. The mystery is in how much the numbers will fall in the coming months. If Mateo were to get cold and revert back to the player he was prior to this season, then the Orioles are back to square one. However, if this is a new and improved Mateo, he could force the Orioles to make a tough decision.
Change in Approach
In the 439th rendition of the Just Baseball Show, Jack McMullen mentioned that part of Mateo's success could be due to his approach at the plate. Specifically, Mateo has increased his ground ball rate and pull rate.
From last year to this year, his ground ball rate is up over 16 ticks to 55.3% and his pull rate is up over 15 ticks to 50% on the nose.
This is important because, as possibly the fastest player in baseball, he has a chance to beat out any ground ball to the left side not hit right at a defender.
Also, with the new dimensions in left field at Camden Yards, fly balls are more than likely going to result in outs. Line drives and ground balls that get into the outfield for Mateo are almost always going to result in extra bases. Not to mention his ability to steal even more bases on top of that.
Mateo also appears to have overhauled other aspects of his approach at the plate, as he has been much more patient this year. He is swinging and whiffing less frequently. He also isn't swinging at the first pitch nearly as often.
Perhaps the two difference is in Mateo's chase rate and in-zone contact rate. His chase rate is down and sits at 24.3% this year. His in-zone contact rate is up to 86.2% on the season. He is being much more selective at the plate, and as a result, he is making contact more frequently when he decides to swing.
This looks like a complete overhaul in the way Mateo is approaching at-bats this year. These are all significant changes. He has gone from near the bottom of the league in most of these categories to above league average. These changes imply to me that Mateo has figured something out, even in a sample size this small.
Explosiveness
The one thing that Jorge Mateo has always been is dynamic. Now with a new approach at the plate, could he possibly elevate his gamer and become even more dynamic than he has been?
Jorge Mateo is a combination of incredible speed and good baserunning. A lot of his value as a baseball player comes from what he can do after getting on base. Last season he was able to steal 35 bases while having an on-base percentage of just .267. Just think of how many bases Mateo could steal if he had an on-base percentage of just .320 or higher.
As of right now, Mateo might also have underrated power. He already has three home runs this year and has posted a maximum exit velocity of over 112 miles per hour. We could see a power surge from Mateo this year. It is early, but he currently sits in the 83rd percentile in average exit velocity and the 92nd in max exit velocity.
With the defense, speed, and power that Mateo provides, he doesn't need to be incredible at the plate. If he can just be above average, he provides enough value with his glove and speed alone to be a great everyday shortstop. If after this hot start he regresses to hitting .270/.325/.410, the Orioles would be over the moon. I do not want to get ahead of myself, but 20 home runs, 30 doubles, and 60 stolen bases doesn't seem like it is out of the realm of possibility for Mateo in 2023.
Has Mateo Unlocked Something?
For what it is worth, I think he has. It would be one thing if Mateo had the same approach at the plate and was only seeing improved results due to luck. However, Mateo has completely different tendencies at the plate this year. Last year there would be times when Mateo looked absolutely lost at the plate. I have yet to see him look like that this year.
So far this season, Mateo has looked incredibly composed at the plate. He is not walking at the highest rate, but he is only striking out 15 percent of the time. Mateo needs to put baseballs in play and let his legs do the rest. So far this year, he is doing that. With a completely different approach at the plate, Mateo's performance is here to say. As stated earlier, his current pace is unsustainable, but I do not expect Mateo to revert back to his old ways anytime soon.
What About the Prospects?
For those who might be unfamiliar with the Orioles farm system, it is loaded with middle infield prospects. These prospects include 2022 number one pick Jackson Holliday (JBB No. 18), Joey Ortiz (JBB No. 65), Jordan Westburg (JBB No. 74), and Connor Norby (JBB No. 77). Those are just the names in the Just Baseball Top 100.
I didn't mention former top prospect Gunnar Henderson who has since graduated. There are also players like Cesar Prieto, who has a .942 OPS in Double-A this year, and former Vanderbilt standout Carter Young, who is off to a tough start in Low-A.
Coming into the year, it appeared that Mateo would be a placeholder for one of the three top 100 prospects in Triple-A: Ortiz, Westburg, or Norby. With Mateo playing the way he is, it leaves the Orioles with less room in an already competitive infield. With significant deficiencies when it comes to the starting rotation, it is almost a certainty that one or more of these infield names will be traded for pitching.
Options Moving Forward
As I mentioend earlier, what the Orioles do moving forward rides on just how much they believe in Jorge Mateo. While playing against the Nationals on Wednesday, Mateo pulled up badly after grounding out. Little has come out about the severity of the injury, but it looks to be a day-to-day situation. However, if Mateo requires an IL stint, it could make things even more interesting.
Option 1: Trade Mateo at Peak Value
This is perhaps the most controversial option and the one most likely to send Orioles fans into a frenzy. If the Orioles truly believe that this year could be an outlier and Mateo will regress back to his old self at the plate this year or next, their best option is to trade Mateo.
Even if the Orioles do think that Mateo can be an above-average shortstop for the foreseeable future, they could still trade him. If they are all in on a player like Joey Ortiz and think that he could be the shortstop of the future (or at least until Jackson Holliday comes up), Mateo could be trade bait.
Mateo will offer a team great defense, elite speed, an above-average bat, plus years of control at a premium position. Contenders are going to be willing to pay a hefty price for a player of that caliber at the trade deadline. For a team in desperate need of both pitching prospects and help at the major league level, a strong offer for Mateo could be tempting.
Option 2: Trade a Prospect
This option is the most likely to happen if the Orioles find themselves in the middle of the playoff hunt. If Mateo keeps it up at the plate and the Orioles are still in the mix at the All-Star break, a prospect could be moved. If they do move a prospect, it is going to be for pitching. In almost any scenario in which the Orioles make a trade, it will be for pitching.
If GM Mike Elias does decide to trade a prospect, it will not be Jackson Holliday. Unless a team is willing to part with someone like a Dylan Cease, I can't imagine the Orioles moving Holliday. In a trade for a good starting pitcher, one or more of Westburg, Ortiz, and Norby could be moved instead. Elias said before the season that the team plans to be aggressive at the trade deadline and that they are trying to win.
Option 3: Hold Until 2024
I know I just said Mike Elias claims the team will be aggressive at the trade deadline, but he has led us astray before. While Orioles fans may feel hoodwinked and bamboozled if the team doesn't make a move, it is a real possibility.
With all three of the MLB-ready infield prospects in Triple-A, they could let the season play out. That will give the Orioles a full season to see if Mateo is for real. It will also give the team a chance to evaluate Westburg, Norby, and Ortiz across a full season of Triple-A baseball. After the season, they could decide if they want to move on from one of the prospects or Mateo.
This is undoubtedly the safest and perhaps the least exciting option. Sometimes the best move isn't making a move at all. The Orioles are more than likely not competing for a World Series this year. By waiting to make a move, they can truly evaluate their situation and make the best move for the team's future.