Analysis
Inconsistency Could Cost Jorge Mateo
After a hot start for the Orioles' shortstop, a lack of consistency at the plate could push Jorge Mateo onto the bench.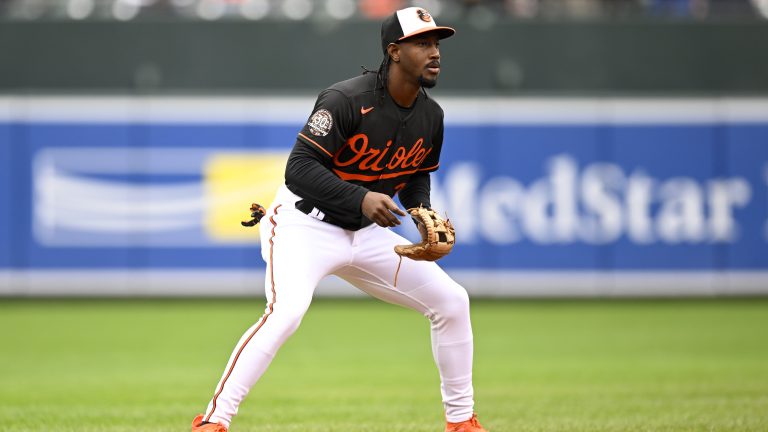 Coming into the 2023 season, the future of the shortstop position in Baltimore was up for debate. After an incredible April from Jorge Mateo, it looked like there might not be much debate anymore. Mateo tore through April and staked his claim to the starting shortstop position.
When May rolled around, however, the narrative changed. Mateo went from one of the best hitters in April to one of the worst in May. While it was expected that Mateo would come back down to earth, his fall-off was drastic.
A Tale of Two Months
Mateo in April
April was a great month for the Orioles and Jorge Mateo. He was one of the best players in baseball and looked to have locked up the shortstop position.
In the first month of the season, Mateo had an OPS over a thousand and a 187 wRC+. That was due in part to his 11 extra-base hits and 40% hard-hit rate. Mateo was hitting the ball hard and using his speed to beat out ground balls.
With a batting average of .347, Mateo's speed played a role as he was putting the ball on the ground a lot. One difference between Mateo and most other players is that he benefits from hitting the ball on the ground. His speed allows him to beat out ground balls to the left side at a very high rate.
Perhaps the most surprising thing about Mateo's April was his strike-out rate. A 14.5% strikeout rate is well below his 22% career rate. He was putting the ball in play a lot which was a welcome sign.
I thought this was Mateo turning over a new leaf. There was bound to be some regression, but he had made noticeable changes to his approach that I thought would stick.
Mateo in May
Mateo looked like a completely different player in May. All of his numbers dropped drastically, and he looked completely lost at the plate.
His OPS fell to an abysmal mark of .316 with a -17 wRC+ to match. With only two extra-base hits in May, Mateo's impact at the plate was zero. His hard-hit rate was cut in half, falling below 20% in May. He was not helping the Orioles in any way with his offense.
It looked like all of the changes Mateo had made in April had gone out the window. He was hitting the ball on the ground less and pulling it less. He was hitting more fly balls, but with a falling hard-hit rate, they were not falling for extra-base hits.
This is all before considering the fact that his strikeout rate nearly doubled from April to May. He was not putting the ball in play nearly as much. Even with his hard-hit rate falling, if he were putting balls in play with the same frequency, it would be hard to imagine him not having a batting average of .200 or higher.
Mateo was as close to an automatic out as you could find in baseball during the month of May. For a team that has playoff aspirations, that kind of production is unacceptable.
The Future of Shortstop in Baltimore
Mateo's performance in May should be reason enough for the Orioles front office to once again consider the future of the position. With the Orioles having some very talented young infielders, there needs to be a discussion of who should be the shortstop of the future.
For those who are unfamiliar, options to replace Mateo include Gunnar Henderson, Jordan Westburg, and Joey Ortiz. Henderson is currently playing third base for the Orioles on a regular basis, but he came up as a shortstop. Westburg is one of the best Triple-A bats in baseball and looks ready for a promotion. Joey Ortiz has played in a handful of games for the Orioles this season and has made his defensive abilities well known.
The Orioles need production from the shortstop position. With no other glaring holes in their lineup, Mateo could be playing his way onto the bench. If Westburg keeps up his .992 OPS, it is going to become harder and harder to justify keeping him in Norfolk. Even Ortiz looked comfortable at the plate and was hitting the ball hard during his brief stint.
If Mateo does not turn things around, it is going to be hard to justify keeping him in the lineup. I said after his month of April that we could be looking at a player who hits .270 with 20 home runs and 50 stolen bases. It is too early to say he won't do that this season, but a lot needs to change. If June holds more of the same for Mateo, I say it is time to give one of the kids a chance.