Analysis
Is Dansby Swanson the Braves Long-Term Answer at Shortstop?
The Atlanta shortstop is set to hit free agency after the season, leaving the Braves with a decision to make about his future with the club.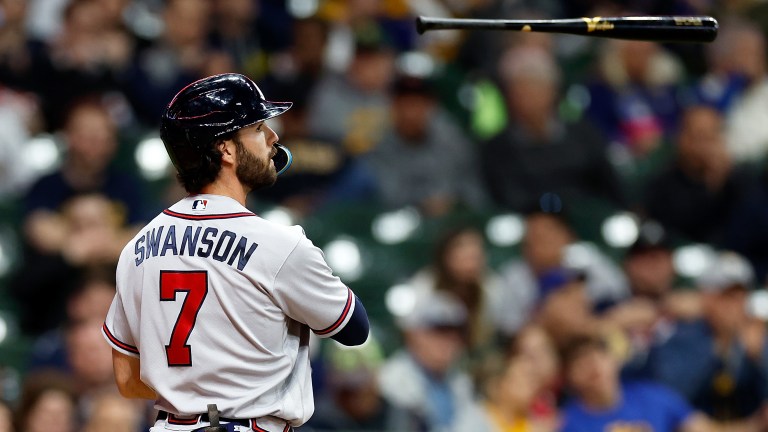 The Atlanta Braves will be left with a relative hole at the shortstop position following the 2022 season, with shortstop Dansby Swanson set to hit free agency.
Swanson has been a mainstay in the Atlanta lineup for about six seasons. Originally a first overall pick by the Arizona Diamondbacks back in 2015, he made his big league debut in 2016, just a year after being selected. He was dealt to Atlanta during the 2015 offseason, just six months removed from draft night.
By no means has Swanson been a "bust" of a first overall pick, but he hasn't necessarily lit the league on fire with his performances either.
With a career slash line of .248/.318/.408 accumulating to an 89 wRC+, the bat has been average, if not slightly below-average. The eye test would suggest that Swanson is above-average defensively, but consistency with the glove can elude him at times.
During the shortened season in 2020, he was the top shortstop according to DRS. The very next season, he ranked dead last in all of baseball. A drastic defensive drop-off but, through his first 38 games this season, he ranks twelfth-best.
Host of The Just Baseball Show, Peter Appel, has gone on the record and has named Swanson as the "benchmark for an average shortstop". This is a pretty accurate depiction of the value that the twenty-eight-year-old brings to the table.
So, with Dansby's contract coming off the books after this season, the Braves are faced with a choice. Do they allow Swanson to walk in free agency to another franchise and bring a fresh face in?
Or, do they re-sign Swanson and keep him around for a little while longer?
Let's explore these two options and try to discover what Atlanta GM Alex Anthopolous is thinking.
Retaining Swanson
Clearly option A is bringing back Swanson on a team-friendly deal. Obviously, this isn't the most entertaining pick of the bunch, but it could still work.
The Braves' shortstop had such an odd season in 2021 statistically. Slashing .248/.311/.449 with a .760 OPS, those numbers aren't jumping off the page. Now with that said, he hit a career-high 27 home runs and drove in 88 runs! And still, he ranked as a just below league average hitter with a 98 wRC+.
2022 hasn't been kind to Swanson. With a sub .700 OPS and a 36 percent strikeout rate, regression seems on the rise. Clearly there's still time to save his season as we're only a quarter of the way through the 162-game campaign, but my confidence in this player is on the floor.
Atlanta could just choose to bring back Swanson on a relatively inexpensive deal that continues to keep together their championship core from last season.
If Atlanta does decide to go in another direction at the position, I wouldn't be surprised if he was dealt at the deadline this summer. They could've already made the decision upstairs. But hey, its all speculation at this point.
As for the other options, Atlanta could explore a variety of different options at the position come the deadline or offseason.
Making a Splash
The 2021 free agent class brought forth a plethora of high-talent free agent shortstops. Those being Carlos Correa, Corey Seager, Marcus Semien, Javier Baez and Trevor Story. All five players found new homes, none of which ended up being Atlanta, as they seemed satisfied with Swanson.
However, the 2022 shortstop free agent class might've been more appealing to the Braves' front office with a grand total of $77 million being subtracted from their 2022 payroll.
With key relievers Kenley Jansen and Will Smith out of contract after the campaign, they will have to sort those deals out, which I assume they will. But with a multitude of team-friendly contracts including Ozzie Albies, Matt Olson, and Ronald Acuna Jr., Atlanta could be poised to make a splash.
Xander Bogaerts
The first name I would like to discuss is Xander Bogaerts. Bogaerts, 29, is set to be a free agent at the end of 2022. He's made it extremely clear that he won't discuss a contract extension during the season. With free agency looming for the All-Star shortstop, Boston has a difficult decision to make themselves.
The Boston faithful are all too familiar to this type of situation with a player. Mookie Betts was due for a big-time extension in the winter of 2019, but the Red Sox front office made the difficult decision to ship him off to Los Angeles. The decision to NOT pay Betts is still puzzling to this day. A top-five player in baseball at the time, it made zero sense whatsoever.
With Trevor Story brought in during the offseason to play second base, where he had never played an inning of in his career, it feels like Chaim Bloom has something up his sleeve. Story is the superior defender to Bogaerts, who is one of the worst defensive shortstops in all of baseball.
Xander still mashes. Ranking as the third-best Red Sox player on the wRC+ leaderboards at 157, his impressive slash line of .336/.395/.482 is one of the factors carrying a rather putrid Boston offense.
Despite the early season success from Bogaerts, Boston sits at 15-22, fourth place in the AL East, and already thirteen games behind the New York Yankees. Should Boston continue to struggle, they could decide to get some value for him at this year's trade deadline. Rather than losing him in free agency, it would make the most sense to get some sort of value from the four-time Silver Slugger.
And Atlanta could be a prime landing spot.
Assuming Swanson goes the other way with an expiring deal, the Braves could acquire Bogaerts for pennies on the dollar with the threat of an impending step away from Fenway. Following a trade, Atlanta could extend Xander, as they certainly have the money to.
Despite Bogaerts being an incredibly inefficient defender at the position, he provides an elite bat. That could entice Atlanta to move on from Dansby Swanson.
Carlos Correa
Hear me out on this one. An immense number of pieces need to come together to make this puzzle fit together, but it's still possible.
Correa signed with the Minnesota Twins this past offseason on a three-year, $105.3 million dollar deal, which made him the highest earner as an infielder ever, receiving $35.1 million on a year-to-year basis.
Without a doubt the biggest fish in the class, Correa signing with the Twins was arguably the most confusing move of the winter. Finishing in last place in the AL Central last season at 73-89, it didn't make a ton of sense for Minnesota to sign a marquee free agent. They dealt one of their top performers in Josh Donaldson to the Yankees, catcher Mitch Garver to Texas, then turned around and signed Correa.
But the question still remained. Why Minnesota?
A large majority of the baseball community (including myself) didn't think it was about winning. But they've proved most of us wrong, sitting atop the AL Central after their first 38 games at 22-16. Clearly the money had to play some sort of role in the decision, as being the highest-paid infielder of all-time on an annual basis is no small feat.
Correa hasn't hit the ground running with the Twins, but he's still been solid. Recently returning from a finger injury, Correa is slashing .265/.333/.388 with two home runs and twelve RBI's in his first 25 games. Not to mention he's one of the best defensive shortstops in the game, leading all shortstops with 21 DRS in 2021.
So, why does this move make sense?
Correa has player options in both this coming and the following offseason. He can simply choose to walk away from the Twins whenever he sees fit. If the Twins begin to slump and fall out of contention, the platinum glove winner could opt for free agency as early as this year. Advantage Correa.
However, the Twins still have leverage in this situation. Say Correa informs the Twins front office that at some point before the trade deadline that he wants out, they can demand a king's ransom for his services. He is a top-three shortstop in baseball after all. It would be mutually beneficial for both parties. Minnesota can receive compensation for one of the best in the game, and Correa could waive his no-trade clause to go to a contending franchise.
One of the teams that showed interest in Correa during free agency was in fact, the Atlanta Braves.
Correa and his agent Scott Boras did in fact speak with the Braves post-lockout regarding a contract. Despite Atlanta's slow start, we all know how great of a team they are with the insane amount of talent they possess. They did just beat Correa and his former team, the Houston Astros, just last season in the World Series.
Possibly the reason why he didn't sign with Atlanta following last season was the backlash a move like that could receive. Eerily similar to the Golden State Warriors signing forward Kevin Durant following their 2016 NBA Finals loss to the Cleveland Cavaliers. (Back-to-back posts with a Warriors reference!)
While a lot needs to happen for this move to occur, its still a possibility at the end of the day. Replacing Swanson with a top-flight shortstop in Correa would be incredibly ideal.
Clearly the three options I have laid out are all drastically different, with different levels of possibility. Re-signing Swanson seems like the most likely choice, followed by bringing in Bogaerts, and rounding it off with Correa. There is also a chance the Braves let this play out for the season, then attempt to sign Bogaerts or even Correa in free agency.
This is without a doubt a situation to monitor throughout the season and into the winter, as the Braves have a huge decision to make regarding the future of the shortstop position.
For now, we wait and speculate. Can't wait to see what Anthopolous and the Braves' front office decide to do.