Analysis
Can the Phillies Really Slug Their Way to Contention?
The Phillies showed their ceiling this weekend, outslugging the Dodgers to win a four-game series, but is their offense-first approach to winning sustainable?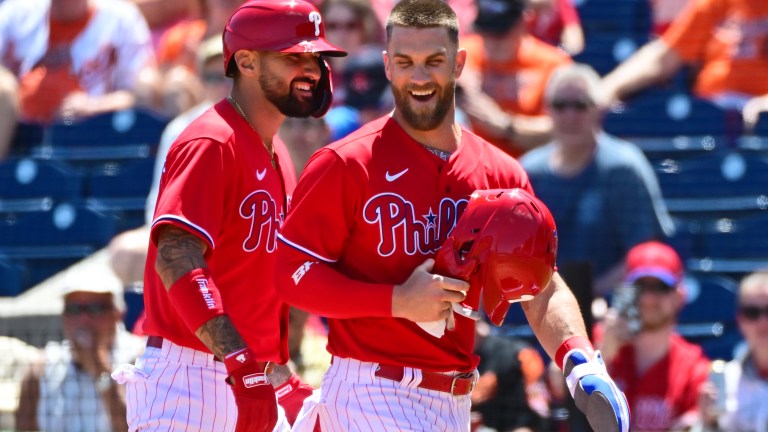 The Philadelphia Phillies are without a doubt one of the most exciting teams to watch in baseball.
Philly added two superstar outfielders in Nick Castellanos and Kyle Schwarber in the offseason, adding to an already loaded group of bats with J.T. Realmuto, Rhys Hoskins, Jean Segura, and the reigning 2021 MVP, Bryce Harper.
Hitting the skids late in the season, Philadelphia finished second in the National League East in 2021 with an 82-80 record. Defense and bullpen woes were their ultimate downfall last campaign. Finishing as the worst team defensively according to DRS at -54, and the sixth worst reliever ERA in all of baseball at 4.60, there were certainly causes for concern.
You would think the Philadelphia front office saw these very clear, obvious flaws and would want to capitalize on said issues.
In a division where the reigning World Series champion Atlanta Braves reloaded by adding Matt Olson and an immense amount of bullpen help, and Steve Cohen went ballistic adding to the Mets, Philly decided to double down on their insecurities. Schwarber and Castellanos are incredible power bats, yes. But are they good defenders? Quite the opposite.
Currently sitting at 17-19, second place in a surprisingly weak NL East, its been such an up-and-down season for this team.
The 2022 Phillies are mashing. That's the bottom line. Scoring the sixth-most runs in MLB with 172, the sixth-most team home runs at 44, and the ninth-highest team wRC+ at 109, the bats are coming to play.
However, with the fourth lowest ERA in baseball among their relievers, and the 28th-best team DRS at -12, Philadelphia has fully embraced their shortcomings.
Last week in Los Angeles, the Phillies were able to take three of four from the 2018 Golden State Warriors of MLB, the Dodgers.
The city of Philadelphia is relatively close to my home. It's about a 40-minute drive into the city. With that being said, many of my friends, and the individuals surrounding the area are Phillies fans.
This team is fun. They're amazing on the eyes with an insane top six that many MLB fans would dream of being a fan of. Everyone around here's excited, some even thinking about a playoff push!
Questions still remain. Is this winning formula sustainable over a full 162?
Can the 2022 Philadelphia Phillies rake themselves to their first postseason berth since 2011?
No, this winning formula is not sustainable over a full season.
It pains me to express these feelings about the Phillies because they've been one of my favorite teams to watch in baseball this year. I mean come on. Who doesn't want to watch an incredible offense hit homer after homer and score a boatload of runs?
But let's be real here. The New York Mets are now a legitimate contender after a flurry of signings in the offseason, and Jacob deGrom hasn't thrown a single pitch over their first 38 games. Despite Atlanta's slow start, I still have full faith in the Braves' ability to kick it on at some point during the campaign. And Miami has one of the best rotations in baseball.
With three teams deadlocked at 17 wins a piece in the NL East, the competition for the second and third spot in the division is up for grabs. The Mets, already six games up on Atlanta, Philadelphia, and Miami, are seemingly running away with the division early.
Philadelphia simply cannot rely on Aaron Nola and Zach Wheeler to throw a complete game every time they step on the mound. Their bullpen inefficiencies will continue to haunt them.
Philly relievers have the second-highest walks per nine in baseball at 4.70. Their 4.07 xFIP is the eighth-worst in baseball. And with a .310 BABIP against during their 36 games, that's the third-worst in MLB.
While the Dodgers series was certainly entertaining, with Bryce Harper putting on a monstrous hitting weekend with three home runs and a 1.904 OPS, the bullpen was the largest lowlight over the four-game stretch. The Phillies bullpen surrendered eleven runs over 13 2/3 innings and walked fifteen hitters. Not ideal.
And the defense has also been poor, as most of us expected. Philadelphia infielders have combined for -7 DRS this season, with the outfield also on the negative side at -10 DRS.
Errors can have a drastic impact on how the results of a game play out. That extra runner could provide a huge boost to another team in a close game. And late errors with the Phillies especially, provide to be even more costly with such poor performances from their relievers.
Defense wins championships, there's no lie in that statement. The Houston Astros, who have been to three World Series' over the past five seasons, have been in the top five of DRS during their three championship appearance campaigns. Throw the scandals out the window, those guys flash the leather, and it works.
The Phillies mindset is the complete opposite of that. I assume the mentality the ball club holds is to simply mash for nine innings and hope for the best with their bullpen and defensive assets. And that's what makes them so much fun!
But when you really take a dive into it, these kind of results are not attainable day in and day out. Offenses fall asleep, it happens. I personally got to witness the New York Yankees offense sleepwalk through their first 81 games last season!
And we're already seeing this play out right in front of our eyes, with the Phillies two games under .500.
The bottom line is, Philadelphia is a fun team to watch, but are they really a contender with so many flaws?
Without a solution on the horizon any time soon, I fear this team could immensely disappoint despite having a top-five offense in baseball.
This offense has a crazy amount of firepower. When they're on, they're one of the scariest teams in baseball for an opposing pitching staff. But right now, the Philadelphia Phillies are beating themselves with these defensive miscues and the shortcomings of their relievers.
Only time will tell if this team can continue stringing wins together and attempt a playoff run. But despite their recent success, I don't see it happening.