Analysis
Dansby Swanson is Looking Like One of MLB's Best All-Around Shortstops
Playing in his contract year, the Atlanta Braves 28-year-old shortstop is turning in the best season of his career.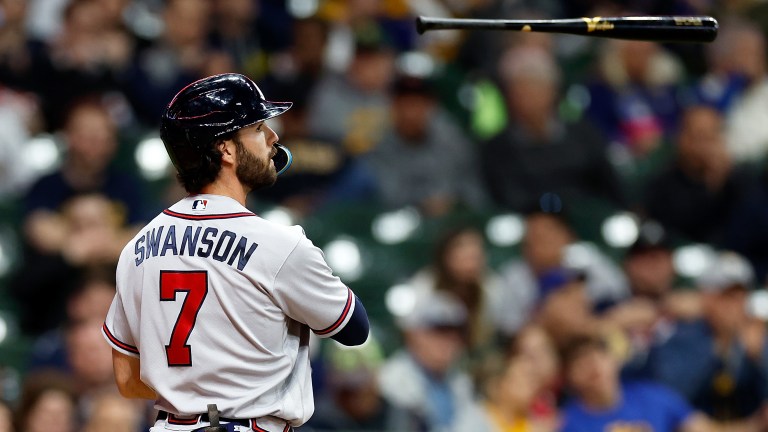 The Atlanta Braves are one of the hottest teams in baseball. Behind some breakthrough stars in the rotation and a slightly altered offensive core from last year's World Series winning team, the Braves are coming off a 14-game winning streak, putting them in an NL Wild Card spot.
While the team has stars all over the diamond — like Matt Olson, Ronald Acuna Jr. and Austin Riley — Dansby Swanson has been the most valuable player by fWAR (3.0) in Atlanta to this point in the season.
The 2015 first overall pick is having a career year in 2022. He's slashing .294/.363/.465 with a 130 wRC+, all of which are career-high numbers. 
With Swanson in a contract year, you have to wonder if what he's doing offensively is sustainable, or is he just off to a hot start?
To go along with his career-best stats, Swanson has the improved peripherals to match, proving that he might be having more than just a solid stretch. He's posting career-highs in average exit velocity (90.2 mph), hard-hit rate (46.2%) and xwOBA (.373). 
Swanson is also striking out at a career-high rate (27.4%), but if he's actively trying to trade off making more contact for making hard contact — it's working. The 28-year-old has a career-high BABIP (.389), which could be some luck, but likely goes hand-in-hand with the harder contact he's making.
While ZiPS has Swanson projected to come back down to earth a little bit over the course of the season (he's projected to slash .260/.325/.448), projections have him ending the season with a 5.5 fWAR and hitting 14 more home runs.
Comparing that total to all shortstops in 2021, a 5.5 fWAR would have placed Swanson sixth, ahead of players like Bo Bichette, Tim Anderson and Xander Bogaerts.
If he can keep up the pace he's set through the first three months of the season, Swanson could finish the season as a top-five shortstop in MLB.
Swanson the All-Star?
With all the improvements he's made at the plate to go along with his already stellar defensive profile, Swanson is making a push to represent the National League at the 2022 All-Star Game.
With the Braves likely to have multiple players in Los Angeles, Swanson's case will come down to how he stacks up against the other shortstops in the NL.
He'll have to beat out established stars Trea Turner and Francisco Lindor, as well as the emerging Tommy Edman and Willy Adames.
It might be Swanson's all-around play that earns him his first All-Star nod over the rest of the field.
Swanson ranks second among all NL shortstops in fWAR, coming in ahead of the likes of Turner and Lindor while only trailing Edman.
Turner is the only NL shortstop with a higher wRC+ (134) than Swanson and only three other shortstops have more defensive fWAR.
When you combine what Swanson is doing on both sides of the field, he might be the most deserving shortstop to represent the senior circuit in LA.
Free Agent Future
The Braves have a big decision to make when it comes to Swanson this offseason.
While they established their willingness to let homegrown stars go, with Freddie Freeman ending up on the Dodgers, Atlanta may not have a Matt Olson-type acquisition ready to step in at short.
Internally, there isn't an obvious prospect in the Braves system that would be ready in 2023 to take on the starting shortstop job.
Braden Shewmake is the closest to the majors but hasn't inspired much confidence that he could come up and be an MLB-ready hitter. He has a .704 OPS and an 88 wRC+ at Triple-A in 2022 through 194 PAs.
The shortstop free-agent class could include Turner, Bogaerts and Carlos Correa but it seems unlikely that the Braves would be willing to hand out the type of contract that trio would demand.
A Swanson extension would be the safe bet for the Braves, who are in the middle of their championship window. Losing him for nothing could leave a hole up the middle that a team with championship aspirations can't afford to have.
All stats courtesy FanGraphs and from before play on June 20th