Analysis
Dansby Swanson's the Best Deal of Top Shortstops Signed in 2023
The least-heralded among the top shortstops who were available in free agency, Dansby Swanson is looking like the absolute steal of the class.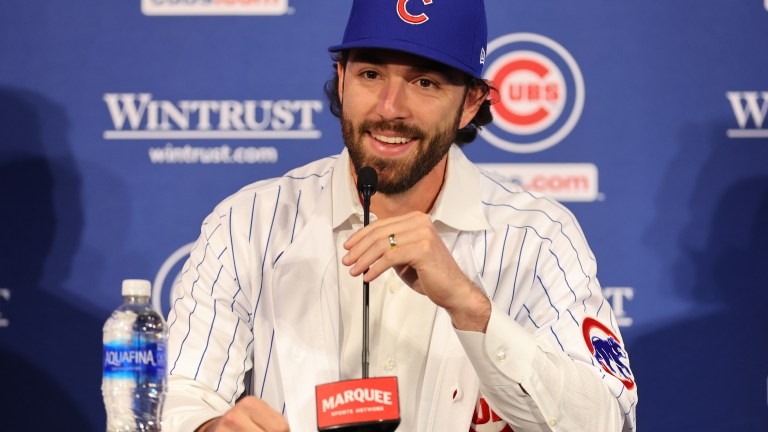 In a free agent class that included Trea Turner, Carlos Correa and Xander Bogaerts, Dansby Swanson was the afterthought when it came to the top-tier free agent shortstops.
Swanson was always part of the conversation, but mentioned last when it came to the shortstops ready to cash in on nine-figure contracts this winter. Each shortstop was ultimately able to find those deals, but some were much bigger than others.
Turner and Bogaerts were the first signed, and each to deal that spanned longer than a decade. For Turner, his nine-figure deal started with a three, an 11-year, $300 million pact. Bogaerts came at a slight discount to the Padres, but $280 million over 11 years was in the same ballpark.
Then came the Correa saga, where his two $300+ million deals both were erased before he landed back in Minnesota on a six-year, $200 million deal. With far less fanfare, the Chicago Cubs inked Dansby Swanson to a seven-year, $177 million deal to be their starting shortstop.
Swanson now represents the face of the franchise for the Cubs and is playing at as high of a level as any of these top shortstops, but on a much better contract.
All stats were taken prior to play on May 23rd
The Floor Keeps Rising for Swanson
When it comes to Dansby Swanson, his improvements defensively over the last few seasons have created a player that is remarkably dependable as your starting shortstop.
Swanson is durable, having played all but two games across his last three seasons with the Atlanta Braves, and last year he won his first Gold Glove. Swanson has picked up where he left off with the glove, currently ranking in the 95th percentile when it comes to Outs Above Average.
Meanwhile, Swanson has improved one key area of his offensive game that could make him an even safer profile to project moving forward. He has doubled his walk rate.
Last year, Swanson walked at a 7.0% clip. This year, that number has leaped up to 14.1%. The jump coincides with a drop in his strikeout rate, from 26.1% down to 21.8%, which would match a career-best.
Over the last three seasons in particular, Swanson maintained K rates over 25%, leaning into his power, as he hit 10 home runs in the 60-game season before eclipsing 25 in each of the last two years. This season the power is down a bit, but his on-base percentage is 50 points higher than his career norms.
Swanson is getting on-base at a .374 clip, which has helped keep his wRC+ at 120, despite the dip in power. Considering the fact that Swanson has nearly an identical average exit velocity to last season (90.5 mph) and has a better Barrel% (from 10.8 in 2022 to 13.0%), there is every chance he taps back into that game power and starts to leave the yard as the weather warms this summer in Chicago.
The one reason to explain his dip in home runs is due to a decrease in his launch angle from 15.7 with the Braves in 2022, down to 11.6 with the Cubs. This could be intentional though, as flyballs hit with the winds at Wrigley can stay in the yard and lead to outs, where line drives at least fall for hits.
When we look at Swanson's expected slugging, his .476 xSLG is actually 15 points higher than his .461 mark from last season.
According to MLB.com, Expected Weighted On-base Average (xwOBA) is formulated using exit velocity, launch angle and, on certain types of batted balls, Sprint Speed. This is a statistic that takes wOBA and removes the defense to measure exactly what a players offensive performance indicates.
For Swanson, his wOBA and xwOBA were identical at .337 last year. This season, Swanson has a wOBA of .349 and an xwOBA of .372. In fact, Swanson's xwOBA is the highest among all shortstops outside of Bo Bichette.
Bottom line, Swanson has improved as an offensive player compared to last year. All while maintaining the same elite level of defense.
This has the 29-year-old on pace for yet another six if not seven-win season when it comes to his fWAR. With a 1.9 fWAR, Swanson is currently tied with Xander Bogaerts, Thairo Estrada and Bo Bichette for the second-best mark among shortstops. Wander Franco leads the league at 2.1.
Best Shortstop Contract Signed in 2023
Before we even get into the play of any of these shortstops, there is something to be said about the length and terms of each of the contracts they signed. Swanson is younger than both Turner and Bogaerts, yet he is signed to a contract that is four years shorter.
Swanson's contract will end after his age-35 season. Meanwhile Bogaerts and Turner will still be playing under their deals until they are in their age-41 seasons. That, plus the fact that they are both being paid over $100 million more than Swanson makes the Cubs deal a steal in of itself.
Now when we look at the the production so far, this argument gets even more lopsided in Chicago's favor.
Turner has gotten off to a rough start this season, hitting .256/.303/.390, with four home runs and a 85 wRC+. Turner is striking out at a 26.9% clip and is walking at a 6.3% rate, both of which would be his worst marks since before 2017.
Turner has been far less productive with his .299 wOBA, compared to Swanson at .349 and is expected to be less productive moving forward with his .272 xwOBA to Swanson's .372 mark.
Now Turner is not far-removed from being the star for Team U.S.A. in the World Baseball Classic, and adjusting to playing in a tough market like Philadelphia can be difficult on any player.
He very well could and really should be the best shortstop among this group moving forward, but that just has not been the case so far. Turner and Swanson about mirrored each other's production last year and there is every chance they do it again this year, and it is more trending towards Swanson being better.
Over the life of Swason's deal over the next seven years, there is a chance that he can give a close facsimile to the production that Turner has and the Cubs won't be on the hook for the additional four years and $123 million that the Phillies are.
Carlos Correa falls into a similar class as Turner in that sense, as he too is uber-talented and is probably capable of more than most when at his apex. Early returns after a tumultuous offseason have just not been good for Correa.
In his second season with the Twins, Correa is hitting .213/.302/.396, with six home runs and a 93 wRC+. With a 0.3 fWAR through 44 games, Correa has been slightly less productive than even Javier Baez this season. While he too can turn it on at any time, a slow start combined with all the medical concerns around that ankle have to be worrisome to Minnesota.
Not to mention, Correa gets paid over $8 million more per season than Swanson, albeit on a deal that is one year shorter. Still, I'd venture to guess that most teams if given the choice right now would take the sure-thing with Swanson for $23 million less guaranteed.
Last but not least, we bring Xander Bogaerts into this discussion. The Padres new shortstop has been their best player up to this point, featuring the same 1.9 fWAR as Swanson.
The improvements Bogaerts showed defensively have actually remained, despite the elimination of the shift, as the 30-year-old has been worth 2 DRS and 8 OAA. Offensively, Bogaerts is hitting .257/.357/.404, with six home runs and a 117 wRC+, but those numbers are carried by a great start to the season.
Across his first 23 games played, Bogaerts posted a wRC+ of 172, hitting five of his six home runs and slashing .341/.418/.565. Over his last 23 games played since, Bogaerts is hitting .174/.297/.244, with one home runs and a 63 wRC+.
Altogether, Bogaerts has been just about as productive as Swanson, but the underlying numbers favor the Cubs shortstop moving forward. And again, he will make $107 million less.
All of this is to say that the Chicago Cubs did pretty well this offseason by signing Dansby Swanson. The deal might not have gotten as much fanfare as the other signings, but in the long run it could certainly prove to be the best.