Analysis
Is Brent Rooker This Year's Joey Meneses?
The Oakland Athletics may have found a diamond in the rough with Brent Rooker, who has been tearing the cover off the ball recently.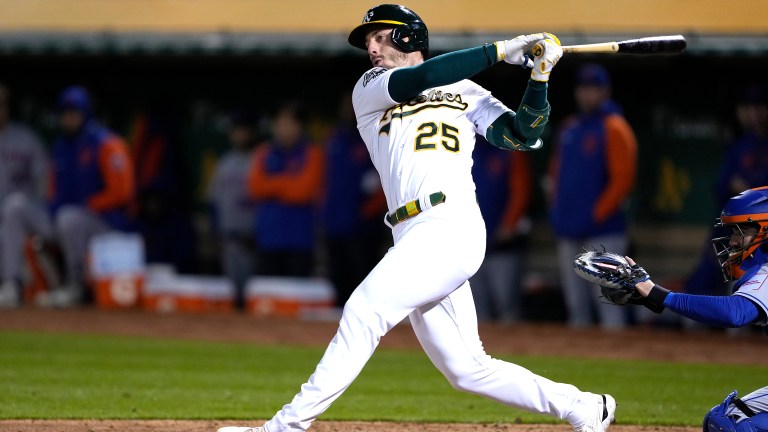 More so than ever, people need instant gratification. We study prospect lists only to eventually label players bust the second they experience their first slump. Some players need more time to develop and adjust to Major League pitching. Others just need the right opportunity for playing time.
Joey Meneses first appeared in professional baseball in 2011 at 19 years old. A slow and steady climb through Atlanta's organization came to an end after 2017. He bounced around the Phillies and Red Sox organizations before landing in Washington in 2022.
No one really thought of him as a prospect or potential contributor until after the season. At 30, Meneses finally earned a late season call up to the show to make his debut.
Although expectations were low, he quickly made a name for himself smashing 13 home runs in only 56 games. How could a guy with this power take so long to debut?
His minor league numbers were steady but being labeled an older prospect often allows for younger guys with presumably more upside to leapfrog you. Now Meneses has earned a starting role and gets to fulfill his lifelong dream of being a Major League player.
Oakland Athletics outfielder, Brent Rooker, has a similar baseball timeline. The 35th overall pick from 2017 started his career in Minnesota ranking on several prospect lists. Sure, he played 81 Major League games prior to this season, usually as a short-term fix and fill in. Rooker just could never stick with the Twins.
Power was never a question. Rooker has 102 career minor league home runs across four seasons. Like many power hitters, the swing and miss held him back from cementing himself on a major league roster. His strikeout numbers have hovered around, or over, 30% for the most part.
In 2022, Rooker hit 28 home runs in 81 games with the Padres and Royals Triple-A affiliates. Yet, he still could not get regular playing time. Rooker came to Oakland this past offseason understanding his path to playing time might be easier with the A's than anywhere else. Former top prospect Christian Pache was dealt, leaving room for Rooker to take a roster spot.
While fans were upset about the organization giving up on a player like Pache, the A's made the right move. Rooker's 0-for-9 start to the season did not calm the nervous of the fanbase, but his recent streak sure did silence the doubters.
What Rooker needed was an opportunity to play regularly. When Seth Brown went down with injury a starting spot opened and Rooker ran with it. Through 10 games, Rooker is slashing .333/.395/.727 with four home runs, five runs, and 11 RBI. Yes, it's a small sample. Yes, regression is possible. Yes, I am absolutely buying in.
Let's talk stats. The power is real and I think we can all agree there. Rooker's 95.3 mph average exit velocity and 59.3% hard hit percentage both rank in the 96th percentile in all of baseball. So, what's different and what's still concerning?
Although we are working with a 10 games sample size, Rooker's improvements against fastballs need to be noted. In 2021, where he played 58 games, Rooker hit .202 off fastballs with five home runs and 38 strikeouts in 109 at-bats. In 2022, .143, no home runs, and seven strike outs in 21 at-bats.
This season, in 15 at-bats, Rooker has seven hits (.467), three home runs, and only two strikeouts. His average exit velocity off the pitch is 96 mph, up three ticks from previous years. All great, but he has yet to really face a flame thrower consistently.
His 35.6% whiff rate on fastballs is still alarming, and something to monitor going forward. While it's not currently leading to as many strikeouts, it soon will if he does not start making more contact. Even a slight improvement can make a drastic impact when you make loud contact like Rooker does.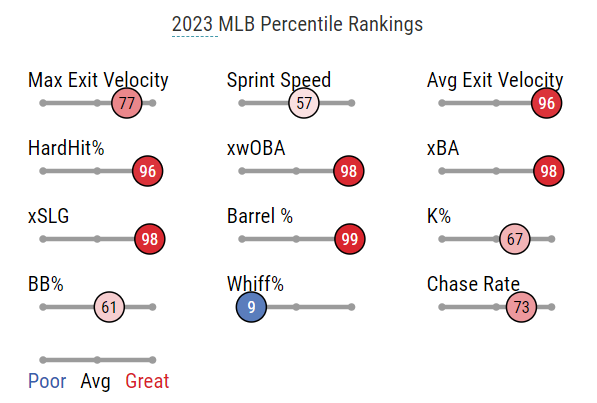 I know it's too early for this type of graphic, but its just crazy enough that I had to include it.
Simply put, Rooker's career will be determined by how much he strikes out. Entering Monday, his 18.4% strikeout rate would be the best of his career. You can attribute that to a 28.6% chase rate, which is actually identical to his 2021 number. In fact, his zone contact percentage was nearly the same as well.
Rooker's 2021 season was his largest sample size and best stint in the majors. A .201/.291/.397 slash line and 91 wRC+ might not jump off the page. His 91 mph average exit velocity and 48.7% hard hit rate do, however. In 2021 his expected batting average of .238 was 37 points higher than is actual batting average and his .463 expected slugging was significantly higher than is .397 slugging.
Ok, enough numbers. What am I trying to say? Brent Rooker's hot start might actually be sustainable. Even with regression, if he can get the strikeout percentage around 23%-26%, there's enough pop to make him an option going forward for the Athletics. A .230-.240 hitter with 25+ home run power is not out of the question.
After the underwhelming returns Oakland has received in recent trades, they are due for a diamond in the rough. Like Meneses, Rooker just needs everyday at-bats and the A's can afford to give him just that. A lost season in Oakland, it feels good to cheer for a player who might just resurrect his career.