Analysis
In Padres' Year of Disappointment, Ha-Seong Kim Has Been Anything But
While the 2023 Padres couldn't protect San Diego, one particular player did his damndest to avenge it: infielder extraordinaire Ha-Seong Kim.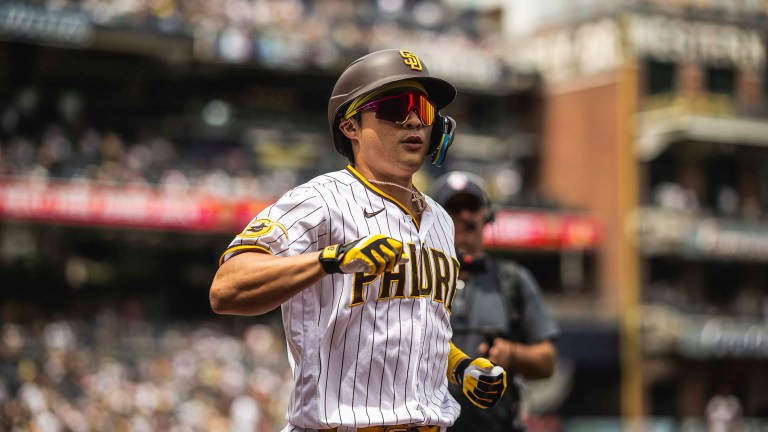 There was an idea…to bring together a group of remarkable players. So when San Diego needed them most, they could fight the battles we never could. It was called the 2023 Padres Initiative.
And, poof, it didn't work!
But while the 2023 Padres couldn't protect San Diego, one particular player did his damndest to avenge it: infielder extraordinaire Ha-Seong Kim.
Sitting at 59-65 on the season, about everything that could have gone wrong for the Padres has. Manny Machado followed up his second-place MVP finish in 2022 with three months of anemic offensive output, Xander Bogaerts forgot how to hit, Austin Nola was somehow allowed to start 52 games, and the team has collectively hit worse than any other team not named the Oakland A's with runners in scoring position.
Yu Darvish and Jake Cronenworth received meaty extensions in the offseason, and the former has accounted for a 4.35 ERA while the latter has amassed just 1 fWAR. 
Absent the surprising resurgence of Gary Sanchez and the team finally giving Luis Campusano a chance, there have been very few players to step up. Or, at the very least, improved. With the Padres, players tend to either get worse or, at best, stay the same. Ha-Seong Kim's 2023 has been an aberration to that organizational trend.
Through 118 games, Kim has slashed an impressive .281/.372/.438 with a wRC+ mark of 127. When you consider how his career started off and the aforementioned tidbit about Padres players not improving, it's even more impressive.
In 2021, Kim received irregular playing time behind Fernando Tatis Jr. at shortstop (who now plays right field!), where he mustered a lowly 70 wRC+. If not for his remarkable defensive output, he might've been viewed as a full-blown bust.
Then Tatis missed the entirety of 2022 due to injury and — as many of the most boring and pedantic baseball fans will remind you of — a rather infamous PED suspension. As I wrote before the 2022 season, it was Kim's opportunity to shine. And shine he did!
While his offensive numbers weren't anything that would help you win your fantasy league, Kim improved to be an average offensive player (102 wRC+) and continued his stellar defensive play (10 DRS and 6 OAA at short).
If not for the wizardry of the Braves' Dansby Swanson, Kim might've netted himself a Gold Glove his first season playing the position full-time. But who cares? Kim became a legitimate piece and somehow managed to stand out amongst a star-studded Padres team, becoming a fan favorite in the process. 
He stepped up when their star player was doing some goober nonsense, Manny Machado fell in love with him, and the general vibes were immaculate. He does it all, even if not in the flashy home-run super heroics that other superstars in the league usually exhibit. He's just meat-and-potatoes — the guy that dads love to say "he's just a winning player" about.
And then his over-achieving self decided to be even better.
Even if Kim didn't make major strides in 2023, his defensive abilities were so good that just average offense would make him an incredibly valuable player. But thanks to some key improvements, Kim might've transformed himself into one of the premier leadoff hitters in baseball.
One of the biggest factors has been his overall plate discipline:
| | | | |
| --- | --- | --- | --- |
| | 2021 | 2022 | 2023 |
| 1st Pitch Swing Percentage | 31.6% | 24.9% | 18.9% |
| Chase Rate | 24.2% | 24.9.% | 19.3% |
| Walk Rate | 7.4% | 8.8% | 12.2% |
He's an example of how — and this should probably be emphasized for the Padres front office especially — these things take time. Not everyone is a superstar right away. Kim started at the bottom of the lineup and has seen that the leadoff spot may be his true calling, where his walk-to-strikeout ratio is the best of anywhere he's batted in the order. He's transformed into a player that draws plenty of walks and sees plenty of pitches (his 4.35 per plate appearance trails behind only Ryan McMahon).
And seeing more pitches, Kim has also been able to increase his power output. In all of 2022, Kim mustered 11 home runs and just halfway through August he's blasted 16. He's turned more of his pulled hits into fly balls, with his fly ball rate going from 22.9% to 26.3%. He simply loves that left field in Petco. 
He's even managed to, unlike the rest of the Padres, show some grit in his plate appearances
It can't be understated how difficult the transition from the KBO to MLB can be, either. Catching up with MLB velocity is no easy task, especially for a Padres team hellbent on winning now and without getting the same minor league reps as other players. And that's not even accounting for the general adjustments of being in a different country.
As a treat, he's also become a prolific base-stealer as well, swiping 27 bags compared to just 12 all of last year. That's good for the 8th-most among ALL position players. He may not be a 30-30 guy, but a probable 20-30 with elite defense (his 17 total DRS across third base, shortstop, and second base lead all infielders) is the best-case scenario that Padres brass could've hoped for.
Despite all the big names on the team, Kim's 4.3 fWAR not only leads the Padres but is the 13th-best mark among all position players.
Oh, and he's found even more ways to be extremely likable:
Do I feel inadequate when thinking about Ha-Seong Kim — on top of his baseball skills AND transitioning over to an unfamiliar land — ALSO being someone who talks trash in Spanish? Yes! I do!  
If it sounds like I'm fanboying, then just know that is precisely the intent. I'm in awe of this man and you should be too. One of the curses, and blessings, of baseball is how isolated it can all be. This isn't like football, where Terry McLaurin is wasted season after season due to underwhelming quarterback play.
In this beautiful but cruel sport, Shohei Ohtani can literally excel at every facet of the game but the Angels still manage to lose. He can't have a tangible impact — although I imagine he's trying his hardest to perform some sort of Doctor Strange magic to spread around some of his demi-god powers — on his teammates.
But the reverse can also be true. Xander Bogaerts' disappointing season doesn't transfer to Kim's bat at the plate just because they play in the infield together. Everyone can, mostly, do their own thing. And even though this Padres season is likely doomed to the fate of being meme'd for the next year, Ha-Seong Kim has been one heck of a consolation prize.