Analysis
Do the San Diego Padres Hate Luis Campusano?
Despite his talent and former top-prospect status, Luis Campusano has struggled to accrue consistent playing time for the Padres in 2023.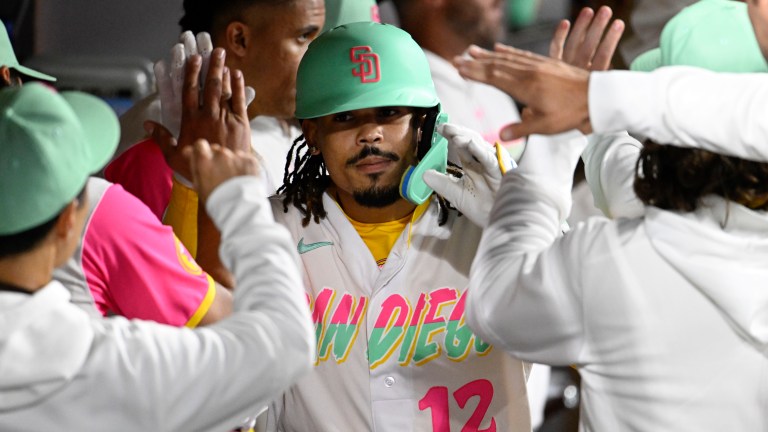 On Thursday night, the Padres suffered a heartbreak. After failing to get anything going aside from Manny Machado's solo home run (his first of the season), they finally broke through with a Trent Grisham bomb to tie the game when all hope seemed lost. Then later, Padres top catching prospect Luis Campusano came up to the plate with runners in scoring position and struck out in a riveting at-bat for the final out of the game. It was a microcosm of his young career so far.
But not because Campusano failed to bring in the tying run, per se, but because he seemingly continues to be set up to fail.
Drafted by the Padres in the second round of the 2017 draft, Campusano has had as weird a career as any top prospect in baseball. He was a consensus top-100 guy prior to his debut in 2020 and remained as such for some time. And yet, for reasons beyond my (admittedly amateur) understanding, he has struggled to accrue consistent playing time.
Make no mistake, Campusano hasn't flashed the same offensive potential he showed in the minors when given the opportunity. Plus, he did have an incident a couple of years ago in which he was arrested for felony marijuana possession. Suffice it to say, it's been a tumultuous road for the young catcher, but that doesn't change how the Padres themselves have seemingly handled him in totality. Context is paramount with players like this.
Yes, he hit below .100 in 2021, but that was also when he didn't have quite as many reps in the minors at the Triple-A level. That season also featured an appearance in which he pinch-hit in the 9th against Kenley Jansen — a decent pitcher, from what I hear — in a divisional matchup with the Dodgers. In 2022, his struggles continued, as he posted an OPS of just .593 over 16 games, but that was in an incredibly small sample size combined with inconsistent playing time behind starting catcher Austin Nola.
Nola is also a vitally important aspect of this story. Acquired by the Padres in 2020 in exchange for — and, god, it never hurts me not to type this — Andrés Muñoz and Ty France, Nola has been fairly mediocre. His 2021 season was mostly non-existent due to injury, while in 2022, he finished with a paltry 0.2 fWAR that ranked 22nd out of the 29 catchers with at least 300 plate appearances. So far through 2023, he's slashing .100/.206/.100 with a wRC+ mark of -4, which trails only Tomas Nido (-21) for the worst among catchers with at least 30 plate appearances.
Granted, we're talking about catchers. They're usually defensive specialists. In that department, Nola has shown he's… just as anemic of a player. In 2022, he finished with -6 DRS and rated in the 30th percentile for framing and the 19th percentile for pop time to 2nd base. Not only have those percentile rankings been similarly bad in 2023, but there have been 17 stolen base attempts against him — the most against any individual catcher — and he's only thrown out one of them. 
So what in the flying jelly bean casserole is stopping the Padres from giving the kid — under whom, by the way, the team has yet to lose a game — a chance?
The prevailing theory is that the pitching staff isn't quite so comfortable throwing to him behind the plate. Starting pitcher Yu Darvish has a massive repertoire of pitches and has historically liked only pitching to one guy, while Blake Snell has shown some struggles with Campusano behind the plate in the past. Despite an entire offseason to figure these sorts of things out — and Campusano showing some improvement with his general defense over the years — the Padres seem to have done the opposite.
In fairness, it's a famously successful strategy to keep your talented young catcher on the bench because of what your starters want, even if they've been lousy regardless of who's behind the plate. It's not like the Padres have fumbled this kind of situation before… right?
Dear reader, they have! The entire Campusano ordeal feels eerily similar to the one that they faced years ago with Yasmani Grandal, who languished away on the bench despite his obvious potential at the plate. The starters back then seemingly didn't like pitching to him, resulting in just 76 starts for the young Grandal and his failing to find any consistency in his final season with the Padres. After being shipped off to the Dodgers, he immediately became an All-Star.
As Matt Calkins eloquently stated regarding Grandal's time in San Diego:
"But in retrospect, the Padres' reluctance to use Yasmani every day may have been like repeatedly taking the popcorn kernels out of the microwave just before they were going to pop."
I'm not expecting Campusano to be Adley Rutschman, nor should anyone else. Heck, even a comparison like Cal Raleigh might be a bit too high of a bar. But it's not like Austin Nola is prime Ivan Rodriguez, either. The way the Padres have handled the situation makes it feel like they're just moments away from trading him for Kyle Higashioka and Clarke Schmidt.
Of course [brace for ultimate baseball analysis cliche], it's still early in the season. I don't want to assume that Padres management is completely clueless — that somehow behind the scenes, they don't have any more data than myself, a 26-year-old chubby lad with One Piece and X-Men figurines all over his desk. But the longer this goes on, the more it feels like history is repeating itself with the Padres and their inability to produce a great starting catcher.