Analysis
Houston Astros Trade Deadline Guide
The reigning champs have some real competition in the AL West this year, which could force them to be more aggressive at the trade deadline.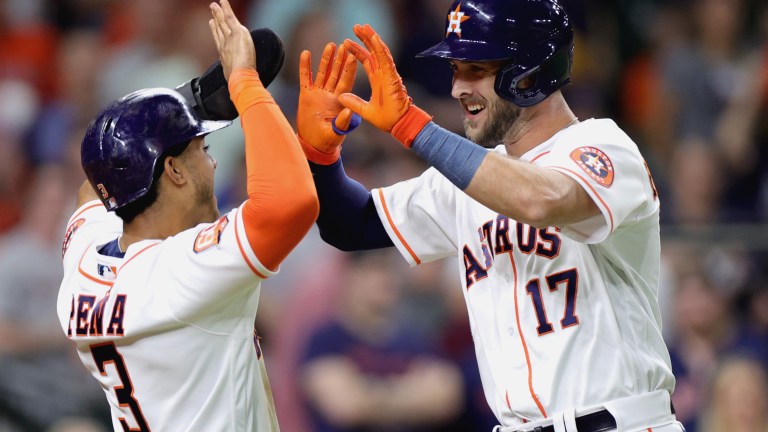 With the trade deadline looming the Houston Astros will be looking to add a couple of pieces as they try to gain ground on the Texas Rangers in the AL West.
The Astros are 4.5 games back behind the Rangers, but they hold a Wild Card spot alongside the Tampa Bay Rays and the Toronto Blue Jays. Houston has battled injuries all season long from the lineup to the rotation but are still in prime position for a deep playoff run.
Houston has a couple of needs come the deadline primarily in the rotation. Astros general manager Dana Brown has come out and said that the team will be looking at potential starters to add to the rotation. There are a couple of directions the team can go; they can go big and acquire a front of the line starter or look to add a veteran near the back end of the rotation.
Houston has the farm system to acquire big name players, but I fully expect them to find a package deal that features an outfield bat as well.
The Astros have relied more on their pitching rather than their offense this year. The team is batting .250 which ranks 17th in baseball, and they average just over four runs per game.
On the other hand, their rotation has really stepped up after losing Justin Verlander to free agency and Lance McCullers Jr. due to injury. The Astros have the third-best pitching staff ERA in the league just behind the Tampa Bay Rays and Minnesota Twins.
Houston has a 3.76 ERA, with opponents batting .241 against their pitching staff.
Personally, I believe the lineup is this team's biggest weakness but will be welcoming back Yordan Alvarez and Jose Altuve shortly. They will provide a boost to a streaky lineup and hopefully can remain healthy for the rest of the year. The Astros will need to be more consistent going forward in hopes of figuring out their best lineup come playoff time.
It's clear that Houston is in win-now mode and they will be buyers this trade season. Let's hone in on a couple of pieces they could add, and we will break it down into three categories the Astros should consider.
Starting Pitchers
There have been a couple of names that have been surrounding the Astros as of late. Lucas Giolitto, Dylan Cease, Marcus Stroman, Jack Flaherty, and Shane Beiber. Most of these arms are rentals but the Astros have the pieces to make these moves happen. Adding a top-of-the-line starter to a rotation that features Cy Young candidate Framber Valdez will only boost this rotation.
The White Sox are going to be selling come the deadline and I expect Houston to be making multiple calls with Chicago. Not only do they have starters they've made available, but they have a couple of outfield pieces that could interest Houston as well.
Lucas Giolito seems like a cheaper option than Dylan Cease, Giolito is having a solid bounce back year for 2022. He is 6-6 with a 3.96 ERA, while positing a 2.3 WAR and was an All-Star back in 2019.
Cease was a Cy Young candidate a year ago, but has struggled compared to last year. He is 4-3 with a 4.18 ERA, which is significantly higher than last year's 2.20 ERA.
Considering the fact that his organization has struggled mightily this year, with a fresh environment, I'd expect Cease to return to form. He is one of the best strikeout pitchers in today's game and has averaged double digit strikeouts per nine innings over the last three seasons.
Cease will be the toughest to acquire because he has two more years of arbitration beyond this season and Chicago may look to build around him going forward.
Marcus Stroman is an interesting acquisition. Stroman has come out and said publicly that he would like to remain in Chicago and get an extension from the team, but the Cubs might be sellers a week from now. They are seven games back from a Wild Card spot and are sitting just below .500.
Stroman is having a Cy Young worthy season, going 10-6 with a 2.88 ERA and a 3.3 bWAR, while being selected to his second All-Star game. Stroman is a veteran arm, who has playoff experience back when he was with Toronto, and he'd flourish with the opportunity to compete for a contender with a chance to pitch in the playoffs.
The Cardinals have come out and said they are going to be sellers at the deadline cementing their disappointing season. Jack Flaherty has been a name the Astros have looked into before and if any team can get Flaherty to return to his 2021 form its Houston.
Flaherty has struggled posting above a 4.20 ERA in each of the last two seasons. This year he is 7-5 with a 4.29 ERA, but has pitched well over the course of his last three outings surrendering three runs over 18.2 innings.
The least likely on this list is Shane Beiber, he was recently put on the IL by the Guardians and Cleveland is only 2.5 games back in the AL Central behind the Twins.
The Guardians have a decision to make come the deadline and if their ace is healthy, there will be more than one team looking to acquire the former Cy Young winner. He has had another good season going 5-6 with a 3.77 ERA and still has a year of control beyond this season.
The market for starting pitching is always tough to navigate. The decision to give up your future to win-now is always difficult, but all five of these options would bolster Houston rotation and shake up the division.
The Astros have taken a backseat to teams like the Orioles, Rays, and Rangers for bragging rights in the American League, but acquiring any of these options puts them right back in the mix.
Outfielders
Going back to Chicago, there are a couple outfielders the Astros could target. Andrew Benintendi, and Cody Bellinger are both options who could be dealt in a potential package with one of the starting pitchers we mentioned.
The Astros have had interest in Benintendi in the past and have stressed their need for adding another left-handed bat to the middle of the lineup. Benintendi doesn't have the power numbers he put up in years prior, but he's been a consistent hitter this season. He's batting .292/.357/.378 and can play both corner outfield spots and he can be a part of the Astros long-term after signing a five-year, $75 million deal this past offseason.
Bellinger has lost a step from his MVP season in 2019, but the 27-year-old is reviving his career with the Cubs. He's batting .311/.367/.527, with 12 home runs, 35 RBIs and has a .894 OPS, which is the highest it's been in the last four years. Bellinger also has the flexibility to play both outfield and first base with the Astros having the option of letting him go after this season.
St. Louis has a couple of outfielders that might interest Houston, Tyler O'Neill and Dylan Carlson are likely to be traded come the deadline and it depends how the Astros want to build their lineup because both players are very different hitters.
O'Neill would love hitting at Minute Maid Park, having the Crawford boxes in left field will only benefit the 28-year-old slugger. O'Neill hasn't played since May, but when he is healthy, he is a dangerous bat in any team's lineup. He was at his best in 2021 when he batted .286/.352/.560 with 34 home runs and 80 RBIs with a .912 OPS.
Carlson doesn't have the home run hitting ability, but he can slide into any part of the lineup. In his first full season back in 2021, he slashed .266/.343/.437 with 18 home runs. His offense has slowed down over the past two years but he can play all three outfield positions and is a switch hitter with three-plus years of remaining team control.
Bullpen Options
There are only a few worthy bullpen arms the Astros would go after. David Bednar, Scott Barlow, and Justin Lawrence are a couple of names that come to mind. Accquring relief help is easier to navigate at the trade deadline, most teams that sell are rebuilding will get rid of their bullpen pieces for a prospect that could be a part of their future.
The Rockies and Royals aren't going to be contending anytime soon. Colorado not only has Justin Lawrence but Daniel Bard and Pierce Johnson who could be on the move as well. Many contenders needing bullpen help will call upon those two teams in hopes of bolstering their bullpen.
David Bednar would be a solid option for Houston. Bednar has three years left of control, and while the Astros have Ryan Pressly as their closer, having a shut down setup man makes their bullpen more complete.
The team signed Rafael Montero to a contract extension this past offseason but he has struggled mightily. Montero has a 6.42 ERA and has seen his setup role diminished and the Astros are going to need more than one arm down the stretch.
Conclusion
Personally, I see the Astros talking heavily with the Chicago White Sox, Cubs, and St. Louis Cardinals. All three of those teams can offer package deals for both a starting pitcher and a outfielder that will instantly make an impact in Houston.
I believe the Astros know they haven't played their best baseball yet and once they are healthy, this team is poised for a deep playoff run. They have the veteran experience and the younger guys have taken advantage of their opportunities and have begun to understand how to compete at the big league level.
I've been saying all year don't let the Astros get healthy and they will be shortly. Adding pieces at the deadline will only make this team better and with a big time acquisition, Houston is poised for another chance at a World Series title.