Analysis
Justin Verlander Has Made the Houston Astros the Team To Beat
After acquiring their former ace at the trade deadline, the Astros are once again the team to beat in the American League come playoff time.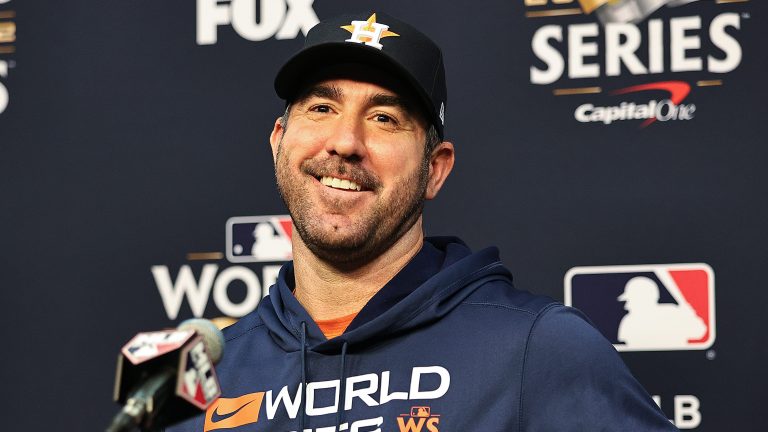 The impact that Justin Verlander has had since rejoining the Houston Astros cannot be understated. The reigning World Series champions find themselves within striking distance of their divisional foes the Texas Rangers and Seattle Mariners atop the American League West, and have all but guaranteed themselves a spot in October.
Since his return to Houston, Verlander has been nothing short of spectacular. He has only allowed nine earned runs over 29 dominant innings for an impressive 2.79 earned run average. He has allowed just two home runs (and none since August 11th), while racking up 29 strikeouts.
His only loss over this stretch was a quality start against the Yankees that the Astros lost 3-1. This was his first start back with Houston. He has won his last four starts since.
Opponents are hitting just .252 against Verlander since the trade, with a .315 on base percentage and a woeful .383 slugging percentage. The advanced metrics suggest that this is not a fluke, as his opponents wOBA is just .306. In high-leverage situations Verlander has been even better, holding opponents to a stunning .111 average and .148 slugging percentage.
When push comes to shove, Verlander has buckled down and been absolutely lights-out.
His importance to Houston is immeasurable, as he now anchors the Astros pitching staff with Framber Valdez, creating a one-two punch at the top of the rotation that is unmatched in the American League.
The rotation as a whole has been phenomenal, as the Astros rank fourth in all of baseball in quality starts and eighth in starter ERA. Their starters have thrown the second-most innings in all of baseball, and their ability to go deep into games will be a huge help come October.
Houston now has a strong case as the most complete team in baseball with their two-headed monster at the front of their rotation, and an offense that can hit with anyone.
Yordan Alvarez, Kyle Tucker, and Jose Altuve headline an offense that is fifth in baseball in runs, eighth in batting average, eighth in slugging, and seventh in OPS. The team is one of the best at putting the ball in play, as they have the sixth-fewest strikeouts in MLB. 
Another huge advantage for the Astros is their experience in the bullpen. Houston's relievers rank ninth in ERA, and lead all of baseball in K/9. The importance of this ability to miss bats, especially late in games during the playoffs, could very well be what propels Houston to another World Series appearance.
Furthermore, almost all Houston's relievers have experience when the lights are brightest and the moments are biggest, an advantage that many other AL teams lack.
That experience is really present throughout this entire ballclub, as they have routinely made deep runs in the playoffs over the past six years. Verlander has been around for all of it, and without him something would have been missing.
The Astros lost both Luis Garcia and Lance McCullers Jr. to season-ending injuries and of course were still without Verlander until the deadline. Rookies Hunter Brown and J.P. France have filled into the rotation admirably this year, but neither has the requisite playoff experience to be trusted as true compliments to Valdez.
Cristian Javier was lights-out in the Astros run to the World Series title last year, but has struggled this year when tasked with being a frontline starter. He has pitched to a 4.66 ERA and has even seen a dramatic drop-off in his strikeouts (11.74 K/9 to 8.15 K/9).
With Verlander back, the Astros move everyone down a peg and won't get to the real question marks in their rotation until Game 3 of their first playoff series. This could have massive implications come October.
While Seattle and Baltimore have been fun teams to follow this season, and may very well finish with better records than Houston, neither team has the same level of experience and comfort in October that Houston has. Additionally, with injuries mounting in Baltimore and decimating the Texas Rangers, Houston finds itself with a phenomenal opportunity to make its way back to their familiar stomping grounds of the Fall Classic.