Analysis
Five MLB Blockbuster Trades to Spark the Hot Stove
As the Hot Stove warms up, here are some blockbuster trades that we would love to see.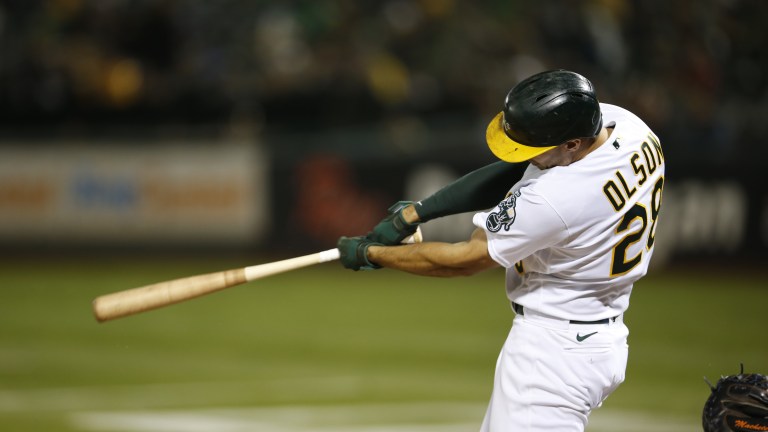 We've reached the offseason, which means it is time for everyone to fire up the trade machine!
With the Oakland A's all but saying they are open for business and many teams with loaded systems potentially looking to make big time moves, lets have some fun and mock some blockbuster deals.
5. Matt Olson Lands in Yankee Stadium
Yankees get: Matt Olson
Athletics get: Oswald Peraza, Deivi Garcia, Luis Medina and Austin Wells
Now, I am sure the A's will ask for Volpe or Dominguez in which case the Yankees will likely say that the two are off limits. Even with all of the trades the that the Yankees made around the deadline, the farm system is still in a better place than it was prior to the start of the 2021 season.
Trading Olson is a tough pill to swallow for A's fans, but he is not going to get extended and if you're burning down the team around him, you might as well trade Olson while his value is at its peak. It's a steep price to pay for the Yankees, but likely the price required in order to hold onto their top two prospects.
Olson comes with two years of control at around $13 million, depending on how arbitration goes. This should allow the Yankees to spend in free agency to satisfy some of their other areas of need, while staying below the luxury tax.
4. Mariners Land an Ace in Luis Castillo
Mariners get: Luis Castillo, Mike Moustakas, Cash
Reds get: Emerson Hancock, Matt Brash, Jake Fraley
The Mariners are expected to be aggressive this offseason and according to Jon Morosi, the team has already checked in on Castillo. The Reds are a team that has frequently looked to dump expensive contracts, especially after disappointing seasons. Reports indicate that this offseason could be more of the same from the Reds.
The Mariners have built one of the best systems in baseball and can facilitate a deal for Castillo without trading away their blue chip guys in this deal if they are willing to eat some of the Moustakas contract. The way Reds owner Bob Castellini has privatized finances in the past, I think that the Reds brass can talk themselves into a lesser prospect return given the presumed willingness of the Mariners to eat some of the brutal contract given to Moustakas.
Moose is owed $36 million over the next two seasons, but you might as well round that to $40 million thanks to the $4 million buyout on his $20 million club option for 2024. If eating some extra cash allows the Mariners to hold onto George Kirby, this is a no brainer for Seattle.
On the flip side, the Reds still get two top 100 prospects as Hancock and Brash rank 40th and 92nd respectively in our Top 100 prospect list, an interesting controllable big league piece in Jake Fraley, and money off the books. If the Mariners are willing to take on more than half of Moustakas's contract, this deal just might work. Moose is a solid bounce back candidate who can fill in at third after Kyle Seager's departure or second base if Abraham Toro struggles.
3. Blue Jays Send Catching for Marlins Pitching
Blue Jays get: Pablo Lopez
Marlins get: Gabriel Moreno and Kevin Smith
This is one of those trades where both sides would very reluctantly agree, but these two teams seem like a trade match made in heaven. The Jays needed pitching before Robbie Ray's potential departure. Assuming Ray gets a big deal elsewhere, Toronto may have some urgency to fill their starting pitching void.
Normally I'd say it makes sense to just go the free agency route and avoid parting with a top 15 prospect in the game, but the Blue Jays already have Alejandro Kirk, Danny Jansen, and Reese Maguire with big league time behind the dish. Moreno has a chance to be better than all of them–and I think he will be–but you can only start one of Kirk and Moreno and Jansen swung it so well down the stretch of the season that he earned himself more looks in 2022 as well.
On the Marlins side, they have a similar situation but in the pitching department. The Fish have Sandy Alcantara, Pablo Lopez, Trevor Rogers, Elieser Hernandez, Edward Cabrera, Sixto Sanchez and prospect Max Meyer but only five rotation spots. Parting with Lopez could be tough for the Marlins, but assuming Alcantara and Rogers are untouchable, Lopez is the easiest to move given the more extensive injury history of Hernandez and Sanchez. That said, Lopez has some IL history his own.
The Marlins are as desperate for catching help as any team in baseball and Moreno is a very close to big league ready prospect who is as safe as they come in the prospect world. If it weren't for Lopez's injury history, I'd probably lean more towards dealing Meyer, but Lopez's three years of control and fantastic numbers over the last two seasons could be enough for the Blue Jays to be willing to take on the risk.
2. Mets Pair Matt Chapman with Francisco Lindor
Mets get: Matt Chapman, Deolis Guerra
Athletics get: Mark Vientos, Khalil Lee, Alex Ramirez
Sorry Athletics fans, not done trading away your guys yet. Chapman is another name that has been the center of trade rumors for some time and this offseason could be the time he finally gets dealt. The slick fielding third baseman will likely make more than $9 million in arbitration this year and comes with another year of control in 2023.
Fans may prefer the A's to hold onto Chapman until trade deadline in order for him to boost his value a bit more by swinging the bat better than he has shown over the last two years, however he showed signs of life down the stretch last year and the glove is still as good as ever.
A left side of the infield that features Francisco Lindor and Matt Chapman could be as good as we've seen in a very, very long time; if the Mets bring back Javier Baez, then the Mets could have an all-time defensive infield. I also think that Chapman needed some time to get back from that hip injury which really does hamper a swing.
On top of that, a change of scenery should do Chapman well on multiple fronts. Playing in front of a New York crowd after hundreds and hundreds of empty stadium games in Oakland should help reenergize anybody and while Citi Field is by no means a hitters park, the Coliseum has been the least hitter friendly environment according to Baseball Savant's Park Factor.
Oakland would stockpile some more exciting prospects, with the headliner being Mark Vientos (our 44th ranked prospect). Vientos has as much power as anybody in the Minor Leagues and really put it on display in his breakout season last year. The 21-year-old comes with some defensive questions at third base, but has a massive arm that could accommodate a move to corner outfield if necessary.
Khalil Lee struggled in his 18 plate appearances for the Mets, but really produced in Triple-A, posting a line of .274/.451/.500 in 102 games. Lee led the Triple-A East league with his 162 wRC+. There's some swing and miss concern, but Lee is ready for another big league look as he provides plus defense in right field and can even slide into center field if the A's deal Ramon Laureano.
Alex Ramirez is the lottery ticket tertiary piece in the deal, but the Mets paid $2.05 million to snag him in 2019-20 international free agency. The 18-year-old has tools across the board and a solid feel to hit, but still comes with a wide range of potential outcomes.
I can understand Mets fans wanting more of a sure thing offensively, however this could be a chance to scoop up a guy who is not far removed from back to back seasons of 6+ fWAR.
1. Phillies Gamble On Byron Buxton's Upside
Phillies get: Byron Buxton, Jordan Gore
Twins get: Mick Abel, Hans Crouse, Johan Rojas, Casey Martin
For the sake of transparency, gauging Byron Buxton's trade value is a difficult task. Generally you have both sides saying it's not enough, and that is when I know that its probably a good proposal. In this trade, I would presume that more people will say it is not enough for Buxton, but let me explain.
First off, I really like Mick Abel. While he only slots in at 75th on our Top 100 Prospect list, it is more so because of limited looks than anything. The more I've seen, the more I like and he could end up being one of the biggest risers in our Top 100 Update.
Hans Crouse is another piece who pitched his way into being right on the cusp of the Top 100. The former first round pick was able to rack up more swings and misses than ever with his plus breaking ball and demonstrated a much better feel for his changeup.
Crouse has some room to improve in regards to his command in order to reach his full potential, however I think that he can slide into the Twins rotation next season and work through that at the big league level.
Johan Rojas is another prospect whose value could fluctuate a good deal between teams. Given the Twins affinity for athletic players, Rojas fits the profile that they often covet. He is a plus-plus runner with plus raw power who I find to be criminally underrated. Rojas is already putting up well above average exit velocities despite only standing at 6-foot-1, 165 pounds.
With his top of the scale speed and above-average arm, Rojas has the potential to be a plus defender in center field. It only seems right to bring in the most athletic prospect in the Phillies system when trading away the most athletic player in baseball.
Jordan Gore is a nice piece to help a thin Phillies bullpen and the Twins likely won't mind parting with him with given that he is Rule 5 eligible next month and 27 years old.
From the Twins side, now is the time to trade Buxton if they want to maximize value. He only has one more season of control and at this present moment–as far as we know–he is healthy. If Buxton is healthy, the deal is a major win for the Phillies. That "if" is so significant that it is hard to imagine many other teams would be willing to give up much more. I mean, if the Twins thought Buxton would even entertain their $70 million offer, it somewhat speaks to how much they think his injury history impacts his value moving forward.