Analysis
Five Bold Predictions for the American League East
The best division in baseball boasts five teams that could finish with winning records and three that are legitimate World Series contenders.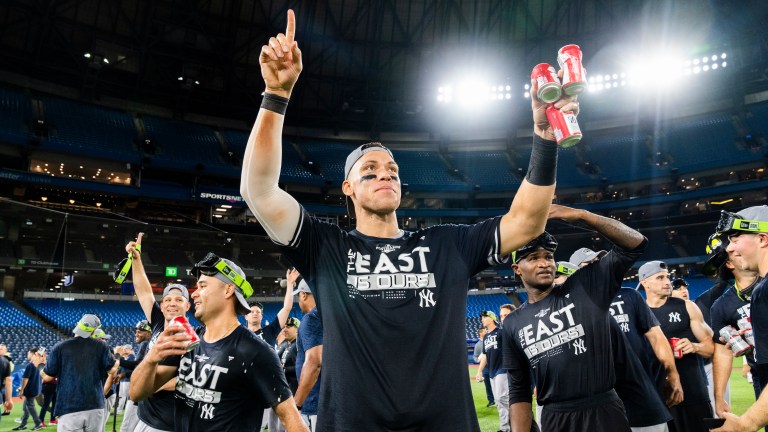 The first weekend of the season has come and gone. We've all seen our teams play one series' worth of baseball. Our imaginations are flying. Our hopes are still high. We are still positive our teams can conquer the world. Insert bold predictions.
In this segment, we'll venture beyond likely and up to the verge of "Would I bet this?"
If we hit one of five, it's a victory.
Without further ado, let's take a shot at making some bold predictions for the American League East.
Baltimore Orioles
Bold Prediction: Adley Rutschman finishes top 3 in American League MVP voting
Did you watch this man on Opening Day?
Five-for-five at the plate. The first time a catcher's done that since at least 1900 (thanks, ESPN stats).
But Rutschman is so much more than a hot bat on the first day of the year.
He made his MLB debut for the Orioles last May and started hitting right out of the chute. His .254/.362/.445 slash line was rock solid. Dig a little deeper, and the underlying numbers look good too. His 13.8% walk rate was in the 96th percentile in baseball, lower than that of just seven other players: Juan Soto, Aaron Judge, Max Muncy, Jesse Winker, Carlos Santana, Yandy Díaz and Yordan Alvarez.
His 18.3% K rate was better than that of Oneil Cruz (34.9%), Julio Rodríguez (25.9%), Michael Harris II (24.3%), Jeremy Peña (24.2%) and Bobby Witt Jr. (21.4%), and that's just naming the rookies. Aaron Judge won the MVP in 2022 striking out 25% of the time.
Adley's average exit velocity and barrel rate (87.9 and 7.9, respectively) should take a tick up in his sophomore season, which usually translates to better traditional batting numbers.
But an MVP isn't just comprised of a good stick. He's got to play the field too. Luckily for this segment, Rutschman holds his own behind the dish. Last year, he ranked in the 87th percentile in catcher framing per Baseball Savant. That's the art of receiving a pitch in a way that makes it more likely for an umpire to call it a strike. He was also top 10 in called strike rate.
His average pop time was just outside the top 10, at 1.93 seconds. For those who don't know, pop time is the time it takes from the moment the pitch hits the catcher's mitt to the moment the intended fielder is projected to receive his throw at the center of the base. In 2023's world of big bases, that's going to make a difference.
More or less, in just under a full season, Rutschman was already an above-average defensive catcher. In total, he amassed 5.3 fWAR and a 133 wRC+. Pretty damn good for a rookie. If the numbers increase even slightly in 2023, and the Orioles make the playoffs (which, by the way, is totally a possibility), the leader of their young pack should get his flowers.
Boston Red Sox
Bold Prediction: Chris Sale will be an American League All-Star
Okay, so for this one, let's just pretend Opening Weekend didn't happen. A lot of people are still
knocking off the rust, right?
In all seriousness, if the Red Sox want to be competitive this year, they're going to need their former ace to get back to his ace form. They got glimpses of that in the spring.
Sale pitched 15 innings across four spring starts. His fastball was in the mid-90s. His slider, at times, froze hitters. Even better, he only allowed more than two earned runs once. When you consider this guy has made just 11 starts since the end of 2019 (yes, you read that right), those are encouraging results.
Now granted, he got blown up Saturday, and that wasn't fun to watch. He was rocked for 7 hits and 7 earned runs in just 3 innings. Ryan Mountcastle, Austin Hays and Cedric Mullins all took him deep.
But let's not forget who Chris Sale was for a long time. He was a bona fide top-of-the-rotation stud, a 7-time All-Star from 2012-2018. In those years, he finished top 5 in Cy Young voting six times. Two hundred innings pitched with 200+ strikeouts was almost guaranteed. In 2017, he struck out 308 batters! Oh yeah, he's also a World Series champ.
He was on the fast track to Cooperstown.
For a decade, he was a guy people feared when he peered in at them from 60 feet, 6 inches away.
Why can't he be that guy again? He said he feels healthy. For the most part, he looks it.
Let's get the baseball gods on our side here.
New York Yankees
Bold Prediction: Anthony Volpe will run away with the American League Rookie of the Year
Talk about excitement, right?
This kid was tailor-made to wear pinstripes – Jersey boy, batting 9th, shortstop, 21 years old, mature beyond his years… remind you of someone?
Yes, the Jeter comparisons are as natural as Roy Hobbs, and if Volpe somehow does fill the shoes of his Yankees idol, he will have done it as a 21-year-old rookie on baseball's grandest stage.
Quick sidebar. I realize this isn't the BOLDEST prediction on planet Earth. But for an entire winter, baseball people have kind of crowned Gunnar Henderson the undisputed rookie champion of the American League (rightfully so). So, I figured this take would do.
Okay, back to your regularly-scheduled programming.
There is a bit of a caveat to all the Volpe hype. As he has climbed through the minor leagues, he's had a struggle or two along the way. In 2021, Volpe split time between A-ball and High-A. In 54 games at Single-A, he walked 51 times and struck out 43. Then, in 55 games at High-A, he walked just 27 times and struck out 58. Still, he homered 27 times between the two levels and had a combined on-base percentage of .423. Fast forward to 2022, where Volpe spent the last 22 games of his season at Triple-A. In those 22 games (99 plate appearances), he slashed .236/.313/.405, struck out 30 times and walked just eight times.
So, how would he carry that finish into spring? Oh, no big deal. Just a .309/.415/.618 slash line with 6 doubles, 3 homers, 13 runs scored and 5 stolen bases.
But let's just say there is a struggle at the big league level. How does he handle that? We'll find out.
Julio Rodríguez, who won the ROY in 2022, only hit .205 for the first 30 days of his rookie season. So adjustments can be made. In total, Rodríguez slashed .284/.345/.509, hit 28 homers, stole 25 bases and was good for 5.4 fWAR. Twenty-eight homers is an unreasonable expectation for Volpe, but what about 15 homers and 40 steals? He already has three stolen bags!
How would a .250/.340/.466 slash line sound? It sounds a lot like the American League Rookie of the Year if you ask me.
Tampa Bay Rays
Bold Prediction: The Rays will represent the American League in the World Series
Stop me if you've heard this before. The Rays can make a World Series run.
What's stopping them? The pitching? Hell no. McClanahan is an ace. You don't need analytics to tell you that. If Glasnow is healthy, so is he. Then throw in Jeffrey Springs. Oh my, what a first start for him!
And what about Zach Eflin? There's a reason he got paid. It took one start for the Rays to bring out something different in him. I present to you the new-and-improved Zach Eflin.
Now let's go to the bullpen.
For years, those guys have been like the army of misfit toys. Who throws from down here? Who's arm slot changed twice before something clicked? Who failed everywhere he went before he came to Tampa and changed his entire repertoire? I'm kidding… kind of. They aren't the most conventional to look at, but I would challenge anyone to find me a better collection of arms than the ones in the Rays' bullpen. Look at these strikeout rates:
Pete Fairbanks – 43.7%
Garrett Cleavinger – 36.8%
Jason Adam – 31.6%
JP Feyereisen – 29.1%
Jalen Beeks – 28.0%
Colin Poche – 26.1%
Translation: they know how to miss bats.
With a staff like that, all the Rays have to do is hit a little. The key will be how the fringe guys swing it, the Yandy Díazes, Isaac Paredeses, and Brandon Lowes of the world. In addition, the defense will have to get cleaned up. Last year, they ranked 14th in defensive runs saved as a team. That's down from 4th in 2021, 6th in 2020 and 7th in 2019. Last year wasn't typical Rays baseball.
Still, it doesn't worry me. The team is stacked. And October Randy is a different animal and the same beast.
Toronto Blue Jays
Bold Prediction: Vladimir Guerrero Jr. leads all Triple Crown categories on September 1
Finally, to the Jays. This band of diaper dandies is all grown up and ready for a major October push. And the Tommy Pickles of this bunch is, without a doubt, Vlad Guerrero Jr.
You could've made the case for him as the Most Valuable Player in 2021. He slashed .311/.401/.601
with 48 homers, 29 doubles, 111 RBI and 123 runs scored. He had a 12.3% walk rate and just a 15.8% strikeout rate. All of that added up to 6.3 fWAR and a 166 wRC+. Ridiculous.
In most years, he wins the MVP in a landslide. It just so happened some guy named Shohei Ohtani burst onto the scene that same year.
Admittedly, last year was a "down" year from Vladdy. But I'm willing to bet 2023 will look more like 2021. If that happens, surely .311 can become .320. He's already hit 48 home runs, so another 45 is reasonable. And if the Jays hit like many people think they will, why isn't 130 RBI a possibility?
They were fourth in runs scored last year, so there will be ducks on the pond.
If it's September 1, Vladdy is leading the Triple Crown race, and the Jays are leading the division, we're all winners.