Analysis
NL MVP Award: A Two Man Race?
Can Bryce Harper overtake Fernando Tatis Jr. in the NL MVP race?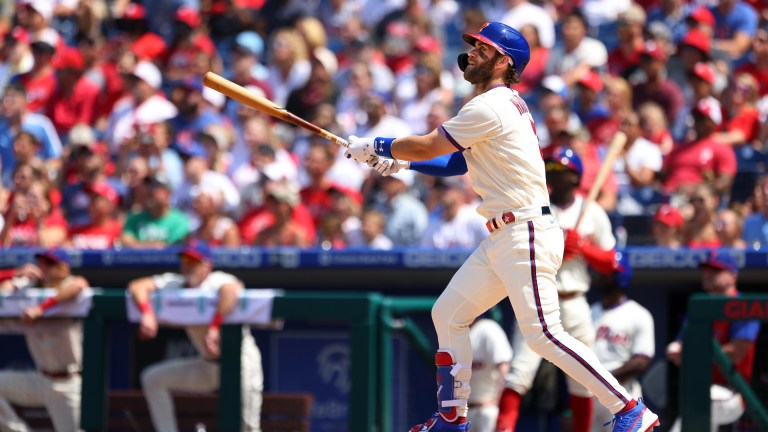 As we head down the final stretch of the season, roughly 30 games is more than enough time shake up the NL MVP race. Per PointsBet, Fernando Tatis Jr. is currently the odds on favorite, and understandably so. However, I am shocked at the discrepancy between Tatis and Bryce Harper in the eyes of Vegas. I think this race will be viewed as a lot tighter in the coming weeks, as Harper continues to solidify his resume for his second MVP.
Fernando Tatis Jr. (-250)
The damage that this kid has been able to do in just 106 games is remarkable. Despite dealing with a recurring left shoulder injury that has limited his availability at times, Tatis has hit whenever he is on the field. Knowing how important their start shortstop is to the lineup, the Padres have opted to move Tatis to right field to protect his shoulder from impact.
In late June, Tatis was on a fast track to the first 40/40 season since Alfonso Soriano in 2006, but after he re-injured his shoulder sliding into third base, the 22-year-old has stopped swiping bags. Tatis has swiped just one base in his last 25 games, which I would presume is precautionary given the fact that he stole 12 bases in the month of May alone. The home run department has not been affected though, with Tatis sitting just three homers away from 40 on the year.
The "But his defense!" argument is one that I think is fair to bring up as a tie breaking factor when it's neck and neck, but at this moment, Tatis has been so dominant offensively that Baseball Reference still has him as the most valuable player in baseball in the eyes of WAR. Tatis's offensive WAR is 6.5 and overall WAR is 5.7, both of which are the best in baseball for position players. Wildly, the move to right field could help Tatis in the WAR category due to how much he was struggling at shortstop (20 errors in 86 games). Currently, Tatis leads the NL in slugging, OPS, and home runs.
Some may disagree with this perspective on the award, but team outcome has to matter in a situation like this. The Padres enter today with a 0.5 game lead over the Cincinnati Reds for the second NL Wild Card spot. The Phillies are not far behind at 2.5 GB, just ahead of the Cardinals (3 GB) and Mets (4 GB). If the Padres make the playoffs, it is because of Tatis' herculean performance in somewhat limited action. It would also mean that Tatis likely dominates down the stretch of the final month here. Take Tatis away from the Padres and they are probably a handful of games out of the picture. Jake Cronenworth is enjoying another great season, Manny Machado has been good, and that's about it. That being said, I'd argue there is one player who is even more of a one man wrecking crew.
Bryce Harper (+700)
Harper is enjoying his best seasons since he had the best season of the decade in 2015. Harper is pacing the National League in wRC+ (161) and trails only Vladimir Guerrero Jr. (169) for the MLB lead (Tatis is right there with a 160 wRC+). A quick look at the surface level stats and some may be quick to dismiss Harper. The 28-year-old slugger "only" has 27 home runs and 63 RBI in 115 games, but is getting on base at a .413 clip and has a chance to finish with a batting average above .300 and OPS over 1.000 for just the third time in his career.
Much like the Padres with Tatis, the Phillies would be dead in the water without Harper. Aside from Rhys Hoskins who is out for the season, no Phillies player has a wRC+ over 113. Heading into Juy 31st's Trade Deadline, the Phillies were in a tough spot. Two games under .500, the Phillies were not in a position to make any huge splashes, but the notoriously aggressive Dave Dombrowksi still made some smaller moves to bolster the team's pitching in case the Phils made a run. Ian Kennedy and Kyle Gibson were both acquired to help the bullpen and rotation respectively, but the biggest addition for the Phillies has been the second half production of Bryce Harper.
Since the All-Star Break, Harper is pacing Major League Baseball in WAR (2.8), wRC+ (198), slugging (.708), and OPS (1.166). Despite losing his protection in the lineup with Hoskins, Harper has remained patient and productive. Teams don't want to pitch to Harper, and I don't blame them. The former MVP has baseball's third highest walk rate (15.1%) and has been intentionally walked more than any National League player not named Juan Soto or Freddie Freeman.
By now, you probably can tell that for my money, I am not only leaning Bryce Harper as the value play for bettors, but also as the outright MVP if the next month continues similarly to the way the second half has for both players. Ultimately, both the Padres and Phillies are in a position for a playoff spot which objectively would not be attainable without Tatis and Harper. For that reason, I really believe where the two team's finish could be a major determining factor in who wins the NL MVP. I spent a lot time highlighting Harper's second half stats, so lets take a look at Harper vs. Tatis cumulatively the entire season.
| | | | | | |
| --- | --- | --- | --- | --- | --- |
| Fernando Tatis Jr. | 5.7 WAR/5.2 fWAR | .280/.366/.635 | 37 HR/63 XBH | 160 wRC+ | BB/K: 0.46 |
| Bryce Harper | 5.1 WAR/5.2 fWAR | .301/.413/.585 | 27 HR/60 XBH | 161 wRC+ | BB/K: 0.69 |
Unlike the American League, the NL MVP race is too close to call at this point, and as mentioned earlier, I think it's only going to get tighter. Both Tatis and Harper's teams are in that weird in between spot of being somewhat disappointing while also competing for playoff birth. Tatis has been the heart and soul of the Padres, there's no debating that, but when I look at the Phillies I see a one man wrecking crew. Aside from the sidelined Hoskins, not a single Phillie has an OPS over .793. Bill James's stat "Runs Created" is a set of formulas that aims to predict a singular player's offensive contributions to his team across the board. It was no surprise for to see Harper at the top of this category at 102 runs created, with Tatis not far behind in sixth place at 96 runs.
While my pick at this moment is Bryce Harper for NL MVP, a lot can change in the final 30 games; especially if Tatis has one of his insane weeks that he is due for. Not only will Harper and Tatis be battling it out for the MVP award as we wind down the season, but the two will be trying to propel their teams to the postseason in the process. For Tatis, he would be leading the Padres to their first consecutive playoff appearances since 2006. For Harper, he would be leading the Phillies to the postseason for the first time in a decade. Buckle up, folks.