Analysis
Esteury Ruiz Could Be the First Building Block for the Athletics
The Oakland Athletics have handed Esteury Ruiz the keys to center field, as they look for a new sparkplug that could ignite their rebuild.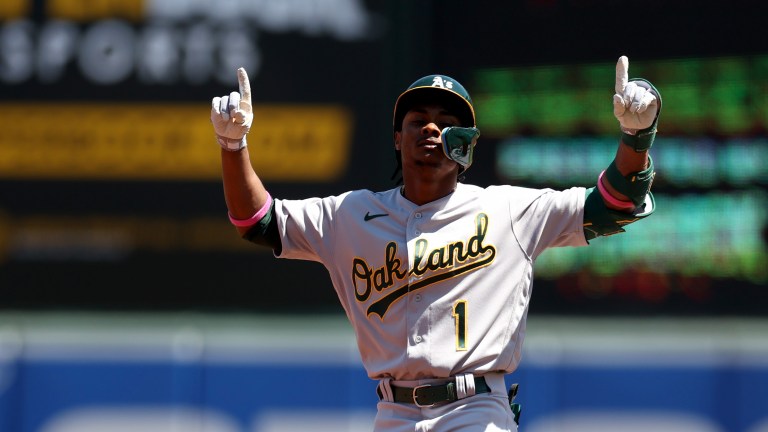 Oakland has shipped out many franchise cornerstones over the past two seasons. Matt Olson, Matt Chapman, Sean Murphy, and Chris Bassitt to name a few. The early returns on these trades have not been favorable for the A's. The most recent blockbuster came this past winter when the Braves, A's, and Brewers completed a somewhat rare three-team trade centered around catcher Sean Murphy.
While Kyle Mueller, Royber Salinas, Manny Pina, and Freddy Tarnok came to Oakland from Atlanta, outfielder Esteury Ruiz was also in the deal coming over from Milwaukee.
Ruiz, who was part of the Josh Hader to San Diego trade, is now in his third organization in the past year. Not usually a great sign for a prospect, but Ruiz is a bit different. Team's saw his explosion in 2022 and wanted to see if they could bottle it.
In 2022, Ruiz stole 85 bags (not a typo) and slashed .322/.447/.526 with 16 home runs across two levels in the minors. San Diego did not have the patience and elected to push for a World Series by trading Ruiz, who only saw action in three games with Milwaukee.
Oakland was smart to target Ruiz in the Murphy deal. The front office knew the Pache experiment was not going to work out and seeked a better bat with speed to cover the acres in center field at the Coliseum. At only 24 years old, and still a top 100 prospect, Ruiz is not just some reclamation project – he's a foundation piece.
Early results have been promising for the rookie. While the hit tool and speed stand out, questions still lingered about his power. Through April 18th, Ruiz has impacted the baseball more than he did in 2022.
| | | |
| --- | --- | --- |
| | 2022 | 2023 |
| Average Exit Velocity | 73 mph | 86.5 mph |
| Max Exit Velocity | 100.2 mph | 108.2 mph |
| Barrel Percentage | 3.6% | 4.2% |
| Hard Hit Percentage | 10.7% | 29.2% |
| Slugging | .257 | .393 |
No one will confuse these numbers with a legit power hitter, but improvement is refreshing to see. Ruiz is more of a line drive, shoot the gaps, and get on base profile. Once he's on base, that's where he can really impact the game.
After not running much to begin the season, Ruiz is now up to four stolen bases, three coming in the past week alone. Just this week we saw a single, stolen base, run scored in an inning. That sequence is exactly what the A's acquired him for. Now the question is, just how much will he get on base?
His 2022 minor league walk rate was about 14%, which would be incredible if he could translate that to the majors. However, close to 10% would suffice. After posting a 2.8% walk rate in his cup of coffee last season, Ruiz currently sits at 4.5%, a number that will need to go up.
The good news – he's not striking out too often. A 15.2% strikeout rate is perfectly fine and I expect it to stay the same. He's hit velocity well, a .407 average on fastballs, but has struggled with breaking and off speed pitches.
The low and away breaking ball was giving Ruiz fits to begin the season. A problem we often see young hitters struggle with and adjustment to this pitch is key. On Monday night we saw him lay off a low and away sweeper that finished just outside of the zone, which eventually led to a more manageable pitch he hit 99 mph off the bat.
The more he can do that, the more fastballs he will see. Right now Ruiz is whiffing on 32.4% of breaking balls and 37.5% of off-speed pitches. With his bat-to-ball skills, those numbers should improve over time. In fact, we have already seen him take four breaking balls over 99 mph off the bat, with only one resulting in a hit.
Speed like his is going to steal a few would-be outs. If he can increase his walk rate to 8% or more, you could be looking at a .340 OBP type player.
Oakland has handled Ruiz's situation perfectly from the beginning. Instead of keeping Pache and sharing playing time, they traded him for a minor league relief pitcher. By the way, it was the right move. Pache brings infectious energy and elite defense but can only impact the game in one way. The bat and approach was not good enough, and unfortunately I do not think it ever will be good enough. Ruiz can impact the game in several ways. Speed, contact, baserunning, and although his power is not great, he's not driving the ball into the ground like Pache.
The organization has put 100% confidence in Ruiz and I believe it will pay off. After starting him at the bottom of the batting order to ease him in, manager Mark Kotsay has already elevated him to leadoff where he's slashing .304/.385/.348. Letting the rookie set the table atop the lineup, man center, and steal bases at will is exactly what the A's and Kotsay should be doing. d
Oakland has not given the baseball world many reasons to tune in this season. Poor play, little excitement, and rumbling of a move to Vegas has led to many tuning out. Well, Ruiz gives you a reason to come back. The game has started to move back to contact and speed and Ruiz fits the build. Although the A's have not capitalized on many of their recent trades, I think they have a foundation piece to build towards the future in Ruiz.