Analysis
How Will the Oakland Athletics Sort Out the Outfield in 2023?
Outside of Ramon Laureano, the Oakland Athletics have a roster full of question marks when it comes to their situation in the outfield.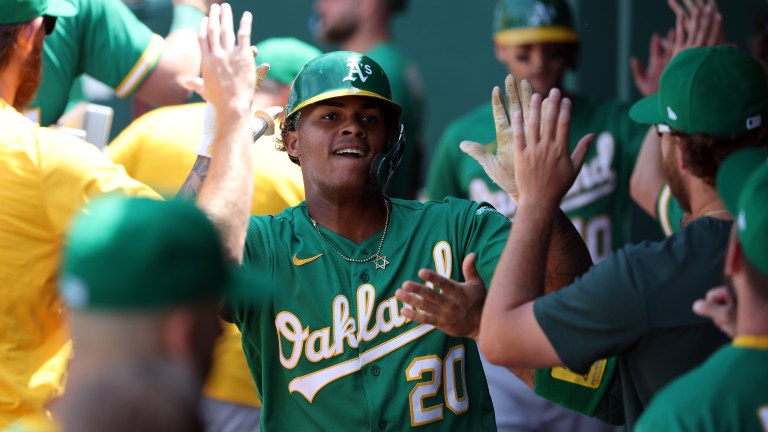 The Athletics have continued their roster reconstruction for the second-straight winter. In the outfield, Mark Canha, Starling Marte, Stephen Piscotty, Chad Pinder, and others have all found new homes, while fan-favorite Ramon Laureano has cemented himself in trade rumors.
As part of their rebuild, Oakland has traded Matt Olson and Sean Murphy with outfielders included as key returns. There's an obvious need for outfield help, and a commonality between the two they received in return – close to major league ready. Christian Pache and Esteury Ruiz both came to the A's having spent time in the majors and primed for a bigger role.
With several players worthy of at-bats, sorting out the outfield might not be as complicated as it seems. Position flexibility and platoon splits help clear the picture. Before diving into how I think it will shake out, let's look at the options.
Cristian Pache
2022 Stats: .166/.218/.241, 3 HR, 18 R, 18 RBI, 2 SB, 35 wRC+
You can see why Oakland wanted to take a chance on Pache. A plus athlete and legitimate Gold Glove caliber defender in center. Playing in an outfield like the Coliseum, Pache would be able to cover the massive outfield and take hits, especially extra-base hits, away. Of course, you have to be on the field to do so and his bat has not allowed for that.
No one is asking for the next Silver Slugger, but Pache has to be able to flirt with a 85 -100 wRC+ and hit .225 to stay on the field. When he does make contact, 57% of it has been into the ground. Simply put – there's not many successful big leaguers with those numbers. It's not just a fluke or small sample size, it was a problem in the minors as well.
In his stint with the A's, Pache also struggled against three of the most popular pitches – fastball, slider, and curveball. He hit .188 against the slider, .192 on the fastball, and .100 on curveballs. A 45.5% whiff rate on sliders will have you looking like Javier Baez – and not the good version we see from time to time.
With no minor league options remaining, Pache must make the roster or be exposed to waivers. I expect him to be on the Opening Day roster in a bench role. The clock is ticking for him to start hitting.
Outlook: Pache makes the team because they cannot send him down. A bench player and late inning defensive replacement with spot starts. Expect an ongoing competition with him and Ruiz unless someone really takes the reigns. It's now or never (in Oakland).
Ramon Laureano
2022 Stats: .211/.287/.376, 13 HR, 49 R, 34 RBI, 11 SB, 96 wRC+
After making highlight reel catches and hitting home runs in 2019, Laureano has not quiet found the same production. The batting average and power have slipped, while his defense has also taken a dip. He still has a cannon of an arm, but ranked in the 10th percentile in Outs Above Average.
Although he moved to right, Laureano can still play some center. With Ruiz and Pache on the roster, there won't be much need for it. The ability to play center will help his trade value and with his contract set to expire, a trade seems likely.
Of course, the bat will have to come back in order for the A's to get a return they are hoping for. Laureano can still mash fastballs, but hit .140 or less on breaking balls and off-speed pitches with a whiff rate near 40%.
Outlook: Few players have more riding on the line in 2023. Laureano has a chance to bounce back, prove his value, and earn a significant contract this winter. If he shows 2022's numbers are the new norm, you are looking at a couple million dollars on a one-year deal. Knowing this, I expect a nice bounce back and opportunity to potentially be traded at the deadline and join a contender.
Esteury Ruiz
2022 Stats (AA/AAA): .332/.447/.526, 16 HR, 114 Runs, 65 RBI, 85 SB
Ruiz started 2022 as part of the Padres system, then moved to Milwaukee as part of the Josh Hader deal, before finally coming to Oakland this winter in the Sean Murphy trade. Ruiz has always shown elite speed, no matter what level, and the bat finally showed up in 2022.
His blend of contact and speed make him an intriguing option to man center for years to come. He did not strikeout much in the minors and doesn't need to posses plus power when you can steal 50+ bags. Like Pache, Ruiz will have to show the bat can play. I am much more confident in Ruiz sticking than I am Pache. Expect more growing pains in 2022 as he adjusts to big league pitching and he develops into an everyday player.
Outlook: At-bats will be available for Ruiz and he has the opportunity to establish himself as an everyday center fielder. I think he'll get time to establish himself, but with two minor league options remaining, a demotion to Triple-A is still possible. That speed might make it tough, though.
Seth Brown
2022 Stats: .230/.305/.444, 25 HR, 55 R, 73 RBI, 11 SB, 117 wRC+
Seth Brown is an underappreciated player in the league and it's time for others to take notice. He made strides in 2022, cutting down on his strikeouts and drawing more walks while still maintaining an impressive 13% barrel rate. Brown brings power from the left side and the ability to play first or a corner, helping Oakland construct their lineup more efficiently.
As much as I love Seth Brown, I think we all know he's a platoon only bat. A career .172/.230/.297 against lefties compared to .239/.310/.482 against righties. No problem, nothing wrong with being a platoon bat. Now you just need to compliment him with a righty.
Outlook: Brown can solve some issues for Mark Kotsay. Pencil him in at first or DH if three outfield options are hitting well. Start Brown in left against righties and platoon him against lefties. I expect Brown to continue to bring power and could draw interest at the deadline. He's under team control for practically the rest of his career, which will help with value. Another name that could be out of Oakland.
Brent Rooker
2022 Stats (AAA): .289/.395/.605, 28 HR, 71 R, 87 RBI, 5 SB
Rooker has done nothing but mash throughout his minor league career. Back-to-back years of 20+ home runs in Triple-A have yet to translate to big league success. Across three seasons he's slashing .200/.289/.379 with a 31.9% strikeout rate. The swing-and-miss has limited his opportunities but I think a fresh start, a defined role, and low pressure could help Rooker reach his potential.
Getting called up and sent down over and over without much of a role would be difficult for anyone to succeed in. In my opinon, Rooker should be given a role as Seth Brown's platoon partner. Let him focus on one thing – hitting lefties. The power is real, tapping into at the major league level has been the problem.
Outlook: Rooker isn't even a lock for making the team, but I expect a legitimate role for him. Don't get me wrong, he needs to prove he can hit at this level. With nothing left to prove in Triple-A, it's time to find out what he can do. I have a feeling the A's might have found a player who could stick this year, and in the future.
Conner Capel
2022 Stats: .264/.364/.422, 10 HR, 56 R, 42 RBI, 21 SB
Another player with minor league success looking for a bigger role, tell me if you've heard this before. Capel had 59 plate appearances in the show last season and hit .308/.356/.519 with three home runs and a 149 wRC+. Yes, the sample size is small and he's not going to light the world on fire but he could be a productive fourth outfielder.
He brings enough pop to keep pitchers honest and would bring a lefty bat into the equation. That alone is different from everyone on this list except Brown. With two minor league options left, Capel could start in Triple-A. The A's could want to add his lefty bat to the mix and have Ruiz or Rooker going to the minors.
Outlook: With my plan for Rooker, Capel gets sent to the minors. Jace Peterson could fill innings in a corner if Kotsay needs a lefty. With Brown and Laureano being possible trade candidates, Capel could see a much larger role post deadline.
Depth Options
JJ Bleday/ Cal Stevenson / Cody Thomas
Another group of lefty bats that could see playing time this season. Of the bunch, Bleday is the only one I could see developing into an everyday player – and I still have serious doubts about that. The former first-rounder has had his issues at each stop throughout the minors and his brief stint with the Marlins. His approach was not big league ready and the swing-and-miss profile has tampered expectations of him tapping into his potential so far. Back to Triple-A.
Thomas and Stevenson can fill innings from time to time but profile more as organizational depth. Of the two, I would expect Stevenson to get the first look considering he's already on the 40-man roster and has some success in the minors.
Conclusion
Let's check off the easiest box: Laureano in right. Now, I think Ruiz takes the lion's share in center. He has higher upside than Pache and is more likely to hit enough to be part of the long-term plan. That slides Pache to the bench and gives Kotsay a defensive replacement. Brown platoons in left with Rooker, while also seeing time at first or DH. I expect less first/DH with Rule 5 pick Ryan Noda and veteran Jesus Aguilar in the mix.