Analysis
The Detroit Tigers' Offense is Abysmal
The Detroit Tigers have been historically poor offensively thus far in 2022. Who's to blame and can things turn around in Motown like they did last season?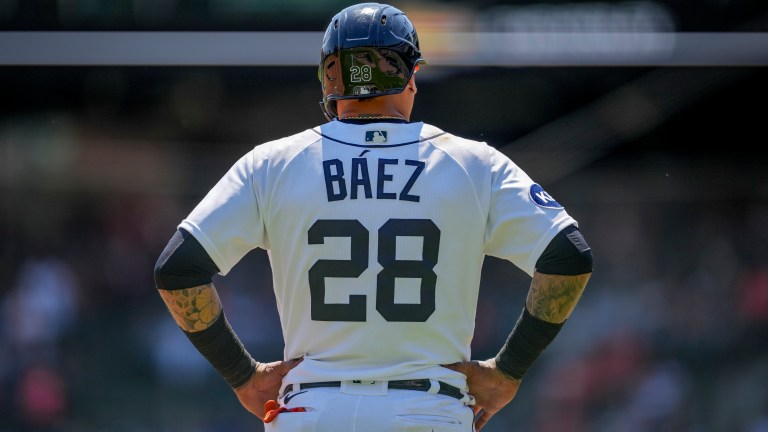 To say the Detroit Tigers have been bad offensively would be an understatement of epic proportions. As a team, they currently rank dead last in runs scored (106), home runs (20), slugging percentage (.313), stolen bases (6) and wRC+ (77).
In OBP (.282) and OPS (.595), only the Oakland Athletics are worse. At 2.72 runs scored per game, Detroit is currently the seventh lowest-scoring offense per game in MLB history.
Those records date back to 1871. No other team from this century ranks in the bottom 50 of runs per game and this year's Tigers are currently in the bottom 10…brutal. Time to dig into what is on going here that has lead to Detroit's historic offensive struggles.
Big Name Acquisitions Falling Flat
For starters, Javy Báez and Austin Meadows combining for two home runs at the quarter mark of the season is obviously less than ideal. Those two big bats were brought in to boost an offense that finished 22nd in runs scored and OPS last season. Clearly that hasn't been the case. Meadows does have a 116 wRC+, so it's hard to pin this on him, but the lack of extra-base hits (six in 28 games) is a problem for a run-producer in the middle of the order.
Báez, on the other hand, really has no redeeming qualities at the plate right now. In 123 plate appearances, Báez has a .552 OPS, 61 wRC+ and 31:5 strikeout to walk ratio.
If he met the requirements to qualify for league leaders, Báez would rank dead last in OPS. On top of that, the 29-year-old has a career worst 17.4% line drive rate and staggering 47.6% chase rate. Signed to a six-year, $140 million contract in the offseason, Báez was expected to add life to Detroit's bland lineup. Instead, he's burying it.
Career-Worst Seasons
All of the blame doesn't fall on the shoulders of Javy Báez. Several respectable veterans have completely fallen flat in the Motor City in 2022. Jonathan Schoop has pretty much been the worst hitter in baseball this season as his 32 wRC+ in 148 plate appearances suggests.
Schoop's been 11% worse than the next-lowest qualified hitter (Marcus Semien, 43 wRC+). As a reminder, Schoop is a former All-Star who has over 150 home runs in his career and produced a .765 OPS with the Tigers over the last two seasons. Baseball is weird.
Additionally, Jeimer Candelario and Robbie Grossman have failed to build off of strong 2021 campaigns. Last year, both players had a wRC+ of 114 or better and finished first and second on the team in fWAR, respectively.
In 2022, neither has a wRC+ over 75. Notably, Grossman's .033 ISO is worst out of 173 qualified hitters this season. He has just four extra-base hits on the season. Moreover, his 29.9% strikeout rate is over six points worse than last year (23.1%) and is bottom-15 among qualifiers.
Youth Movement Gone Wrong
While the failures of veteran players is bad enough, promising prospects not taking off is the much bigger concern for a rebuilding club. Spencer Torkelson, widely regarded as a top-10 prospect in baseball, has struggled in his first taste of Big League action.
The 22-year-old is slashing .179/.290/.321 (.611 OPS). His 29.8% strikeout rate is 16th-worst among qualified hitters. Of course, it's not time to panic or scream "BUST!" but it's also less than encouraging. It's important to remember that Torkelson, a California native who played collegiately in Arizona, has rarely played in cold weather and sported a .492 OPS on May 16th last year before turning it on.
More surprising, at least to me, is what's happening with Akil Baddoo.
Last year, Baddoo excelled as a Rule 5 draft pick and took the league by storm early on. Despite never playing above High-A before 2021, the young outfielder hit .259 with 20 doubles, 13 home runs and 18 stolen bases last season. A full-fledged breakout seemed at least possible for Baddoo this year. Instead, he got off to a miserable start (32 wRC+ in 55 plate appearances) and was sent down to Triple-A Toledo two weeks ago. Getting him right is key for the Tigers this summer.
Pitching Holding Up Their End
It'd be irresponsible to not give a shoutout to Detroit's pitching staff. The Tigers are 12th in team ERA (3.67) and WHIP (1.20). This despite getting just four combined starts out of Casey Mize, Spencer Turnbull and Matt Manning due to injuries.
Tarik Skubal has taken the next step in his progression and owns a 2.22 ERA in 44.2 frames this season. After allowing 2.2 HR/9 in 2020 and '21, Skubal has cut that number all the way down to 0.4 this year. At 49.2 percent, his ground ball rate is up nearly 10 points from last year.
Besides Skubal, the Tigers have also gotten quality contributions from Michael Pineda (3.22 ERA) and, more importantly, 2017 first-round draft pick Alex Faedo.
At 26 years old, Faedo made his MLB debut on May 6th and has a 2.87 ERA over his first 15.2 MLB innings. His underlying batted ball numbers don't look all that encouraging, but for the time being, Faedo has been a pleasant surprise.
Additionally, Detroit's bullpen has been very strong and ranks fifth in ERA (3.13). If it weren't for the pitching staff, the Tigers would likely have a single-digit wins right now.
Can 2021 Repeat Itself?
This is all extremely disappointing because the Tigers looked poised to take the next step in their rebuild in 2022. After starting the season 9-24 last year, Detroit finished 68-61 (.527 winning percentage) over their final 129 games. I'll expose myself and say I thought this team could hover around .500 this year. Sitting at 13-26 right now, they have to play winning baseball the rest of the way to even finish with 75 victories.
Hitting in Detroit in April at the cavernous Comerica Park is a less than enviable task and there's still a chance the Tigers go on a run like last year, but such a historically poor start to the season is not easy to overcome mentally.
This is a long-suffering fanbase that hasn't seen a World Series title since 1984 and is now witnessing year six of a massive rebuild. They have to be getting close to the breaking point and a sense of urgency should be setting in for the front office. For now, there's not much to suggest things will be getting better anytime soon.