Analysis
Detroit Tigers Land Javier Baez, Set Sights On Competing
The Detroit Tigers entered 2021 seemingly neck deep in a rebuild. A year later, they are shelling out more than $200 million in free agency. How did they get here?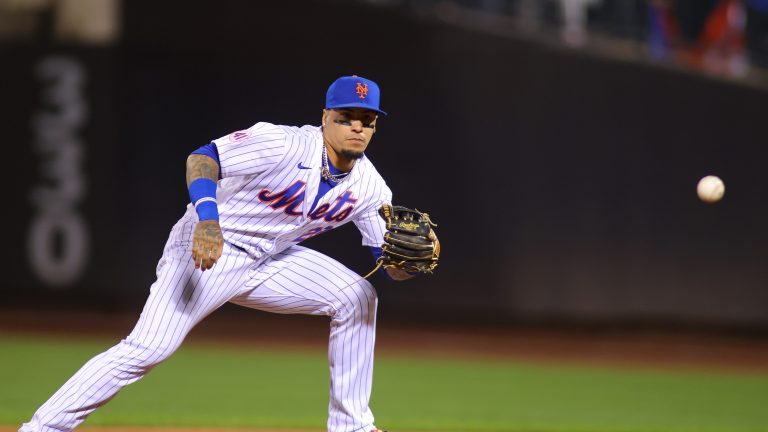 The Detroit Tigers are doing things right. Not because they have committed more than $200 million over the next six years, but because they built a foundation of young controllable talent and accentuated it with their two big splashes: Javier Baez (six-years, $140 million) and Eduardo Rodriguez (five-years, $77 million).
In 2021, the Tigers outperformed their Vegas Projected win total by 9.5 victories. A surprisingly strong performance that was aided by major strides from young starters Tarik Skubal and Casey Mize, as well as offensive breakouts from Akil Baddoo, Jeimer Candelario, and Eric Haase.
Robbie Grossman, who is possibly baseball's most anonymous 20/20 performer from last season, enjoyed the best year of his career as well, finishing second among Tigers' hitters in fWAR (2.7).
Javier Baez is a polarizing player who has had ups and downs in his career, however it is impossible to say that the Tigers did not get a lot better after his acquisition. The Tigers were one of the most deficient teams in baseball at shortstop, finishing 2021 as one of only three teams with a negative fWAR from the position.
After a brutal 2020 season and a mediocre start to his 2021 campaign, Baez looked like the elite player he has shown flashes of in the past following his trade to Queens. Baez hit .299/.371/.515 in a Mets uniform and the Tigers are paying him to produce closer to those figures. Pair the offensive upside with his strong glove and there is no doubt that the Tigers improved upon a weakness.
Expedited Rebuild
The most impressive move that the Tigers have made over the last year was taking a chance on Akil Baddoo in 2020's Rule 5 Draft. I seriously don't think people realize how bold of a move this was from Al Avila and Co.
Baddoo was always an intriguing prospect with tantalizing tools. The 74th overall pick in 2016 by the Twins boasts plus speed, above average power, a sweet swing from the left side, and an ability to play all three outfield spots.
The upside was never the question for the Twins, but Baddoo had only played 29 games above High-A prior to an injury ending his 2019 campaign. With no 2020 MiLB season, the Twins figured that nobody would take a chance on an outfielder who struck out 30% of the time in a short stint in High-A with the requirement of placing him in their MLB active roster.
*Check out our Top Rule 5 Draft Prospects article to learn about the intricacies and rules of it.
The Tigers bet on Baddoo and their ability to help him stay afloat in the big leagues and he did just that, posting a respectable .766 OPS and 108 wRC+ after making a massive leap from a cameo in High-A to the big leagues.
Jeimer Candelario establishing himself as a legitimate big league third baseman with back-to-back impressive seasons had to help instill confidence in the Tigers front office about the team's future as well. It is easier to justify committing money to the future when you know that your third baseman is under control until 2024 and one of your exciting young outfielders is not a free agent until 2027. The craziest part is, I haven't even gotten to the prospects yet.
As for Eric Haase, I am a bit less sold on his performance in 2021. That said, I think the Tigers have a role envisioned for him in which he will thrive. Detroit kicked off the Hot Stove season with the acquisition of former Reds catcher Tucker Barnhart. The left-handed hitting backstop is a strong defender, who will be the clubs starting catcher moving forward.
Haase has big time power, but leaves a bit to be desired defensively at the catching position. For that reason, the Tigers actually had Haase make 20 starts in the outfield last year. Haase just doesn't seem to have the bat-to-ball skills to be an everyday player, but he punishes left-handed pitching.
| Tigers Catchers | Vs LHP | Vs. RHP |
| --- | --- | --- |
| Tucker Barnhart | .214/.288/.295, 66 wRC+ | .256/.333/.389, 89 wRC+ |
| Eric Haase | .263/.301/.555, 127 wRC+ | .214/.288/.295, 55 wRC+ |
Typically, the backup catcher is the guy who struggles more offensively and is a defensive wizard. Throw that all out the window in this case, because the Tigers will face right-handed pitching a majority of the time–allowing for Barnhart to shoulder the bulk of the games behind the dish–while Haase can step in against some of the southpaws. This platoon could allow for the Tigers to get above-average production from a position where offense is scarce to say the least.
Prospects On the Way
There may not be a better prospect duo in baseball than Riley Greene and Spencer Torkelson. The Tigers system is loaded with young talent, however Tork and Greene could contribute at the big league level next year.
Torkelson could not have had a much better first professional campaign last year, hitting .267/.383/.552 with 30 HR and a 148 wRC+ between Double-A and Triple-A. The newly turned 22-year-old then went over to the Arizona Fall League, where he hit .450/.607/.550 in 28 PA's. By the statistics and by just watching him, Spencer Torkelson is ready to help the Tigers at the big league level. Putting Torkelson at first base would allow the team to slide Jonathan Schoop to second base, another player who had a quietly strong season.
If Detroit for whatever reason feels as though Torkelson is not MLB ready come Opening Day, they could deploy Isaac Paredes at second base and keep Schoop at first. Point being, this team has rare high-end depth.
Riley Greene could probably use a few more months in Triple-A, however having a player of Greene's caliber knocking on the door of the big leagues as insurance in case one of their outfielders go down is a luxury that few have.
Despite the fact that Greene could maybe use another 100+ PA's in the minors, it may just be worth having him on the Opening Day roster given how much more upside he offers than a Victor Reyes–even if Greene isn't playing to the best of his ability right away. Regardless, it is probably fair to assume that the CBA implications on service time could be the largest determining factor in all this.
Improved Rotation
Similar to the offensive side of things, the Tigers complemented the improvement of some of their young arms with the signing of an established arm in the form of Eduardo Rodriguez. While the surface level numbers are a bit shaky for E-Rod, all indications point towards better days in 2022.
Baseball can be weird and 2021 was a perfect example for Rodriguez as he suffered the highest ERA of his career, but the best FIP (Fielding Independent Pitching) of his career as well. I can't think of a time where I have seen typically at least loosely correlating statistics go in the opposite direction of each other so dramatically. Part of that reason may be that Fenway Park is the second-most hitter friendly environment according to Baseball Savant's Park factor while Rodriguez's defense did not do him any favors either, ranking last in all of baseball in Outs Above Average (-38).
I expect a big time rebound from Rodriguez in 2022 and see him as a consistent anchor to the Tigers rotation as he now moves to one of baseball's most pitcher-friendly parks.
Tarik Skubal and Casey Mize both turned in respectable seasons last year. Skubal was susceptible to the long ball, but also had nine starts where he struck out at least seven batters. Mize left a bit to be desired in the swing-and-miss department, though his command improved drastically from 2020. Both starters are going on 25 years old and offer a ton of upside in the middle of the Tigers rotation.
Matt Manning is a prospect who took a step back after 2020's layoff. The Tigers brought him up to the show to get him working with esteemed pitching coach Chris Fetter and there were some positive adjustments. Still, Manning has a long way to go with the quality of his secondaries and his command, though he is just 23 years old with a ton to like.
Personally, I expect the Tigers to go out and get one more arm. The questions around Matt Manning presently and a ton of reliance on a 25-year-old duo of Skubal and Mize is a bit of a risk for a team that clearly has its sights on being competitive as soon as next year.
It might not be sexy, but Johnny Cueto looked revitalized when he was on the field for the Giants last year, adding another veteran to the mix couldn't hurt and Cueto has become more of a fly ball pitcher as his career has endured. Michael Piñeda, Yusei Kikuchi or Zach Davies could be more expensive, though they all could fit the stability role in the back of this young Tigers rotation.
It will be fun to see how the Tigers proceed post-lockout. How much more they will spend remains to be seen–one thing that is clear is that the Al Avila and the Tigers brass want to win now and they're balancing that well with the development of their exciting young prospects.