Analysis
The Detroit Tigers Are Starting to Show Promise
The Detroit Tigers are still in the midst of a rebuild, but the turnaround of some key cogs has put them in a much better place a year ago.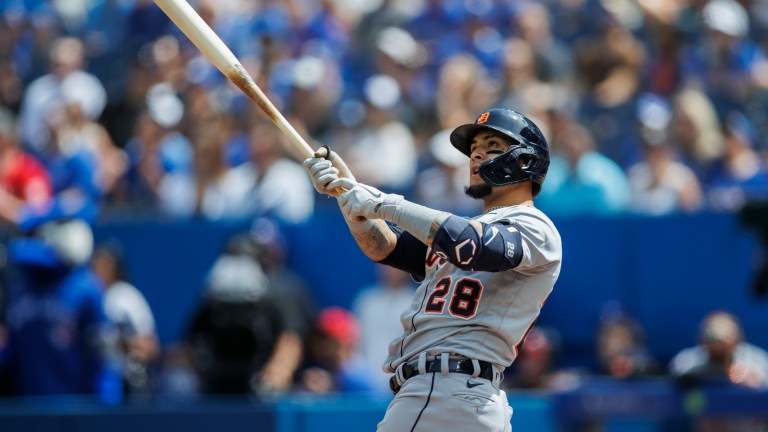 The Tigers rebuild looked like it was turning a corner heading into 2022. Their top prospects were ready to debut, the young pitching staff showed promise, and the front office added veterans Austin Meadows, Javier Baez, Andrew Chafin, and Eduardo Rodriguez to the mix. Less than a year later, after a 66-96 finish, they found themselves back in rebuild discussions.
Meadows missed a large portion of the season, Baez put up his worst career numbers, Rodriguez was gone from the team, while injuries and underperformance altered the trajectory of the aforementioned prospects. A disastrous 2022 led to the long overdue departure of General Manager Al Avila, replacing him with Scott Harris.
Expectations were low for 2023 and many fans were preparing themselves for what they have grown to learn is the standard: a perpetual rebuild. While the rebuild is still the most likely path, the players are showing they have a different agenda.
Detroit has won three-straight series, including taking two of three against the Cardinals, Guardians, and sweeping the Mets – all playoff hopefuls. The Tigers are 15-10 since manager A.J. Hinch sent a message by a brief benching of high-priced shortstop Javier Baez.
Sure, any stretch of winning is always great. But, the greatest takeaway from the Tigers hot streak has been the improved play from their young core and key 2022 free agent moves.
Eduardo Rodriguez
Year one with the Tigers could not be any more opposite than year two. Rodriguez was away from the team for an extended period and when he was on the field, the play did not meet expectations. This season, through his first eight starts, he's looking like a Cy Young candidate.
Rodriguez is pitching to the tune of a 1.57 ERA, 3.08 FIP, and a career low 5.3% walk rate. A small tick up in spin rate has helped but an increase in swing and miss has been the key difference.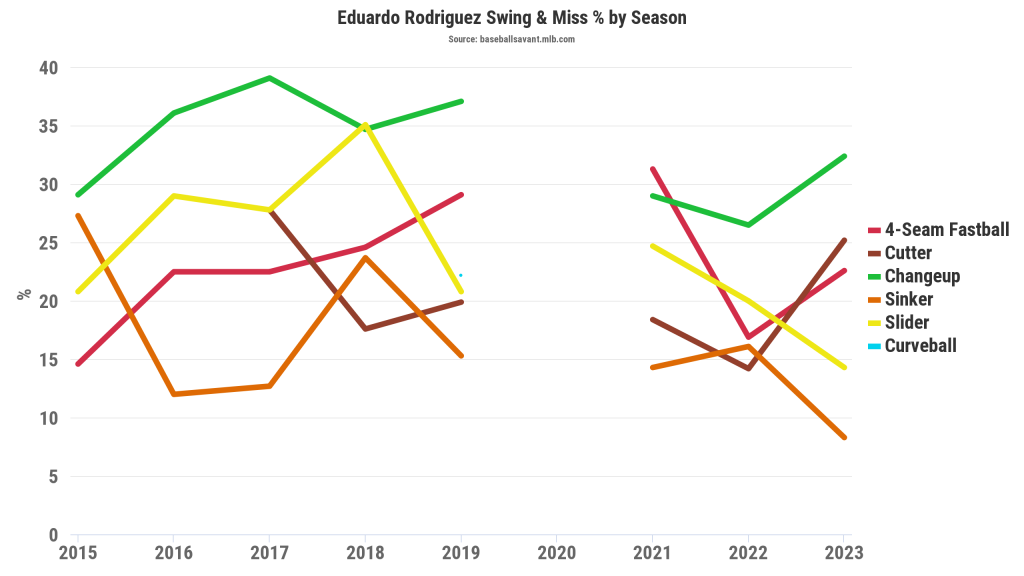 Rodriguez's fastball, Cutter, and changeup, his three most-used pitches, all are producing more whiffs than we have seen recently. His command has improved as shown by his career low walk rate. Keeping runners of the basepaths always helps, but when they do get on, they rarely come around to score. His 90.4% left on base percentage is the biggest reason why his ERA is so low.
While Rodriguez has helped the Tigers reach second place in the standings, he could be pitching his way out of Detroit. Although he has three seasons left on his contract, with an average annual value that declines each year, he does have an opt-out after this season and it's likely he exercises that. A new general manager who wants to help construct his own team will likely take advantage of the weak starting pitching trade market and capitalize on his high trade value.
Javier Baez
We all know how much of a headache the Javy Baez experience can be, but when he's focused and locked in, he can be an All-Star player and we are seeing that right now. Over the past month, Baez is slashing .329/.390/.506 with all three of his home runs coming in the past two weeks. The free-swinger is currently posting a career low 17.3% strikeout rate while his 5.8% walk rate is second only to his rookie season.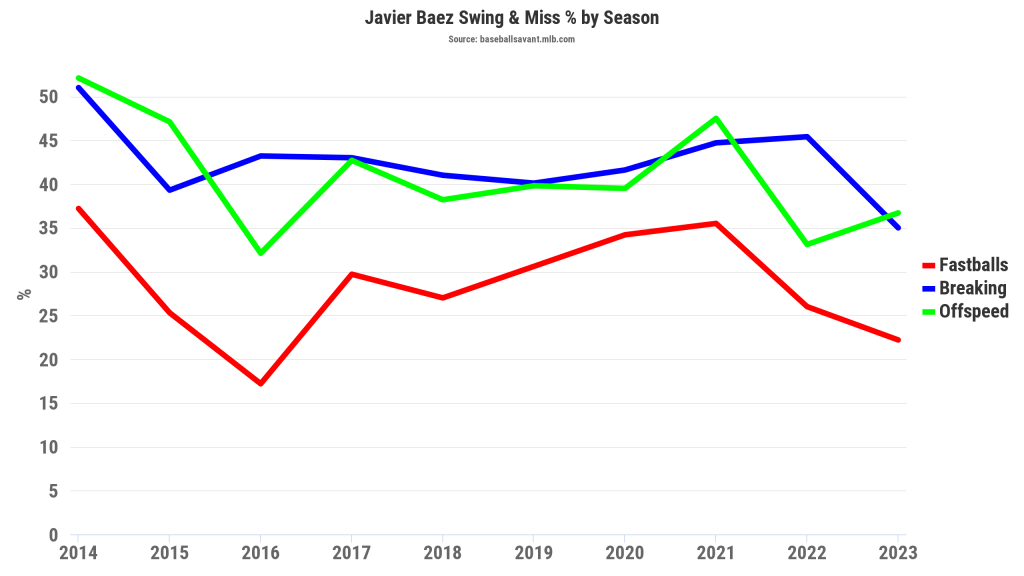 Baez has shown improvements on his swing and miss, especially against breaking balls. Throwing the slider low and away will still get him from time to time, but not as much as previous years. He's dropped his whiff rate on breaking balls by 10% from last year, while increasing his average on breaking balls from .213 to .255. In 2022, Baez hit one home run off the 879 breaking balls he saw. He already has two off the 192 pitches this season.
His power is starting to return after and I think we can blame the cold weather in the beginning of the season to his cold start. I do not think he's the 30 home run hitter we saw in the past, but if the trade off is a better approach and more balls in play, I think the Tigers will take that.
Baez also is earning his contract in the field. He's always been known as a plus defender, but he has taken it to a different level this season. He currently leads the league in OAA, runs prevented, and success rate added amongst shortstops.
Under contract for four more years, these signs have to ease the nervous of Tigers fans. No, I do not think he's playing to a level where we will exercise his opt-out after the season, but a three WAR (or more) level is still in the cards.
Riley Greene
Greene's name has come with him expectations since being selected fifth overall in 2019. Just Baseball's former No. 5 prospect followed suit with the rest of the 2022 Tigers posting underwhelming numbers. A .253/.321/.362 slash with five home runs and a 56% groundball rate was not exactly what fans were expecting.
His 2023 season jumped out to a similar start. His overall numbers, .262/.320/.376 with a 30% strikeout rate, still look pedestrian but he's finally starting to show signs of a turnaround.
Over the past two weeks, Greene is slashing .333/.393/.378 while cutting the K% to around 24%. Greene struggled to pull the ball the ball last season which hurt his ability to tap into power. So far, his pull rate in 2023 is 46.3% and his home run to fly ball has jumped from 8% to 16%.
Of the 30 exit velocities Greene has posted over 100 mph, 10 have come in the past two weeks, including his four hardest hit balls of the year. Sure, cutting down on strikeouts is still needed, but remember Greene is only 22 years old and learning on the fly. His breakout might just be getting started.
Spencer Torkelson
Greene and Torkelson have been in the same conversation and often mentioned in the same sentence since they were both selected top five by the Tigers. Both highly-regarded with lofty expectation who were going to turn the franchise around, and both struggled in their rookie season.
The former No. 7 overall prospect in baseball, Torkleson took a step back in 2022 after poor performance returned him to the minor leagues. So far this season, Torkelson has shown signs of improvement. He's cut his strikeout rate down 4% to only 20% while he is also swinging and missing less. After whiffing on 36% of breaking balls in 2022, Torkelson is sitting at 24% this season. These improvements are drastic for someone who can impact the baseball the way he can.
His 91.4% average exit velocity and 48.1% hard hit rate puts him in the top 20% of the league in each category. Simply put, hitting the baseball hard will lead to a better result more times than not. Torkelson is also lifting the ball more and has cut his groundball rate from 40% to 32% and improved his line drive rate by 5%. Although these might seem like small increases, they can go a long way.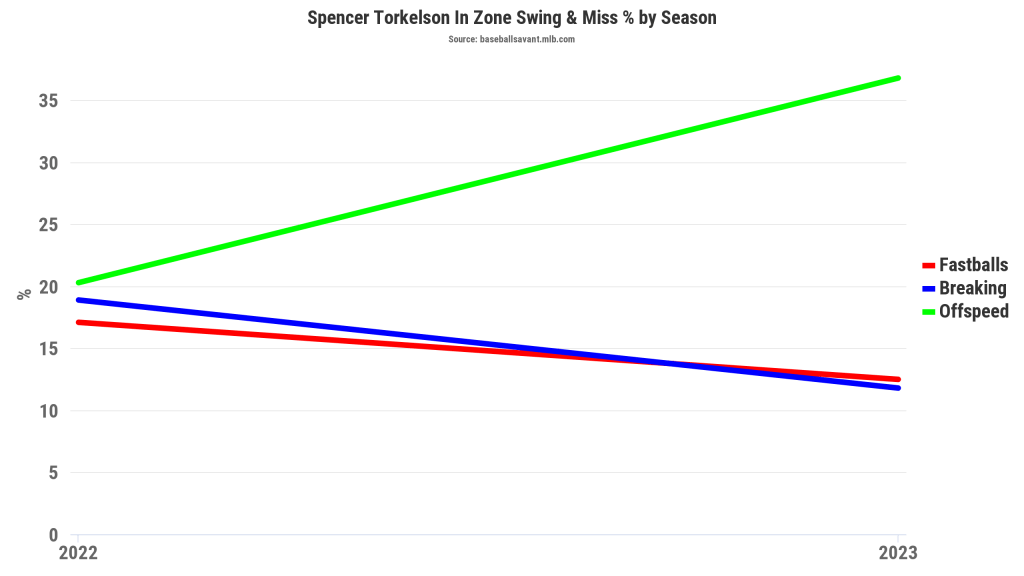 Torkelson's best contact should obviously be coming on swings in the strike zone. He's making more contact on fastballs and breaking balls in the zone, the two types of pitches he see's the most. His average against fastballs has jumped by 20 points and his average against breaking balls by over 70 points. Although he only hits .133 against offspeed, it's actually an improvement from his .093 average last season.
It's only a matter of time before his traditional stats start to show the improvements at the plate. Tokelson currently has a .270 xBA compared to a .241 average and his slugging of .368 is drastically lower than his xSLG of .441.
Detroit has not magically changed their path overnight. Yes, they are playing better baseball in an underperforming division, but the roster is still several pieces away. Tigers fans, what we have seen from these four players should excite you and give you a reason for optimism with this rebuild.
The Javier Baez contract is looking like it will not be as miserable as you thought, Greene and Tork are finally showing promise, and Rodriguez can potentially bring a return to expediate the rebuild. After years of doom and gloom, Detroit has something to smile about.