Top Rule 5 Draft Prospects to Watch For
2021's Rule 5 Draft prospects are as talented as we have seen in a long time. Here are the biggest names to watch.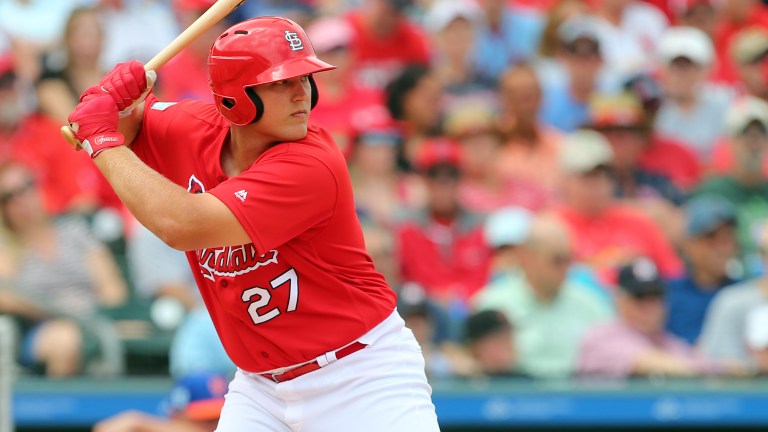 Every December, during baseball's Winter Meetings, teams look to find diamonds-in-the-rough by way of the Rule-5 Draft. In past years, some high-profile selections include Johan Santana, Dan Uggla, Joakim Soria, and Josh Hamilton. These players, usually Minor League veterans, were not added to their respective team's 40-Man Roster; which protects them from the draft. If a team wishes to select an eligible player, they must pay $100,000 to the draftee's current organization.
Once a player is selected, they must remain on their new team's 26-Man roster for 90 days, not including injured list time. If a team wants to remove a player from their roster, they are first offered back to their original club for $50,000, then they can be passed through waivers. In the case that a player is claimed off waivers, the Rule-5 Draft rules still apply. Any team with a full 40-Man Roster cannot make a selection. The draft order is in reverse of the previous season's standings, similar to the First-Year draft. Players qualify for the Rule-5 Draft if they fall under one of two categories:
The player signed before age 21 and has five years of Minor League service time.
The player signed after age 21 and has four years of Minor League service time.
Pitchers
Daysbel Hernandez | Age: 25 | RHP | Atlanta Braves
Hernandez has an electric high-90s fastball that produces a ton of swings-and-misses. His only secondary, an above-average slider, has promising characteristics. Hernandez has had some control issues in the past, but it shouldn't keep a team from selecting him this December. Last year, the Cuban-born righty split time between Double-A and Triple-A, posting a 3.83 ERA in 42.1 innings out of the bullpen.
Matt Tabor | Age: 23 | RHP | Arizona Diamondbacks
The Diamondbacks selected Tabor in the third round of the 2017 draft. He experienced an uptick in his stuff during Instructional Camp in 2020 and was a surprise snub off Arizona's 40-Man. Tabor's best pitch is his changeup and is looked at as a back-end starter down the road. A team may take a flyer on Tabor, looking to eat some innings and find upside in a solid arm that spent 2021 in Double-A and Triple-A.
Tahnaj Thomas | Age: 22 | RHP | Pittsburgh Pirates
The Pirates had a full roster coming into late November and were unable to add Thomas. While he hit a bump in the road this season, the Bahamian righty has shown the makings of a back-end bullpen arm. Thomas' fastball sits in the mid-90s and reaches 100 on occasion, with a slider that misses bats regularly. This could be a perfect Rule-5 selection for a team needing some bullpen help, while acquiring a pretty good prospect.
Omar Cruz | Age: 22 | LHP | Pittsburgh Pirates
Omar Cruz reminds me a lot of Phillies' starter Ranger Suarez. Similar to Suarez, Cruz throws out of a shorter lefty frame and does not posses overpowering stuff. Instead, he hits spots and produces good results. The Mexican southpaw was another victim of the Pirates' roster crunch and projects as a starter down the road. His low-90s fastball plays well all over the zone and is complimented by a 12-6 curveball and change-up.
Seth Corry | Age: 23 | LHP | San Fransisco Giants
After a down year at High-A in 2021, the Giants decided to leave Corry off of their 40-Man Roster. The 6'2″ lefty had a breakout year in 2019, propelling him up prospect lists industry-wide. His fastball, curveball, change-up repertoire works well off of each other, most likely keeping him in the rotation long-term. A Rule-5 selection would be a gamble, as Corry hasn't pitched above High-A yet. The most likely scenario is a team attempting to stash him and continuing his Minor League development in 2023.
Kade McClure | Age: 25 | RHP | Chicago White Sox
McClure started off well at Double-A before running into some trouble at the Triple-A level last season. His fastball sits in the low-mid 90s with developing secondary offerings. The Louisville product worked with biomechanists last offseason to improve his delivery and arm slot. If a team likes the pitch data and upside, McClure could get selected toward the back-end of the draft.
Robinson Pina | Age: 22 | RHP | Los Angeles Angels
Pina jumped three levels in 2021, making his way up to Double-A for four starts. The Dominican-born righty offers three average pitches including a fastball, curveball, and splitter. Pina is still growing into his frame and has notice increases in velocity year by year, now sitting in the 93-95 range. In the future, the 22-year-old profiles as a back-end starter or middle reliever.
Brady Feigl | Age: 25 | RHP | Oakland Athletics
While Feigl isn't overpowering, he produces a ton of ground-balls. His fastball can touch 95 with a very high spin rate and devastating sink. Although they are still developing, Feigl has a slider, curveball, and change-up to work with as well. A team looking for a fringe starter and long reliever would be the perfect fit for Feigl, who made 25 starts in 2021 between Double-A and Triple-A.
Tim Cate | Age: 24 | LHP | Washington Nationals
After a breakout 2019 campaign, Cate struggled in 2021. A former second-round-pick, Cate offers an above average curveball to compliment a high 80s fastball and developing change-up. With no known projection, the 6'0″ southpaw could eat some innings for a team that is willing to take a chance. Cate is slated for Triple-A in 2022, with the opportunity to get big league looks if he remains with the Nationals.
Catchers
Blake Hunt | Age: 23 | C | R/R | Tampa Bay Rays
Hunt is widely regarded as one of the most advanced defensive catchers in the minors. While his bat has some power upside, Hunt is most likely slated to be a defense-first backup option. After the Rays failed to make room for Hunt, a team in need of a catcher could pull the trigger. With elite pop times and a very strong arm, the California native could end up sticking in the big leagues. If the power comes along, a team is looking at a player type similar to the Oakland's Sean Murphy.
Josh Breaux | Age: 24 | C | R/R | New York Yankees
Drafted out of a junior college in 2018, Breaux has turned himself into a threat on both sides of the ball. The Yankees had some tough catching decisions to make and ended up trading Donny Sands to the Phillies before Friday's roster deadline. They kept Breaux, in hopes that he slips through the cracks of the Rule-5 Draft. Last season he slugged 23 homers between Single-A and Double-A, showcasing his big time power potential. While he isn't as advanced defensively, the Texas native has a strong arm which could work well in the upcoming world of an automated strike zone.
Infielders
Samad Taylor | Age: 23 | 2B/OF | R/R | Toronto Blue Jays
With a breakout season at Double-A, Taylor may have propelled himself to a top selection in the Rule-5 Draft. The California native showed an uptick in power last season, where he slugged 16 bombs. Taylor produced an impressive .294/.385/.503 slash through 374 plate appearances. Maybe the most valuable attribute for Taylor is the ability to play all around the diamond. The 2016 10th round selection also stole 30 bases, expanding his value to a bench utility player with speed.
Vinny Capra | Age: 25 | 3B | R/R | Toronto Blue Jays
Capra was slated to repeat Double-A after the COVID-19 pandemic, coming ready to the occasion. Through 282 plate appearances, Capra had a dominant .327/.396/.548 line in 72 games for New Hampshire. Like his organization-mate Samad Taylor, Capra has played all over the infield and has been experimented with in the outfield. The Richmond product doesn't have a strong track record, which might hinder a team's decision to take him. If he isn't selected, there is a chance Capra will get to the majors with the Jays in 2022.
Luken Baker | Age: 24 | 1B | R/R | St. Louis Cardinals
Baker continued to show his tremendous power in 2021, hitting 26 homers over 91 games with Double-A Springfield. With an improved approach and ability to drive the ball to all fields, Baker could go early in the draft. Not getting added to St. Louis' 40-Man may work in his favor, as their corner infield is the best combination in baseball. One of the slowest runners in baseball, Baker is for sure slated for a first base or designated hitter role in the majors.
Michael Stefanic | Age: 25 | 2B | R/R | Los Angeles Angels
Stefanic found his power stroke in 2021, slugging 17 bombs compared to his previous three over two Minor League seasons. The Boise, Idaho product got on base at a .408 clip last season, looking to help a depleted Angels infield. He never got the call, but may have earned a spot on another club. While the bat is where Stefanic provides value, he played six positions through 125 games in 2021, showing versatility that is always valuable to a MLB team.
Patrick Dorrian | Age: 25 | 3B | L/R | Baltimore Orioles
Dorrian has had a crazy ride in professional baseball to this point. Originally drafted by the Braves in 2014, he was granted a release to play college baseball at Lynn University after signing with Atlanta. Dorrian would not be redrafted, rather he signed a Minor League contract with the Pirates in 2018. After an okay season at the Single-A level, the Pirates released Dorrian, later signing with the Orioles. Due to a breakout season at Double-A in 2021, the 25-year-old may be on the move again. In 116 games, Dorrian slugged 22 homers along with an .815 OPS. If a team is looking for a corner infielder that showed good numbers against upper-level pitching, Patrick Dorrian is their guy.
Miles Mastrobuoni | Age: 26 | SS/OF | L/R | Tampa Bay Rays
A regular at big league camp during Spring Training, Mastrobuoni's versatility may finally be finding him a Major League opportunity. Known for playing all over the diamond, the Nevada product showed promise at the upper levels of the minors in 2021. In 382 at-bats, Mastrobuoni produced a .802 OPS, but was left off the roster due to a flurry of Rule-5 eligible players for Tampa Bay.
Buddy Kennedy | Age: 23 | 3B | R/R | Arizona Diamondbacks
Since being drafted in the six round of the 2017, Kennedy has always hit Minor League pitching. In 2021, the New Jersey native bounced between High-A and Double-A, producing at both levels. Kennedy combined for 22 homers in a year that he played just 96 games. Most recently, the 6'1″ infielder played in the Arizona Fall League, where he owned a .236/.328/.400 line with a pair of homers. With a good track record, a team could take a shot on Kennedy, who has played second and third base in his career.
David Villar | Age: 24 | 3B | R/R | San Francisco Giants
Double-A pitching was no match for Villar in 2021, who has had a steady rise through the Giants system since being drafted in 2018. The South Florida product has played mostly third base to this point in his career, making a few appearances at first base last season. Villar has consistently hit for power throughout his career, swatting 20 bombs in 106 games last season. If a team believes in his 140 wRC+ a year ago, Villar could be a solid bench bat and corner infielder.
Outfielders
Carlos Rincon | Age: 24 | LF/RF | R/R | New York Mets
When the Mets traded Billy McKinney to the Dodgers last July, they acquired Rincon in return. The Santo Domingo native is a strong, powerful hitter who is most likely suited for left field in the majors. Last season, he hit 22 bombs, tying his career high. While his strikeout rates usually sit in the mid-upper 20s, they isn't a ton of swing-and-miss concern. Rincon could defiantly benefit from walking more, but a team may take a chance on his raw power and Minor League track record.
Griffin Conine | Age: 24 | RF | L/R | Miami Marlins
Griffin, son of 17-year Major Leaguer Jeff, was tied for second on the Minor League home-run leaderboard with 36. Though they had room, the Marlins opted to leave him off the 40-Man, despite being their only notable eligible player. While there is big swing-and-miss concern, Conine walked at a decent rate in 2021, picking apart High-A pitching. The Duke product made it up to Double-A in 2021.
Gilberto Jimenez | Age: 21 | CF/RF | S/R | Boston Red Sox
Due to a competitive Major League roster, the Red Sox were unable to make room for Jimenez this fall. A fast runner and good defender, a team could look to stash Jimenez in an attempt to add talent to an organization. This could work in theory, but the switch-hitting-outfielder has only made it up to Low-A, so interested organizations need to be very careful. Jimenez owned a .306/.346/.405 slash in 2021, so walking more will be vital to his game down-the-line.
Nick Plummer | Age: 25 | LF | L/L | St. Louis Cardinals
A former first-round pick, Plummer had struggled to put it all together before the 2021 season. In 117 games last season, the Michigan product had a tremendous .415 on-base percentage, while also hitting 15 homers. Before 2021, Plummer never hit, with huge strikeout numbers each year. If a team believes in Plummer's hit tool, they may take a chance.
Ryan Noda | Age: 25 | 1B/LF | L/L | Los Angeles Dodgers
The Dodgers acquired Noda in February to complete a deal that sent righty Ross Stripling back to the Blue Jays. Of all Rule-5 eligible players, Noda probably has the strongest Minor League track record. The 6'3″ lefty slugged 29 homers last year, spending the whole season at Double-A Tulsa. Through 113 games, Noda owned a 139 wRC+ with 15.6% walk-rate. Noda is worth a shot, with a career .411 on-base percentage in four Minor League seasons.
Oscar Gonzalez | Age: 23 | RF | R/R | Cleveland Guardians
The Guardians added ten players to their 40-Man roster before the deadline on Friday, leaving out Gonzalez. The 6'4″ righty has primarily played right field and split time between Double-A and Triple-A. Gonzalez slugged an impressive 31 homers, compared to his prior career high of 13. There is decent upside with Gonzalez, who should be selected at some point during the draft.