Analysis
Jonah Heim Is Becoming One of the Best Catchers in Baseball
After a breakout in 2022, Jonah Heim is playing at an even higher level now, truly becoming one of the best all-around backstops in the game.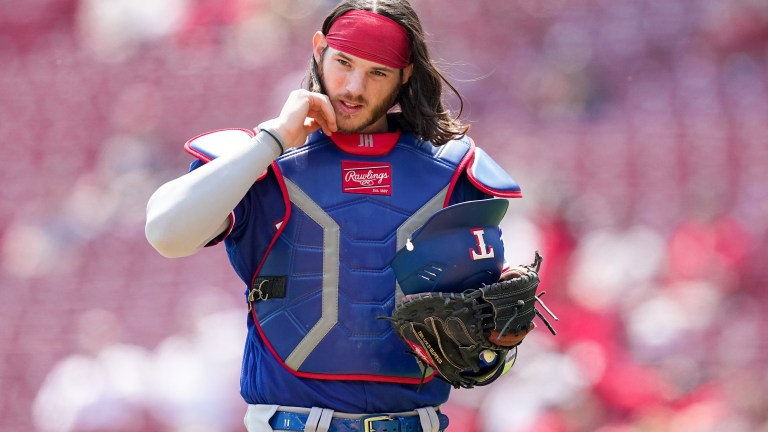 To say Jonah Heim was unknown heading into 2023 might not be fair, but this version of him certainly was. Viewed as a defensive catcher, Heim has continued to blossom at the plate turning into one of the best catchers in the game.
Heim's baseball journey is an interesting one. After becoming a fourth-round pick of Baltimore's in 2013, Heim was traded three different times before establishing a role in Texas. Baltimore traded him to Tampa for Steve Pearce, before being sent to Oakland as the "player to be named" for Joey Wendel. Finally, Heim, along with slugger Khris Davis, were shipped out of Oakland to Texas for Elvis Andrus and Aramis Garcia.
After being a part time player in 2021, Heim played in 127 games in 2022 and showed some flashes of power hitting 16 home runs. His year-over-year improvements at the plate were promising, and 2023 is looking like a true break out for the 28 year-old.
| | | | | | | | |
| --- | --- | --- | --- | --- | --- | --- | --- |
| Heim | Avg | OBP | SLG | HR | Barrel% | Hard Hit% | wRC+ |
| 2021 (82 G) | .196 | .239 | .358 | 10 | 6.2% | 37.9% | 60 |
| 2022 (127 G) | .227 | .298 | .399 | 16 | 6.9% | 39.6% | 99 |
| 2023 (35 G) | .315 | .371 | .528 | 6 | 11.9% | 41.6% | 148 |
Stats via Fangraphs
Heim has already accumulated 1.9 fWAR, which ranks third on the team. His offense along with stellar defense have made him the most important player to the Rangers to begin the season. Replacing Heim would not only hurt the lineup, it would cause the the pitching staff to take a step back.
Offense
In 2022, Heim showed enough offensively to be a potential breakout this season. Sixteen home runs and a 99 wRC+ from your catcher is above average production while still leaving room for reasonable improvement. What we have seen so far, I'd classify as drastic improvement.
Entering May 16th, Heim's 148 wRC+ ranks third amongst catchers with his average, on-base percentage, and slugging all falling in the top five. A big difference from years past has been an ability to barrel baseballs. To break it down to the most elementary standard, squaring up baseballs will lead to a higher percentage of success.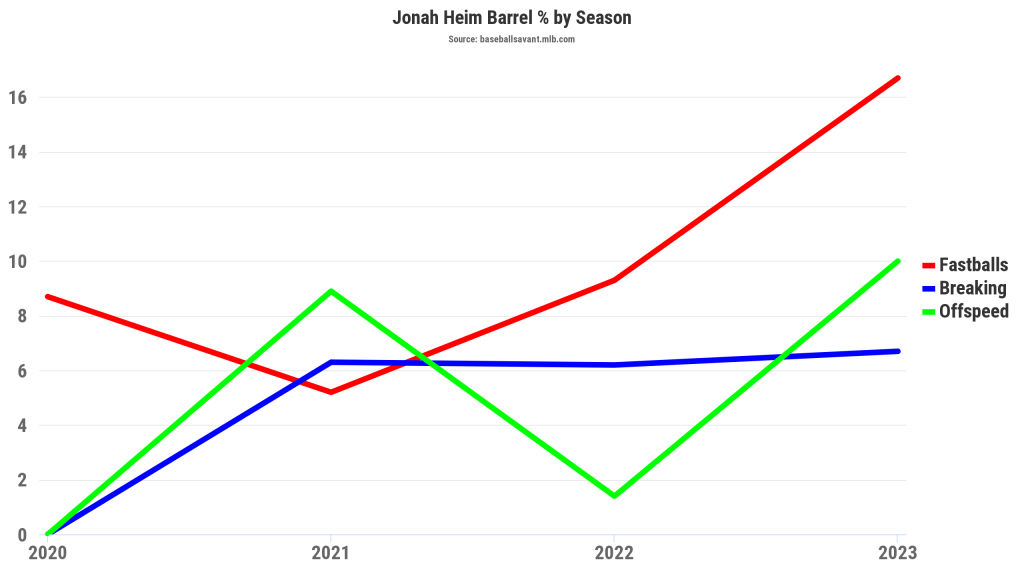 Although the sample size is still relatively small, Heim's making better contact, especially on fastballs and offspeed pitches. Against fastballs, he's hitting .308, up from .236 last season. A .522 average (23 AB) on offspeed pitches is a drastic improvement from his .244 average last season.
Better contact has resulted in more would-be ground balls to be lifted in the air. Heim's dropped his groundball rate from 39% to 29.7% while churning out more line drives, an 8% increase.
The pull-heavy hitter has really leaned into his profile in order to tap into more power, without sacrificing anything at the plate. If Heim plays 140 games this season, he's on pace to mash 24 homer runs. Funny what making better contact can do to a hitter right?
Another reason for his increased numbers has been his improvements against righties. The switch-hitter slashed .210/.283/.357 off righties in 2022 and currently sits at .278/.336/.485. Right now, there are few holes in his swing. Swinging and missing less on breaking and offspeed pitches, hitting the fastball better, and providing the offense this team needs with Corey Seager on the shelf.
Sure, his overall numbers will likely go down. I doubt we see a 140+ wRC+ player for the entirety of 2023. An improved player from years past, and one of the best catchers in baseball, is still very much on the table. Even if the bat cools off, his work behind the plate will hold value.
Defense
Catcher defensive stats are a bit clunky, and relatively new. Heim does not grade out well for blocking, but more importantly, his framing metrics are excellent. Turning pitches on the edge into strikes is an art practiced throughout the history of baseball, and Heim is one of the best in the game.

Now, you do not have to fully understand what everything on this chart means. Remember, the darker the Red the better. To give you a better idea of what is "good", Heim's 12 catcher framing runs in 2022 ranked second only to Jose Trevino.
There's no doubt Heim is elite at framing pitches, and has been for the better part of three seasons. Calling games and working with pitchers is much more difficult to quantify.
| | | |
| --- | --- | --- |
| | ERA with Heim | ERA without Heim |
| Nathan Eovaldi | 0.00 (25.2 In) | 5.20 (27.2 in) |
| Jon Gray | 4.40 (30.2 in) | 0.60 (15 in) |
| Andrew Heany | 1.88 (28.2 in) | 11.39 (12.2 in) |
| Martin Perez | 4.25 (42.1 in) | N/A |
Again, we are still working with small sample sizes. Opponent has a huge part in this, but you can get an idea of the impact Heim can make on the pitching staff. Before you ask about Gray, he had a 3.39 ERA with Heim and a 5.35 ERA without him in a much larger sample in 2022.
Martin Perez might benefit the most from Heim behind the plate. From a back-end option to 2022 All-Star, Perez's breakout was more than a coincidence. In 2022, Perez had 120 pitches out of the zone called strikes, leading the league. In fact, the Rangers led the entire league in called strikes on pitches out of the zone, 9% better than any other team (per MLB Network).
Heim's work behind the plate should not go unnoticed. The Rangers have invested a huge amount of money into this rotation the past two seasons, and Heim is the one steering the ship. Finding a catcher who is elite defensively, and a plus bat is one of the harder things to find in baseball, and the Rangers have just that.