Analysis
Cleveland Guardians Trade Deadline Guide
The Guardians are a rare team who could be both buying and selling at the trade deadline, moving pieces around to try to win the AL Central.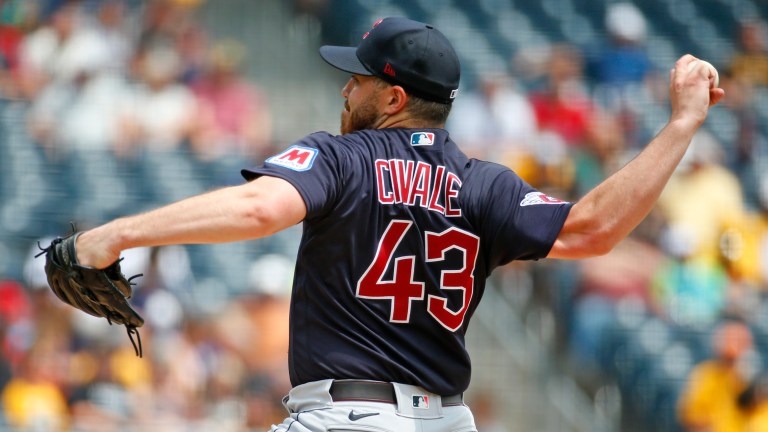 After a 92-win, AL Central crown in 2022, the Guardians have been disappointing to this point. Hovering around .500, and a few games back in one of, if not the worst, division in baseball. Although they still have a very real chance to win the division, many expect the Guardians to be quiet at the deadline.
Cleveland has experienced a bit of a youth movement with rookies Tanner Bibee, Logan Allen, Gavin Williams, Xzavion Curry, Tyler Freeman, Bo Naylor, Gabriel Arias, Will Brennan, and others playing a significant role. That's a lot of inexperience, but hardly the reason for the Guardians mediocre season.
The Guardians are mostly likely going to go the route of a buy and sell. Getting back the typical returns they love – young players with control – while trading away players closer to free agency. We all know the offense needs a lot of help, a league-worst 76 home runs, almost 20 less than the next team, is not going to lead to winning baseball.
Pitchers
| | | | |
| --- | --- | --- | --- |
| | Contract | ERA | FIP |
| Shane Bieber (IL – 60) | Team control through '24, FA – '25 | 3.77 | 4.14 |
| Aaron Civale | Team control through '25. FA '26 | 2.54 | 3.61 |
| James Karinchak (AAA) | Team control through '26, FA '27 | 3.90 | 5.63 |
Ace Shane Bieber was lining up to be the top arm on the market before an injury squashed his chance of being moved. I had to mention him, but it feels like a Bieber trade will have to wait until the offseason, unfortunately. Although the Guardians do not have their ace to move, the consolation is no slouch.
Aaron Civale has posted a career-best ERA, and the advanced metrics show he's around, or even better, than his career norm. A massive improvement in his home run to fly ball rate, 12% to 6%, has helped him put out more productive outings. The need for offense, a depleted starting pitching market, and the emergence of younger options has made Civale an attractive name in trade rumors.
His multiple years of control opens the door for many possibilities. Not only will the large markets be involved, the smaller markets get a chance to play, too. Cincinnati, Baltimore, Houston, Philadelphia,
Arizona, hell, almost all contenders are possibilities. Cleveland always seems to cash in and do well in this situation, and I expect the same here. Civale could easily bring back a player who could slot right into the lineup, plus a prospect. Cleveland could still piece together a respectable rotation until Cal Quantrill and Triston McKenzie come back.
The bullpen has not dominated baseball like we have seen in the past. With so many options, someone has to get moved. Karinchak seems to have fallen out of favor in Cleveland. A talented arm, unique personality, and little to no control finds himself back in the minors.
Plenty of teams would be interested in seeing if they can tap into his potential, and the return would not be nothing. If not Karinchak, another bullpen piece is a possibility. Trade from a position of strength and depth.
Lineup
| | | |
| --- | --- | --- |
| | Contract | Slash |
| Amed Rosario – SS | $7.8, Expiring | .265/.306/.369 |
| Josh Bell – 1B/DH | $16.5, '24 Player Option | .242/.328/.401 |
| INF Prospect(s) | – | – |
As you can see, the Guardians do not really have much to move. Rosario is nothing special, but with so few shortstops available there's a non-zero chance someone is interested in him as a rental. The Guardians have a plethora of younger, and better, options at the position. Josh Bell is a decent player having a down year, and his player option is likely to be exercised. Unlikely he'll be able to be moved but possible.
That leaves us with the prospects. Tyler Freeman, Juan Brito, Angel Martinez, Jhonkensy Noel, Bryan Rocchio, Gabriel Arias, and Jose Tena are currently all on the 40-man and play infield, at least to some extent. With Jose Ramirez and Andres Gimenez not going anywhere, something has to give. Moving a couple of these players could bring back a great return. Several have a high enough upside and years of control to really move the needle in a trade.
Rocchio is likely here to stay. I love the potential Noel brings, and he's played some outfield, but he's taken a step back this season. Cleveland needs a bat desperately, especially in the outfield, and one of these prospects is the perfect deal starter.
The only issue? Not many bats are on the market. Your typically rents are rather underwhelming but I am not sure how much that matters in this situation. Years of control has always been a big part of Cleveland's check list, so getting creative in a trade is nothing new. I'd expect a young infielder from Cleveland straight up for a younger outfielder from another team.
Conclusion
The buy and sell model is not one I typically like. I'd usually say pick a direction and commit to it. However, this does not really apply to the 2023 Guardians. They are too young and talented to completely sell off and rebuild. Not really in their DNA. In order to acquire an impact bat, their best route is trading an established piece for established piece. So long Civale!
A division as weak as the AL Central ought to keep the Guardians at least somewhat active at the deadline. As boring as it sounds, I just don't see many deals coming from them. One or two moves with the hope of finding some power to add to the lineup. Too many positions are filled by players who I view as having a future with the team. If things start to click and you get a better second half from one or two, maybe it pushes the Guardians to first place.
Minnesota feels like the more aggressive team. They have made big trades and signings the past could of years and I expect the Twins to add more than the Guardians. Welcome to no-mans land, Cleveland. General Manager Mike Chernoff will have to show me he's willing to make an all-in move for me to believe it, and I don't think this is the year we see it.