Analysis
The Guardians Are Wasting Their Chance in a Winnable AL Central
With their playoff hopes down to 3.6%, the Guardians' poor showing in August has all but cemented their fate as a non-playoff squad in 2023.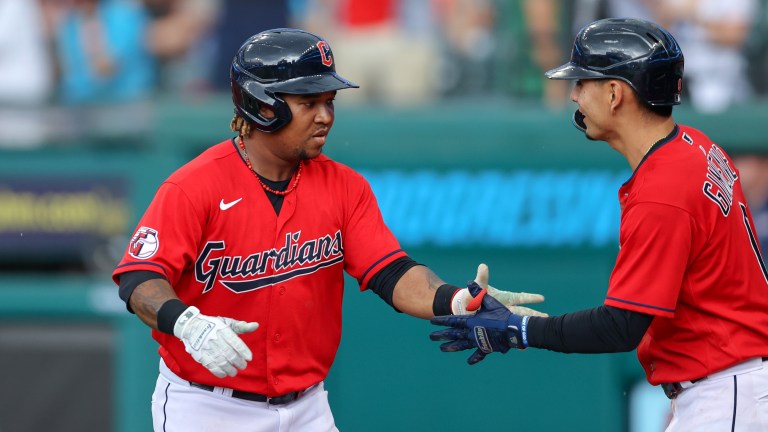 On July 30, the Cleveland Guardians were 53-53. Just half a game behind the Minnesota Twins in the AL Central, with a 31.9% chance to win the division and a 32.2% chance of making the playoffs, according to FanGraphs.
So what did Cleveland decide to do?
They sent Aaron Civale, who had a 2.34 ERA, to the Tampa Bay Rays that Sunday. Then shipped off-season acquisition Josh Bell to the Miami Marlins just before the trade deadline two days later.
Not exactly what you'd expect from a team with a legitimate shot at a division crown.
Since the August. 1 deadline, the Guardians have gone 6-12, falling 6.0 games back of the Twins in the AL Central, with just a 3.6% chance of winning the division.
While the Guardians have been without Tristan McKenzie and Shane Bieber, their pitching has actually stepped up in August. Cleveland pitchers have the fourth-best ERA (3.20) in the month, and are striking out 9.42 hitters per nine.
It's on the offensive side of things where the Guardians are seeing a potential playoff berth slip through their fingers.
With that said, let's take a closer look at what is plaguing Cleveland as their postseason hopes dwindle, despite playing in one of the worst divisions in MLB.
Offensive silence
Along with McKenzie and Bieber missing time, Josh Naylor has been out the entire month with a strained oblique.
Naylor had quietly emerged as one of the most productive first basemen in MLB this season, posting a .306/.346/.500 slash line with a 127 wRC+ over 96 games. This production, along with the acquisition of Kyle Manzardo for Civale, gave Cleveland the confidence to trade away Bell — who had been uninspiring after signing with the Guardians in the offseason.
However, without Naylor, the offense turned from a fringe bottom-10 group into potentially the worst run-producing unit in the majors.
In August, only the Oakland Athletics have scored fewer runs than the Guardians, and they have played in one less game.
Cleveland has hit an MLB-low seven home runs and owns the lowest OPS (.603) of the month. The Guardians put the ball in play a lot — in fact, they have struck the least of all teams in the majors in 2023 — but they just don't hit it very hard.
| | | | | | | |
| --- | --- | --- | --- | --- | --- | --- |
| | Hard Hit% | Avg. EV | Barrel% | Slugging Percentage | Iso. | wRC+ |
| Guardians | 33.3 | 87.5 MPH | 5.0 | .377 | .128 | 89 |
| MLB Rank | 30th | 30th | 30th | 29th | 30th | 25th |
Only Naylor, Jose Ramirez and Steven Kwan have over 100 plate appearances and performed as above-league-average hitters.
On its way to a division title in 2022, Cleveland thrived as it put the ball in play more than any other team in MLB, creating havoc and putting pressure on opposing defenses. While sticking to the same formula this season, Guardians hitters haven't gotten the same results.
| | | | | | | | |
| --- | --- | --- | --- | --- | --- | --- | --- |
| | Jose Ramirez | Steven Kwan | Andres Gimenez | Josh Naylor | Oscar Gonzalez | Amed Rosario | Myles Straw |
| 2022 wRC+ | 139 | 124 | 140 | 117 | 122 | 103 | 64 |
| 2023 wRC+ | 122 | 101 | 94 | 127 | 51 | 85 | 69 |
Players to record more than 100 plate appearances for both the 2022 and 2023 Guardians and their wRC+ by season.
With so many players returning from that 2022 team having worse seasons in 2023, it begs the question if there is any hope of turning things around and pushing the Twins down the stretch.
Is there anyone that can change Cleveland's fortunes?
Since we've already established that the offense isn't hitting the ball hard, and isn't stringing together runs like it did a year ago. But many Guardians hitters may actually be suffering from a bit of bad luck.
Of the 12 players with over 100 plate appearances on Cleveland's roster, eight of them have a lower wOBA than xwOBA. While that includes a lot of minor differences and totals that, if the hitters improved, would move them from bad to slightly below average.
However, if the Guardians got better results from half of their underperforming hitters, that might be enough to generate some more wins with how well their pitching has performed.
Nine of Cleveland's losses in August have been by two runs or less.
So are there any individual players that could make a significant difference for the Guardians down the stretch?
Ramirez is the easy answer, as he posted a 143 wRC+ the last three seasons and is down to a 122 mark in 2023.
On the other hand, a dramatic improvement might make more of a difference with this team. Oscar Gonzalez has the second-largest gap on the Guardians between his wOBA and xwOBA. His profile as a slugging corner outfielder could be a game-changer in the middle of the Guardians' order when he performs like he did in 2022.
Of course, the numbers don't suggest that a breakout would take him to elite status or even above average. But a year ago, he posted a 138 wRC+ in September/October, so perhaps as he gets some more at-bats under his belt this season, he may find more success.
Is there any hope of making a playoff push?
The good thing about playing in a weak division is that you should get to play a softer schedule as the postseason approaches.
Unfortunately for the Guardians, that isn't quite the case in 2023.
They have the fifth-hardest remaining schedule in MLB, with eight series remaining against teams currently sitting in a playoff spot and only four series remaining against AL Central opponents.
Two of those come against the Twins, giving Cleveland a chance to make up some ground head-to-head. But while the Guardians face a gauntlet in September, Minnesota has one of the easiest schedules in baseball to end its season.
It has just four series remaining against playoff teams and finishes the year with a stretch against the Chicago White Sox, Cincinnati Reds, Los Angeles Angels, Oakland Athletics and Colorado Rockies.
So while there remains a sliver of hope for the Guardians to go on a run and catch the Twins, it is becoming increasingly unlikely that they will find a way to repeat as AL Central champions.