Analysis
Chicago Cubs Offseason Outlook for 2023-2024 Free Agency
With their new manager Craig Counsell in place, the Chicago Cubs front office will look to supply him with a winning roster this offseason.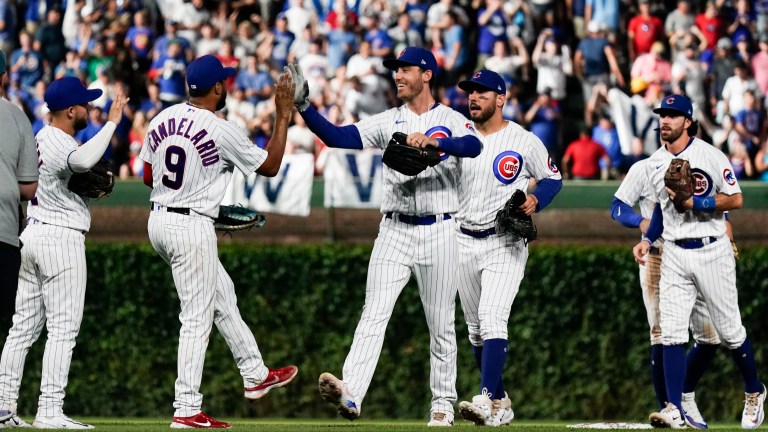 The Cubs shook up the baseball world when news broke they were hiring Craig Counsell as the team's next manager. The move was an absolute bombshell, and saw a member of the 2016 World Series team pushed aside for a division rival's skipper. The Cubs gave Counsell the highest salary for a manger in MLB history at $8 million per season, and the move stunned everybody.
It is an executive's favorite move, as it not only helps the Cubs but also hurts their biggest competitor. Counsell has an excellent track record as a manager, and was a prized possession for teams with openings this year.
Though it may be a tough way to treat a beloved former played like David Ross, the two parties seemed bound to split. Plus, Counsell is the type of superstar manager that does not become available very often.
The move is the biggest signal in years to the Cubs' fanbase that Chicago is ready to win and win now. Questions have swirled around the organization's desire to do so since they broke up the World Series team, but it can be questioned no more. This is the type of move made by teams that are serious about contending and believe they are really close to doing so.
It also signals that the Cubs are in for a busy offseason. The Cubs came really close to the postseason this year, but fell apart at the very end. It was an ugly collapse, one that exposed the Cubs' flaws and showed they still had work to do.
Only one player, Kyle Hendricks, remains from that magical 2016 team, and a new core has established itself. The Cubs still have plenty of holes to fill, but now fans have hope!
The front office sent a message that they're going to be aggressive and they are poised for a big offseason. The time is now to build on the aggression of the Counsell move and build a team that will once again contend for a title.
Cody B. Goode
Many people–including me–questioned the Cubs signing Cody Bellinger last offseason. They did not seem like a team ready to contend and they coughed up a ton for what seemed to be damaged goods.
We now know those people–including me–were very wrong.
Bellinger had an epic resurgence in the Windy City in 2023, regaining his MVP form from 2019. Cody B posted 134 wRC+ and 4.1 fWAR, both his best since that 2019 season. In fact, he had not had more than 112 wRC+ and 1.8 fWAR since his MVP year.
His bounce back surprised many and it completely revitalized the Cubs. A team that seemed stuck in the middle was suddenly a playoff contender, and it had a lot to do with Bellinger's presence.
Just look at the numbers with and without him. The Cubs went 69-61 with a .770 OPS when Bellinger was in the lineup this year. Without him, Chicago went 14-18 and their OPS fell to .669.
Bellinger declined his half of the $25 million mutual option he had with the Cubs, in a move that surprised nobody. Cody B is now in line for the long-term and expensive contract we all expected him to get at one point in his career.
To me, bringing back Bellinger should be priority number one for the Cubs this winter. It was evident how crucial he was to the offense, and his defense is a huge boost as well. Locking up Bellinger for his prime would be another sign that the Cubs are serious about contending. I'm not saying I would give him a blank check, but the Cubs need to make him a serious offer. The offseason gets much easier if you keep him around and start building around him and the young core.
Making A Splash
If Bellinger goes elsewhere–or even if he doesn't–the Cubs should look to bring in a huge name this offseason. Cubs fans have expectations of a hot pursuit of Shohei Ohtani, and they should be in the running. The Cubs went hard after Ohtani when he first arrived in MLB and they are in even better position to grab him now.
If there is anybody you are going to hand a blank check to, Ohtani is that guy. He obviously not only provides a middle of the order bat, but when healthy he would anchor the Cubs rotation. It will take at least a year for that impact to be felt, but it will be a huge one once he recovers from UCL surgery.
He would also be the kind of superstar that would revitalize the Cubs fanbase. They are itching to believe the World Series can return to Chicago, and what better way to show it than signing Shohei?
There were also reports that the Cubs could be in on Juan Soto if the Padres move him. To me, that is a no-brainer for Chicago. He would anchor the Cubs lineup for years to come, and would be the center of a new core.
Soto had 155 wRC+ and 5.5 fWAR in what some considered a "down year", which is absolutely ridiculous. As we all know, he has Hall of Fame potential and would be the next Cubs superstar to elevate them to contender status.
The question becomes, do the Cubs have the capital to trade and extend Soto?
Luckily for them, the answer should be yes. The farm system is a good one and we know the Ricketts family has deep pockets. As I said, the Counsell move was a sign of aggression. Trading for Soto would be one of the most aggressive moves they could make.
Questions On The Mound
The Cubs have just eight players under contract for 2024 as of now, but a ton of money locked up in those players. Those eight players are worth $130.5 million, and the cheapest salary is is Yan Gomes' $6 million. They have three players worth more than $20 million and five over $16.5 million.
Only two of those players are starting pitchers, not including Justin Steele who still has to be tendered a contract. Marcus Stroman did not pick up his $21 million player option, leaving a huge hole in the rotation.
These holes leave the Cubs needing to acquire two–and probably even three–starting pitchers this offseason. Jordan Wicks showed flashes in seven starts at the end of the year, but his 4.41 ERA and 4.70 FIP leave big question marks surrounding him. Hayden Wesneski struggled to cement himself as a starter and the internal options after that are limited.
Even when the Cubs were contending from 2015-19, their biggest flaw was their inability to develop starting pitching. That is biting them once again as they'll now have to go outside the organization to strengthen the rotation.
I really think the Cubs should try and bring Stroman back this winter. He was super effective in his time at Wrigley and they need his production in the rotation. However, it will likely come at a high price and while we expect them to be aggressive, how aggressive remains to be seen.
Sonny Gray is an option I really love on the free agent market this year. He was fantastic in Minnesota this year and has been so solid for so long. Gray very quietly posted a 2.79 ERA in 2023 and his 3.47 career ERA and 30.4 fWAR shows how effective he has been throughout his career.
The only issue with signing Gray is that the Twins extended him the qualifying offer, so signing him would cost them draft pick compensation. Jordan Montgomery on the other hand is free of such restraints, making him a very attractive option to all contenders, especially after seeing his postseason performance.
The Cubs have a lot of overcrowding on offense and a need for pitching. Sounds like a match with the Miami Marlins. Could they swing a deal for a young starter like Trevor Rogers, Edward Cabrera, Braxton Garrett or Max Meyer? The Marlins will likely look to continue their trend of trading pitching for hitting and they make sense as partners.
The Cubs could also hold on to their surplus of hitters and look to the open market for pitching. Montgomery, Michael Lorenzen and Eduardo Rodriguez are intriguing second-tier options. I imagine the Cubs could stay away from the top-tier arms, but Aaron Nola and Blake Snell could both make a good team great.
I imagine the Cubs will be saving a big contract for the offensive side of the ball because they could really use a superstar there.
Boosting The Offense
The Cubs' roster on the offensive side of the ball is super crowded. After his injury, Bellinger played a lot of first base, but his defense in the outfield is way more valuable.
The problem is two of the outfield spots are occupied by Seiya Suzuki and Ian Happ. That leaves only one spot for Bellinger (if he returns) and young studs like Pete Crow-Armstrong, Alexander Canario and Kelvin Alcantara. PCA debuted in 2023 and will compete for a roster spot in 2024. Canara and Alcantara might not make the Opening Day roster, but should be part of the future plans.
Shortstop is locked down by Dansby Swanson, second by Nico Hoerner and catcher by Yan Gomes. That leaves the corners open, but Bellinger could slot in at first if brought back and they opt to go young in the outfield.
Christoper Morel is young and awesome, but he is not a great defender. That makes him a DH candidate, but he could be the option at third. He could also be a trade piece if they want to look to make an upgrade or clear salary. His name has been floated in rumors for Juan Soto, though not widely. He could also be a great trade piece if the Cubs look to make a splash on the mound.
Third base seems like the biggest area in need of an upgrade, especially defensively.
Matt Chapman makes a ton of sense in that regard. He is the best third baseman available–and one of the best players available–especially defensively. At 30 years old, he may be looking for the contract to take him through his prime at a high price. With the Cubs aspirations for Shohei, and possibly Yoshinobu Yamamoto, third base may not be where they are looking to splurge.
The Cubs traded for Jeimer Candelario at the deadline and he was great. He could certainly be an option to return and would come cheaper than Chapman.
After that, the names available at third base are not the most exciting. Justin Turner is probably the best one available but he turns 39 in a few weeks.
The Cubs had a pretty good offense last year (104 wRC+) but can certainly improve. They don't have to go too big, but if they do it will launch them into contention. It would also excite a lot of fans in Chicago, and just simply be fun. How aggressive the Cubs are in adding offense will say a lot about how serious they are about winning.
Helping The Pen
The Cubs' bullpen ERA was middle of the pack, ranked 13th at 3.85. However, they fell apart too often in clutch situations. Their -1.61 Win Probability Added in the clutch was 25th in the league. The Cubs tried to piece together the bullpen from within and it did not go very well at all.
As with a lot of other positions, the free agent market for relievers is not very strong this year.
Josh Hader is the biggest name, but is likely to command a huge price tag. The Padres gave him the qualifying offer, so he would cost a draft pick. Craig Kimbrel is available, but the Cubs already tried that and it did not go great.
After that, the options dry up quick for a shutdown closer at the back end. Hector Neris was great for Houston, but does not really close anymore. He could be a good set-up man in front of Adbert Alzolay if the Cubs decide to stick with him to close games.
A reunion with Andrew Chafin could make some sense if the Cubs value a lefty. He struggled mightily last year so he could come at a discount, but it would also be a risk.
Other than those names, the Cubs will have to be creative if they want to add to the bullpen. That could mean moving around options internally or working a trade.
The Cubs have a surplus of hitting they could move, and considering the youth and potential they could bring back some strong help. It just depends whether or not they want to move bright offensive talent for bullpen help. That is not something I would be inclined to do.
Outlook
The Cubs were close last year. At one point I was less worried about a Wild Card spot and more worried about the NL Central. That went away quick as the Cubs faded out of the postseason late.
The pieces are there, but they have to add smartly around them to really contend. Cubs fans are certainly re-energized after a good year and the shocking Counsell move, but they will need a good offseason to continue the momentum.
We should expect that they will be aggressive, otherwise the Counsell move would not make a ton of sense. This seems like a team poised to contend and a good offseason could make them one of the best teams in the National League.
Ohtani is the pipe dream, but there are plenty of options for the Cubs if they miss there. You cannot say Ohtani is do-or-die, because only one team can make it happen. That said, I know a lot of Cubs fans that will be disappointed if he goes elsewhere.
That disappointment will go away fast if they make other strong moves to significantly improve the team. If the Ricketts and Jed Hoyer are as aggressive as some people expect, it could be a fun summer at Wrigley Field.