Analysis
Miami Marlins Offseason Outlook for 2023-2024 Free Agency
A surprise playoff appearance was followed by an even more surprising front office turnover, leaving the Marlins in a unique spot this winter.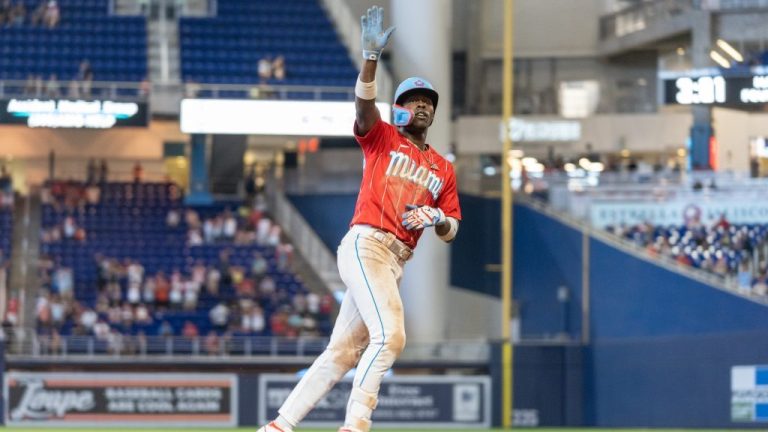 Even in a year where the Marlins were able to make the playoffs for the first time in a full season since 2003, the franchise still finds itself in flux. The departure of General Manager Kim Ng was surprising from all angles and while it's difficult to spin the outcome as anything but unfortunate, the Marlins worked swiftly to find a president of baseball operations, hiring Rays GM Peter Bendix three weeks later.
The fact that the Marlins preferred to add a president of baseball operations reportedly played a part in her decision to move on from Miami, citing philosophical differences in the future of the franchise.
It's reasonable to be optimistic about what Bendix can bring from Tampa to Miami in regards to research and development infrastructure, but such things cannot be overhauled in one offseason and the primary focus of fans is on what the team can do this offseason to get back to the playoffs in 2024.
Finding a Shortstop
It's no secret that the Marlins need help at both the catcher and shortstop positions. The team shipped out longtime shortstop Miguel Rojas in favor of Joey Wendle ahead of the 2023 season. While Rojas was less than stellar in Los Angeles, Wendle was one of the worst hitters in baseball last season, resulting in Jon Berti eating into a larger share of the platoon.
Berti has continued to be a solid player for the Marlins, posting a 137 wRc+ in the second half on his way to his second-straight season of at least 100 games played and an fWAR above 2.0.
The 33-year-old should play a key role as the Marlins utility-man in 2024, but the team will likely look outside the organization for upgrades at the 6-hole.
That said, 2-3 win shortstops do not grow on trees, nor are they easily attainable and as unexciting of an option as Berti is, that's what the Marlins would need to add to realistically upgrade at the position.
Free agent wise, the market is razor-thin. Tim Anderson was a name that came up a bit during the season, ultimately remaining in Chicago before the White Sox decided to decline his $14.5 million option for 2024.
Anderson had the worst season of his career last year, posting an OPS of .582, but the 30-year-old battled nagging injuries and is as good of a candidate to benefit from a change scenery as anyone.
In terms of upside, the Marlins will be hard-pressed to be able to add a player with the upside that Anderson possesses, but if the two-time All-Star falters again next season, the Marlins would find themselves right back at square one with Berti playing far too frequently at shortstop.
The safest addition would be somehow prying Tommy Edman from the Cardinals, who could be the odd-man out with the emergence of Nolan Gorman, Masyn Winn, Lars Nootbaar and Jordan Walker in addition to the team's presumed preference of Brendon Donovan and his control.
Edman is a fantastic defender both at shortstop and center field, with exciting speed and some sneaky power. He would plug in as the Marlins everyday shortstop and would also be an excellent insurance policy to the oft-injured Jazz Chisholm in center field with Jon Berti being able to plug into spot starts at shortstop if needed.
The Cardinals need pitching, but with Sandy Alcantara out for all of 2024 due to Tommy John Surgery, the Marlins don't have a bevy of arms to trade from (more on that in a bit).
With two more years of control, Edman won't come cheap. Perhaps the emergence of Braxton Garrett could make a Trevor Rogers available, with the Marlins opting to look towards free agency to fill the open spot in the rotation. But how much interest would the Cardinals have in a pitcher who struggled in 2022 and pitched just 18 innings in 2023?
Former first round pick and one of the Marlins top prospects Max Meyer could be an intriguing trade chip, however he has yet to return to game action from his own Tommy John Surgery in 2022.
A package of arms on the mend may be a tough sell for the Marlins, but with one of baseball's worst farm systems, it would be hard to pull of a trade for Edman without the Cardinals having some interest in Rogers, Meyer or Edward Cabrera.
Another option could be making a move for a blocked prospect or young player. Joey Ortiz of the Orioles and Ezequiel Duran of the Rangers fit the description. Duran was fantastic in the first half of the season, though a second half slump led to him being left of the Rangers postseason roster with his reps being limited through the final few months of the season.
Ortiz checked in as the No. 43 overall prospect in Just Baseball's end of season top 100 prospect list, though he found himself blocked by Gunnar Henderson and Jordan Westburg with No. 1 prospect Jackson Holliday likely leaping him on the depth chart as well.
One of the best defensive shortstops in the Minor Leagues, Ortiz would immediately provide value to the Marlins, even if the bat is slow out of the gate.
Another young, unproven option is Oswald Peraza of the Yankees who is blocked by Anthony Volpe and Gleyber Torres. He struggled offensively in his 52 MLB games last season, but is sure-handed with good speed and a track record of hitting in the minors.
A couple low-cost veteran options who may not be the most exciting include Kyle Farmer of the Twins or Jorge Mateo of the Orioles.
The safest and probably most productive option would be a trade for Edman and it's no coincidence that he may be the least attainable target. Making a move for a young, unproven infielder is somewhat of a calculated risk, but the Marlins need to take chances to keep up with the big spenders. When a team's roster is less cheaper with less star power, variance should be welcomed which is why Anderson is not a bad free agent choice despite his struggles.
Finding a Catcher
We are in the midst of somewhat of a catching renaissance in baseball and the Marlins have missed the memo. Seven of the top 10 catchers in fWAR in 2023 were 27 years old or younger and that does not include Gabriel Moreno, Yainer Diaz, Bo Naylor and Luis Campusano, who all had phenomenal second halves.
The Marlins catching tandem of Jacob Stallings and Nick Fortes combined for an fWAR of -0.6 in 2023, good for third-worst in baseball ahead of only the White Sox and Reds.
The team's 56 wRC+ from the catcher position was the worst in baseball. When it came to limited the run game, the Marlins were not much better, erasing just 17.7% of attempted base stealers, 7% lower than the league average.
Much like Wendle, Stallings is a non-tender candidate in his final year of arbitration. The two are projected by Spotrac to make a combined $9.5 million in arbitration. Fortes is a much cheaper and more athletic option, not entering Arb 1 until 2025.
While other teams have identified their catcher of the future internally, the Marlins have struggled in that regard, with no Minor League backstop realistically projecting as an everyday option. Consecutive years of failed drafts seems to be rearing its head for Miami as they continuously find themselves looking outside the organization for upgrades.
Unfortunately, the catcher position is extremely thin in free agency. Mitch Garver headlines the class, but the oft-injured 32-year-old saw the majority of his starts come at DH given the presence of Jonah Heim. Garver's defense leaves something to be desired, but he would have been tied for second on the team in home runs in 2023 despite only playing 83 games.
With the presumed departure of Jorge Soler, Garver can rotate through the DH role while Fortes catches a couple times per week. Another option for the Marlins is Gary Sanchez who enjoyed a career-resurgence last season with the Padres.
The 30-year-old provided above-average offense (111 wRC+) and solid defense in the eyes of several key metrics. His 1.7 fWAR in 75 games was his highest mark since his 2019 campaign with the Yankees. While he may not hit for average, Sanchez's .469 career slugging percentage and improved defense would be a welcomed upgrade for the Marlins.
South Florida native Yasmani Grandal will likely be floated as a possible option, however there really isn't anything that he does better than Sanchez at this stage of his career. Trade options are going to be much more difficult to find for Bendix and the Marlins front office as many teams have controllable backstops who are cemented on their roster.
One situation to monitor is the St. Louis Cardinals. It was a tumultuous season on multiple fronts, but especially with their prized free agent Willson Contreras. The 30-year-old signed a five-year, $87.5 million deal ahead of the 2023 season to be there everyday catcher and was shockingly benched in May just to be put back in the lineup a week or so after before enjoying a great second half.
It seems as though the team is prepared to move forward with Contreras as several of the pitchers who reportedly preferred to throw to Andrew Knizner are no longer with the ball club and Contreras was one of the team's best players down the stretch of last year's disappointing season.
That leaves Ivan Herrera–Just Baseball's No. 79 prospect–potentially blocked. The team could roll with Herrera as the backup as he offers much more upside than Knizner, but the Cardinals could look to cash in on their 23-year-old catcher after he posted a .951 OPS in Triple-A and impressed in a big league cameo.
Given the state of the Marlins farm, it makes sense to try to acquire a controllable piece at catcher, though it may be more realistic to do so at shortstop.
Replacing Production
For the sake of covering all angles, we are going to operate under the presumption that Jorge Soler does not return to Miami. Soler's 36 homers were nearly double the next-most on the team, but a nagging back resulted in him clogging the DH spot for 102 of his 134 games, producing a 126 wRC+ but just a 1.9 fWAR.
A full season of Jake Burger, who launched only nine of his 34 home runs in a Marlins uniform last season should help, as should a full campaign of Josh Bell. The two combined for an OPS around .840 in 53 games with the Marlins, joining Luis Arraez and Soler as the only players on the team with an OPS above .800 in a minimum of 200 plate appearances.
A healthy Jazz Chisholm Jr.–who has played just 157 games over the last two seasons–is an obvious boost for the offense as well, but his inability to stay on the field places even more importance on adding more proven outfield depth.
The team should be able to offset the loss of Soler's power through full campaigns out of Burger, Bell and Chisholm, with the opportunity to allocate those funds towards a player who can provide them with some defensive value.
Marlins outfielders ranked among the bottom third of the league in OPS, wRC+, fWAR, Outs Above Average and were dead-last in Defensive Runs Saved.
Expecting anything from Avisail Garcia is a losing proposition and while Bryan De La Cruz had some nice flashes, he was hardly better than a replacement level player when you factor in his poor defense and inconsistent offense.
Jesus Sanchez took a step forward offensively last season with right field likely having his name on it for 2024. That said, his struggles against lefties may keep him more in the 120-130 game range which again emphasizes the importance of outfield depth.
It makes sense for the Marlins to find an everyday left fielder while using De La Cruz as a fourth outfielder and short-end of a platoon with Sanchez.
Lourdes Gurriel Jr.–the younger brother of 2023 Marlin Yuli Gurriel–makes sense as an excellent fit both on the field and in the community as a Cuba native. Gurriel may be expensive for the Marlins, coming off of his highest home run output (24) along with a strong showing in the postseason.
He would probably command something in the $50 million range, but would be an instant upgrade for the Marlins in left field both offensively and defensively. A cheaper option could be a reunion with Adam Duvall, who was enjoying a fantastic season in Boston before dealing with a wrist issue.
Now 35 years old, Duvall still grades out as solid defender in either corner with the ability to plug into center field in a pinch. Tommy Pham is another 35-year-old veteran option who enjoyed a strong season in 2023 as well.
The highest upside option who could be within striking distance of the Marlins price range is KBO star Jung Hoo-Lee. Though Lee is a left-handed hitter, he possesses elite bat-to-ball skills, consistently spraying balls to all fields. His power is somewhat limited, but a tandem of Lee and Arraez at the top of the order is a great way to wear a pitcher down and manufacture runs.
Lee plays center field in the KBO but projects best in left. He should command a contract somewhere in the range of Lourdes Gurriel, but boasts more upside, albeit, with more unknown.
The trade market for outfielders likely won't offer much more than what is available in free agency, but you never know. With the Marlins limited assets, trading for a position that is the most barren in free agency makes sense, which appears to be shortstop.
The loss of Soler's power would be unfortunate, but not as negatively impactful as some fans may think if the team allocates those resources towards a well-rounded corner outfielder.
At Least One Pitcher
With 2022 NL Cy Young winner Sandy Alcantara out for the season due to Tommy John surgery, a somewhat uncertain Marlins rotation has a large void to fill. I say uncertain not due to a lack of talent, but rather the fact that it's incredibly difficult to know what to expect from the Marlins young arms.
Eury Perez, Jesus Luzardo and Braxton Garrett are all coming off of seasons where they blew past their career-high in innings pitched, Trevor Rogers battled multiple injuries, missing the majority of the season and Edward Cabrera is a wild card from a health and command standpoint.
The team should get Max Meyer back, which undoubtedly helps depth wise, but again, it's hard to know what to expect after what will be nearly a two-year layoff from game action. If all goes right, the Marlins rotation is not only full, but solid. The thing with pitching is, unfortunately, everything going right is nothing more than a pipe dream.
Even if the Marlins were not to make a trade, the team would benefit from adding a relatively low-cost starter along the lines of what they did with Johnny Cueto, but just making a better choice.
A trade of Rogers, Cabrera or Meyer would make an addition of a starting pitcher essential.
This free agent class is littered with bounce back candidates like Frankie Montas, Luis Severino, Jack Flaherty or Michael Lorenzen. A sneaky target could also be South Florida native Nick Martinez who enjoyed some success with the Padres in both a starter and relief role.
Martinez is a particularly intriguing fit because of his swingman ability. If the Marlins rotation is clicking and everyone is healthy, Martinez can pitch out of the bullpen, but if they need him every fifth day, he has proven to do that serviceably as well.
Outlook
Making the playoffs in 2023 was an exciting accomplishment for first-year manager Skip Schumacher and the Marlins, but the new front office will have to push all of the right buttons this offseason for the team to get back.
Its remarkable that the Fish succeeded the way that they did with gaping holes at both shortstop and catcher and the loss of Sandy Alcantara is crushing. "Safe" pick ups like Amed Rosario or Whit Merrifield could help improve the team's bottom line, but likely will not move the needle.
With limited offensive reinforcements in the pipeline, the Marlins may be best-suited rolling the dice on some high-risk, high-reward options…much like the acquisition of Jake Burger.
Limited tradable and payroll assets further complicates things for President of Baseball Operations Peter Bendix, but that is exactly why Bruce Sherman brought him in.
He will start to build an infrastructure for the Marlins to attempt to cultivate their own talent as the Rays have done for years, though his knack acquiring underrated talent like Isaac Paredes, Jose Siri, Zach Eflin, Harold Ramirez and other key players for the Rays will be essential to the Marlins efforts to remain competitive in 2024 and continue to build forward.
Overhauling the scouting and player development infrastructure is important and something no fan is going to be against.
That said, a trip to the playoffs followed by another poor Marlins season would be a tough blow to any sort of momentum the franchise was able to create, especially with the optics of Kim Ng's surprising departure after the team's first successful full season in two decades.
Bendix and the Marlins new front office don't quite need to be perfect this offseason, but they need to be pretty close to it if the team is going to recapture 2023's success.