News
The Canadian Baseball Hall of Fame Adds Four New Members
This weekend, the Canadian Baseball Hall of Fame is adding four new members to its hallowed halls, including 2018 inductee Pedro Martinez.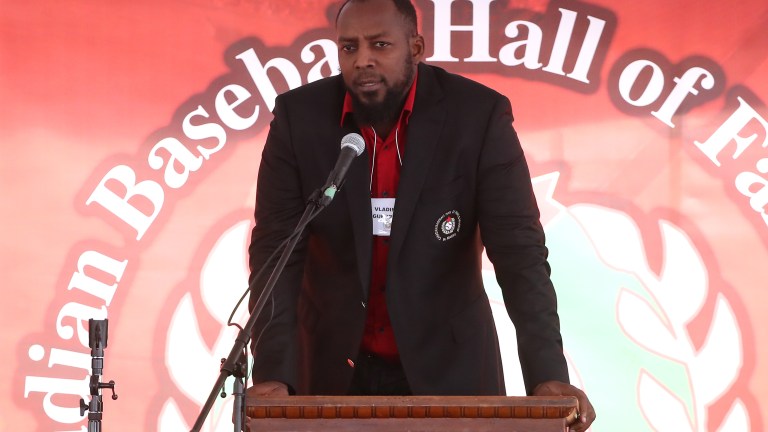 Based in St Marys, Ontario, the Canadian Baseball Hall of Fame has been around since late 1982, when it was founded as a way to commemorate and celebrate Canadian baseball achievements.
Inductees range from players who were born within the country and contributed at the international level as well as in the MLB or were keystone parts of either the Toronto Blue Jays or Montreal Expos (back when they were an MLB team).
The CBHOF also includes a museum, which was opened in 1988 and houses various memorabilia, from personal inductees items, to other notable moments that have shaped Canadian baseball history. This includes bats created in Canada all the way to jerseys worn by Canadian-born MLB players. This site also includes multiple baseball diamonds and various trails around the area that see lots of traffic throughout the year.
I personally have not had the opportunity yet to visit the CBHOF and museum, but have heard from many who have that it is a must-see if you are ever out towards the Kitchener/London area.   
Later today, four new members will be inducted into the Canadian Baseball Hall of Fame: Pedro Martinez (2018), Duane Ward (2020), Justin Morneau (2020), and Jeff Francis (2022). This is the first ceremony to be held in a couple of years due to COVID-19.
Pedro Martinez joins the Hall of Fame
A member of the 2018 induction class, right-hander Pedro Martinez will be in Ontario to officially be inducted into the Hall of Fame, as he was unable to make the 2018 ceremony. Already a member of Cooperstown, the three-time Cy Young Award winner enters the Canadian Baseball Hall of Fame because of his storied career with the Montreal Expos, which spanned four seasons from 1994 to 1997.
During this time, Martinez authored a 3.06 ERA through 118 appearances and his work in the 1997 campaign, in which he led the league in ERA, WHIP, and complete games earned him his second All-Star appearance as well as his first Cy Young award. He would be traded to the Boston Red Sox following the 1997 season and the Expos left for Washington following the 2004 season.
Celebrating a British Columbia born Morneau
A 14-year veteran of the Major Leagues, New Westminster's Justin Morneau enters the Canadian Baseball Hall of Fame as a member of the 2020 class. A third-round pick of the Minnesota Twins back in 1999, Morneau is mostly remembered for his 11-year career manning first base for the Twins organization. He also suited up for Canada in various World Baseball Classic tournaments, up until 2017.
During that time, Morneau earned the AL MVP award in 2005 as well as four All-Star appearances, two Silver Slugger awards, and won the 2008 home run derby. He sits fourth in Twins history when it comes to home runs (221), 4th in SLG (.446), and 10th in RBI (860).
A concussion in 2010 really hampered his ability on the field, with lingering side effects impacting his ability to be an everyday player.
After another four years of playing for various teams and winning the batting title with the Pittsburgh Pirates in 2014, Morneau officially retired following the 2016 campaign.
The Hall of Fame adds a Blue Jays reliever
Although he began his career with the Atlanta Braves, Duane Ward found himself in Toronto early in his career and turned it into a nine-season affair that earned him two World Series rings and a spot on many internal Blue Jays pitching leaderboards.
The New Mexico product finished his Jays career with a 3.18 ERA through 452 appearances, earning 121 saves and was considered one of the best 1-2 punches at the back-end of a ballgame with Tom Henke before he was traded away following the 1992 campaign and Ward became the de-facto closer.
Amongst the Jays leaderboards, Ward sits second in saves (121), games played, and ERA while also slotting in at third for K/9 (9.28) and 10th in strikeouts (671). After a prestigious career with the Jays, the Canadian Baseball Hall of Fame inducted Duane Ward as a member of the 2020 class.
Hall of Fame adds a Canadian southpaw
Ranking as one of the highest draft picks in Canadian history at ninth overall, left-hander Jeff Francis sees his name called to the Canadian Baseball Hall of Fame as a member of the 2022 induction class.
The University of British Columbia product authored a career 4.97 ERA through six different organizations, most notably a six-year stint with the Colorado Rockies from 2004-2010 (he missed the 2009 season due to injury). He finished his career with 254 appearances (217 starts) and a 1.442 WHIP through 1291.0 innings at the big league level. He also suited up with Team Canada for the 2006 WBC and the 2015 Pan America Games, winning gold that year.
Francis would also spend his last season in the big leagues with the Blue Jays, making 14 relief appearances and sporting a 6.14 ERA in the process. He spent a majority of the season down in Triple-A and announced his retirement the following offseason.
The Festivities
The ceremony itself takes place at 1:00 pm EST with baseball games being played at the diamonds all day long. There will also be an autograph session following the ceremony which will have other Hall of Fame members and/or Canadian players present such as Fergie Jenkins and Lloyd Moseby.