List
The Just Baseball Staff's Top-5 Favorite Players of All Time
It's the most timeless question: who are your all-time favorites? The Just Baseball staff has some answers.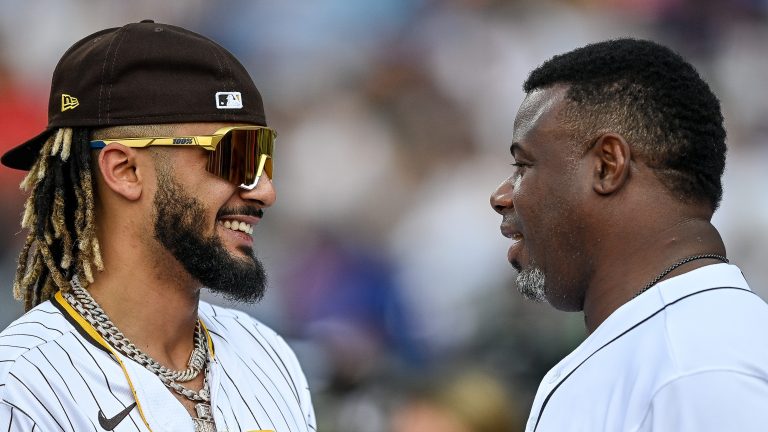 A few months ago, there was a tweet that joked about just how much of a jolly-good time guys have by simply naming old professional athletes. Ladies and gentlemen, I felt that. Who doesn't like chugging on some nostalgia fuel, ordering a couple of pizzas for you and your pals on the side, and spending a Friday night discussing some of your favorite icons? As far as I'm concerned, that's the real American Dream right there. It's especially fun, and timeless, to then try to boil down your favorite athletes into one ultimate, finite, list and that's what we're going to get into right now.
This is essentially going to be the equivalent of our previous collection that consisted of current players that are in our top-5, while this list will consist of our definitive all-timers. Below, you'll find blurbs from many members of the Just Baseball staff — even from our founder Aram Leighton, who didn't chicken out unlike how he did with our wager from months ago. Some players mentioned are classics, while some others might surprise you. Let's get into it!
Aram Leighton – Co-Founder and Executive Editor
Ken Griffey Jr.
Miguel Cabrera
Jose Fernandez
Dontrelle Willis
Chipper Jones
As I type this, Ken Griffey Jr.'s jersey sits above me on my wall. His swing, swag, and silky smooth range in the outfield had me memorized as a kid. A phenomenal career that could have been the best ever if it weren't for the injuries. There's nothing not to like about THE Kid.
Now in the 500 home run club, Miguel Cabrera is the only Triple Crown winner since Carl Yastrzemski in 1967, Miguel Cabrera sits with Albert Pujols as the greatest right-handed hitters of this generation. At 20-years-old, Miggy helped the Marlins to their second World Series title in 2003. His iconic at bat against Roger Clemens in the World Series tells you everything you need to know about his attitude at the plate. If you haven't seen it, goole it!
I truly think Jose Fernandez would've been one of the greatest pitchers to ever do it. I mean, he was just on a different level and those who played with him and faced him could attest to it. There's few pitchers who have been better through the first few seasons of their career…and he was improving. Absolute tragedy.
Dontrelle Willis is an icon. Yeah, I said icon. From the wild leg kick to the infectious smile, and ability to flat out rake, D-Train was a blast to watch on the field. Willis also helped the Marlins to a World Series title as a 21-year-old, and is the closest to a Cy Young award in franchise history, finishing a runner-up to Chris Carpenter. My favorite thing about D-Train is that he could've legitimately been a big league hitter. He slashed .244/.287/.378 for his career with 9 homers. In 2005, Willis posted an .856 OPS in 80 PA's!
Chipper Jones was an arch-nemesis of my favorite Marlins teams growing up, but I couldn't do anything other than admire him. As a switch-hitter myself, I would always gravitate towards big leaguers who did it well. Chipper's swing was so smooth from both sides, posting steady splits. The glove was strong, he was clutch, and went about his business the right way. A .303 career hitter with nearly 500 homers, Jones is second to only Mickey Mantle in my eyes as far as greatest switch hitters go.
Peter Appel – Co-Founder and Director of Content Strategy
Derek Jeter
Mariano Rivera
Mike Trout
Aaron Judge
Pedro Martinez
If you're that person who is on the "Derek Jeter is overrated" bandwagon, then you are the worst. He may not be the greatest shortstop ever, but to knock the guy because his advanced numbers aren't stellar is a clear sign you never watched him play or you were against him from the beginning. He's a five-time champ, and he's the baseball version of Tim Duncan. Stop it. Next, we have the greatest closer in the history of the planet who has one pitch sent from God. I got so much love for the current best player on the planet, can the Angels get him some help? I also love the behemoth in right field for the Yankees. Also, I know he was a Red Sox, but I think Pedro is one of, if not the, best pitcher of all time. My favorite games to watch remain those matchups between the Yankees and Red Sox.
Javier Reyes – Staff Writer
Brett Gardner
Hunter Pence
C.C. Sabathia
Roberto Clemente
Lou Gehrig
Look, I realize there are some oddball choices here, but unlike my previous selections these are almost entirely genuine. The biggest oddball, Brett Gardner, stems from being hellbent on being different from the rest of the kids I grew up with — most of which were mean and did their best to make me feel like a loser for DARING to like video games — who all loved guys like Derek Jeter and Alex Rodriguez, the obvious stars. Moreover, on the video game thing, Hunter Pence's openness about being a nerd and collaborating with some of my favorite creators on top of being an incredibly entertaining, and effective, player with seemingly non-stop energy makes him so lovable. There's Roberto Clemente, who I'm obligated to love given that he's the greatest Puerto Rican player of all time, but also because his absolute CANNON of an arm is impossible not to appreciate.
Then, there are two players that I'm especially sentimental about. When he was on the mound, C.C. Sabathia seemed to have the perfect balance between rage and serenity. He was a true workhorse that led the Yankees — back when I still considered myself part of the fandom — to their 2009 title but has also had a genuinely interesting post-career with things like the recent documentary, Under the Grapefruit Tree, and his incredibly entertaining podcast, R2C2.
Lastly, Lou Gehrig really needs no introduction for his accomplishments as a player. But what makes him one of my favorites is just how much of a stark contrast he was to teammate Babe Ruth's more decadent lifestyle. Then, somehow, he's a man that stands on a podium, fully aware of his terminal illness, saying how he considers himself the luckiest man on the face of the earth. It's just for that reason — that beautiful, but also devastatingly sad reason — that makes Gehrig special and a sentiment we should all try our best to learn from.
Honorable Mentions: Jackie Robinson
Jake Graziano – Associate Editor
Mariano Rivera
Gary Sheffield
Hideki Matsui
Michael Young
Vladimir Guerrero Sr.
Growing up as a Yankees fan in the mid-2000s, I was spoiled with a team loaded with likable players. However, no one was more easily admirable to me than Mariano Rivera. His consistency, clutch pitching, and calm demeanor were an honor to witness. He's the reason relievers are still my favorite position group to this day. Sticking with that same group, Gary Sheffield is my favorite position player of all time. Who didn't love that batting stance? Honestly, I don't know how he did it, but it was fun as hell to watch. Going from a player with a ton of movement in his stance to one with next to none, No. 3 on my list is Hideki Matsui. Like Rivera, Matsui just kind of went about his business quietly and always seemed to get the job done. His greatest moment in pinstripes came in 2009 Fall Classic, as he won World Series MVP.
Moving ahead, I have the first non-Yankee on my list with Rangers legend Michael Young. For as long as I can remember, I've always loved versatile, underrated infielders. Young fit that perfectly, playing all four infield positions extensively in his career, while always being overshadowed by his bigger-named Texas teammates (Rodriguez, Teixeira, Hamilton, Kinsler, etc.). If there's one guy I would've loved to see play for the Yankees that never did, it's Michael Young. Finally, we have Vlad Guerrero Sr. I was first introduced to Vlad in the Angels 2005 ALDS victory over the Yankees. As an irrational seven-year-old, I hated the guy. However, as time went on, I grew to love watching him play. His long arms and swing-at-all-costs approach, coupled with his cannon in right field, were a treat.
Colby Olson – Director of Analytics/Fantasy Contributor
David Ortiz
Jose Fernandez
Derek Jeter
Pedro Martinez
Randy Johnson
Big Papi and Tom Brady have given me more happiness in my 22 years of life than almost anyone. Three World Series championships and six Super Bowl rings, and two exits from Boston later, number 34 and number 12 are still the most popular jerseys in Boston. I recommend anyone reading this stop what they are doing and go watch Jose Fernandez highlights on Youtube. If it weren't for tragedy, Fernandez had the potential to be one of the greatest pitchers of our generation. He played the game with amazing energy and a huge smile.
Derek Jeter is THE captain. He's the last of a dying breed of players that play for one team for an entire career. I wish I could describe the energy of old Yankee Stadium chanting Jeter's name, but that stadium too has come and gone. I have a big "45" sign in the background of my desk for a reason. Pedro is arguably the greatest pitcher ever and certainly has two of the greatest pitching seasons ever. I would do anything to have Baseball Savant data on Pedro Martinez. Randy Johnson might be the coolest pitcher I've ever seen. Standing almost a foot taller than Pedro at 6'10, imagine Anthony Davis on the mound.
Honorable Mention: Nick Swisher
Kendall McKee – Staff Writer
Pudge Rodriguez
Ken Griffey Jr.
Adrian Beltre
Vlad Sr.
Shohei Ohtani
As a Texas boy that was born in '92 you had to love Pudge Rodriguez. It was like against all humanity if pudge wasn't your favorite player growing up. So of course I was a catcher in little league and I always wore number 7. Another great thing about growing up in the early 90's was The Kid. Griffey was an absolutely incredible addition for Major League Baseball and they marketed the heck out of it.
The Kid was everything I wanted to be when I grew up, he couldn't stop hitting dingers, he was incredible in the field, and I always wanted to show the old-timers that wearing your hat backward was cool. Griffey is a close second for me but only because I grew up in Texas. If I had been anywhere else, Griffey would have been my number one. (my dog's name is now Griffey)
My number three is Adrian Beltre and why not! I loved his energy and how fun he made the game. Adrian turned me into a Rangers believer again and the bromance between him and Elvis made every day fun to watch. I will never forget the day he got ejected for moving the on-deck circle. HOF guy for sure and so so nice.
Number four also had more fun than anyone else on the field. Can you see a trend here? I love guys who were fun to watch and never took themselves to seriously. Vladdy was iconic for me. I loved how he would swing at everything and homer balls off the dirt. He was one of my favorites before he came to Texas but that move cemented him in my top 5 of all time. My number five may be someone currently playing, but nonetheless, Shohei is still by far my favorite player to watch now. I find myself often wanting to watch Ohtani more than the Rangers, but please don't tell anyone that.
Dusty Baker – Staff Writer
Sandy Koufax
Clayton Kershaw
Jackie Robinson
Adrian Beltre
Dusty Baker
Sandy Koufax is one of the greatest pitchers to ever toe the rubber. Growing up, I heard stories of Sandy and his complete dominance, making me even more appreciative of the greatest pitcher I have seen in my lifetime, Clayton Kershaw. I had the chance to interview Clayton while he was speaking at an event at TCU. He took the time to talk to a clearly nervous college reporter and showed just what it means to be a legend on and off of the field. Seeing him secure his first World Series ring in person was nothing short of a dream last October. Jackie Robinson is an obvious pick for me on this list as well, from his Hall of Fame success he had on the field to the battle he faced every day off of the field, he is one one of the most influential humans the world has seen.
Adrian Beltre is another former Dodger, however, my appreciation for him comes from his time as a Texas Ranger. From covering him daily to speaking with him after locker room press pools faded away, the man knows the game and knows how to be a great teammate and human being. I deeply respect Beltre and can't wait to see him inducted into the Hall of Fame. The final one is obvious, Dusty Baker has had a massive influence on me as he does on his players and former teammates. I've seen him since I was a kid and to see him continue to be an impact in the baseball community is a blessing for us all, even if it is with the Astros.
Ryan Miller – Intern Boy
A.J. Burnett
Roberto Clemente
Ted Williams
Neil Walker
Honus Wagner
I'm a big history guy, so for many of these players, I have only heard about them. AJ Burnett is my favorite because of his presence on the mound and fiery attitude. As a Pirates fan, Neil Walker helped the team greatly from 2013-2015. Growing up as a Pirates fan, Roberto Clemente has always been talked about as a Pittsburgh legends. He is my dad's favorite player, and after visiting the Roberto Clemente Museum in Pittsburgh, he turned into one of mine.
Ted Williams' story really fascinated me, going from an American Hero on the diamond to an American Hero overseas. From what I have seen, Ted Williams is what every young American wanted to be. Aside from being a role model for young kids, he was one of the best baseball players ever. Honus Wagner directly competes with Roberto Clemente for the best Pirate ever. He holds so many records, along with being a very interesting story. As you could see, I am a Pirates Fan.
Jack McMullen – Co-Host of the Just Baseball Show
Mark Buehrle
Chris Sale
Ichiro Suzuki
Jon Lester
Tim Anderson
I don't think anybody could match my infatuation with Mark Buehrle over the course of his career. At his peak, he was 88mph with his fastball as part of a five-pitch mix. Fastball, Sinker, Cutter, Changeup, Curveball, and nobody had a single clue what was coming at any moment. HE MADE AN ALL-STAR TEAM AT 35 YEARS OLD WITH A FASTBALL THAT WAS SITTING AT 84. That's greatness, personified.
As for Chris Sale, I want to take everyone back to a game on July 6, 2015. The White Sox were hosting a 36-year-old Mark Buehrle on a Monday night at U.S. Cellular Field. Both Sale and Buehrle threw complete games. The White Sox won, 4-2, in ONE HOUR AND 54 MINUTES. It was the most fun I've ever had watching a baseball game, hands-down. Sale is lightning in a bottle, and we're lucky to have this psycho on the mound in our lifetime.
Ichiro was a trend-breaker. Bulging forearms are overrated; supreme bat-to-ball skills will always be the hottest thing in baseball. Jon Lester was the most fundamentally sound, aesthetically-pleasing pitcher I've ever watched. And, TA is changing the game. Simple as that.
Ryan Finkelstein – Managing Editor
David Wright
Jacob deGrom
Mike Piazza
Cliff Floyd
Daniel Murphy
Surprise, surprise, the guy who writes and has a podcast about the Mets has a list full of guys who wore the blue and orange. What can I say, once a fan, always a fan.
David Wright has to be No. 1 for me because his prime was right in the middle of my childhood when I was really becoming obsessed with the game of baseball. My Dad and Mike Piazza are the first two things that made me a Mets fan, but Wright made that fandom a life sentence.
Wright debuted in 2004, right before my first season playing travel baseball, when I was able to pick a number for the first time. No doubt which number I was taking then, and No. 5 has been my number of choice ever since. Jacob deGrom's excellence may one day push Wright off my personal mountaintop, but probably not until I really reflect on his career when he gets to Cooperstown.
Now the interesting thing about Cliff Floyd for me is that I was actually a fan of him as a Marlin. Growing up in South Florida, I met Cliff multiple times at baseball camps and fan fests as a kid and he was always the best. Then he ends up on my favorite team. As for Murph, he brought this tortured fan the most joy I've ever had watching the Mets with one miraculous month in October.
Ben Bilotti – Staff Writer
Dustin Pedroia
Time Lincecum
Ken Griffey Jr.
Buster Posey
Yadier Molina
Growing up in New England, I was a huge Red Sox fan. As I grew older, I fell in love with the game and became more of a baseball lover. Being a self-proclaimed Short King and a New England Native, I loved Dustin Pedroia. One of his quotes has stuck with me for as long as I can remember, "People always ask me if I wish I were bigger. I tell them no. I always wanted to be a miniature badass." In my mind, no one will ever play harder than Dustin Pedroia. He gave his life to the game of baseball.
The Giant's even-year championship run was at the peak of my childhood, so naturally, I fell in love with The Freak (he can also be classified as a Short King when it comes to pitchers). His wild twisty pitching motion caught my eye. I also loved his ESPN commercial that included all of his many nicknames. Lincecum was so fun to watch, and he was also my dad's favorite player at the time so that helped. As for the Kid, if Griffey Jr. isn't one of your favorite players of all time I think you might be crazy. He has the sweetest swing I've ever witnessed.
My first ever professional baseball game was a game between the Boston Red Sox and Seattle Mariners. It was 2009 and I got to see the Kid and Ichiro in the same game. The Red Sox lost 7-6, but I didn't care, I got to see my idol, Dustin Pedroia, and two of the coolest players to ever walk the earth in Griffey and Ichiro.
Buster Posey and Yadier Molina are easy favorites for me. After transitioning from second base to catcher early in my playing days, I fell in love with the cathing position. I became all things catching and when you are all things catching you have no choice but to love the two best to ever do it. Being a lover of defense first and formost, watching these two defensive wizards was a treat.
Clay Snowden – Staff Writer
Ichiro Suzuki
Ken Griffey Jr.
Greg Maddux
Adam Dunn
Randy Johnson
Ichiro was so blissful. As a kid, I loved watching that funky swing. Spraying balls and speed. Hell yeah. That arm from the right was special. Griffey, maybe the purest swing of all time. I could watch his highlights all day. Coming to Cincinnati, as a Reds fan, was the cherry on top. Adam Dunn was before his time. Home run, walk, strike out. Perfect 2021 player. Seeing him hit bombs during a time where there wasn't much going for the reds made him a fan favorite. Maddux was an artist. Painting corners, just smarter than most players. Watching his craft was always fun. Randy, well, he was a badass. Just didn't care if you knew what was coming, he'd blow it past you. That man was a different level of competitor.