News
Canadian Baseball Hall of Fame Announces Class of 2023
Earlier this week, the Canadian Baseball Hall of Fame announced that four new members will be inducted as the class of 2023.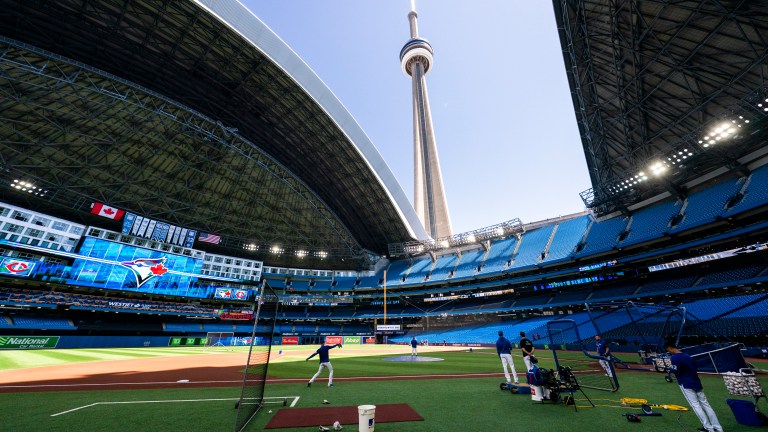 Earlier this week, the Canadian Baseball Hall of Fame announced the members of the 2023 class: Jesse Barfield, Denis Boucher, Rich Harden, and Joe Wiwchar. The induction ceremony will take place on June 17th.
To be nominated for the CBHOF, one must either be Canadian or have contributed to baseball within Canada, whether on the field, or as an umpire, executive, or person of significance. The nominee must receive 75% of the vote from the 24-person selection committee to qualify.
Let's take a closer look at the nominees and their contributions to baseball in Canada.
Jesse Barfield – Toronto Blue Jays Outfielder
Born in Joliet, Illinois, Jesse Barfield was drafted in the ninth round of the 1977 MLB Amateur Draft by the Toronto Blue Jays in their inaugural season as an organization.
Barfield later made his MLB debut in 1981, playing in 25 games and collecting his first home run and four stolen bases. Through nine years with the Jays, Barfield appeared in 1032 games and authored a .265/.334/.483 slash line with 179 home runs, 527 RBI, and a .817 OPS. In 1986, the righty batter was named to the All-Star squad and also won a Gold Glove and Silver Slugger Award, leading the major leagues in home runs (40). He would add another Gold Glove Award in the following campaign.
Defensively, Barfield spent the majority of his time in right field, forming a trio with Lloyd Moseby and George Bell (who are also in the CBHOF) for a good part of the 1980s. Blessed with an outstanding arm, he amassed 162 assists to the tune of a .980 fielding percentage through 12 seasons. In 1989, the Jays traded Barfield to the Yankees in exchange for Al Leiter.
Following his playing days, Barfield also spent the 2007 and 2008 seasons as the color commentator for Jays games with the CBC. Overall, Barfield sits on numerous franchise leaderboards for the Blue Jays, ranking fourth in bWAR (29.5), seventh in home runs (179), and ninth in RBI and total bases (1672).
Denis Boucher – Canadian Pitcher and Pitching Coach
A product of Montreal, Quebec, left-hander Denis Boucher began his pro baseball career with the Blue Jays in 1988 down in Myrtle Beach. He would later make his MLB debut in 1991, starting seven games and posting a 4.58 ERA through 35.1 innings. Boucher would finish the year in Cleveland and would last one more season there before making the move to the Montreal Expos for the 1993 and 1994 campaigns.
Boucher has an extensive history with Baseball Canada, serving as the pitching coach since 2003, participating in multiple summer Olympics, the 2011 and 2015 Pan Am games, and all four World Baseball Classic tournaments, with the fifth one coming up later next month.
Rich Harden – Canadian Starting Pitcher
Born in Victoria, British Columbia, Rich Harden was originally drafted by the Seattle Mariners in the 38th round of the 1999 MLB Draft but did not sign, deciding to attend Central Arizona College where he improved his draft stock. He would later be selected by the Oakland Athletics a year later in the 17th round.
He would work his way through the Minor Leagues and later made his debut in 2003. He made 13 starts (15 appearances) in his rookie year, authoring a 4.46 ERA across 74.2 innings with an 8.1 K/9. Overall, Harden would spend nine years in MLB including stints with the Chicago Cubs and the Texas Rangers before one last season with the A's in 2011. He would finish with a 3.76 ERA through 928.1 innings with a 1.296 WHIP, a 3.95 FIP, and a 9.2 K/9.
Harden's 949 strikeouts and 17.9 WAR ranks sixth all-time amongst Canadian pitchers. He likely could have added more to his impressive resume had shoulder surgery not derailed his 2012 season. He signed a minor league deal with the Twins for the 2013 season but was released midway through the year and retired shortly after.
Joe Wiwchar – Manitoba Baseball Coach and Executive
Rounding out the list of inductees is Joe Wiwchar, a coach and baseball executive within the province of Manitoba who made contributions at both the provincial and national level by serving on various committees.
At 87 years old, Wiwchar has spent over 50 years in Baseball Canada, earning Baseball Canada's Volunteer of the Year Award. He also served as the president of the Manitoba Baseball Association in 1976 & 1977 and the administrative manager at the Manitoba Baseball Hall of Fame Museum for over 24 years (1998 to 2022). The former coach and executive has already been inducted into the Manitoba Baseball Hall of Fame and the Manitoba Sports Hall of Fame.
Congratulations to these four individuals who helped shaped baseball in Canada for the better!