Analysis
Bryce Miller and Bryan Woo Saved the Mariners Season
In year one, these rookie arms have more than held up their end of the bargain, keeping the Mariners afloat in the AL West.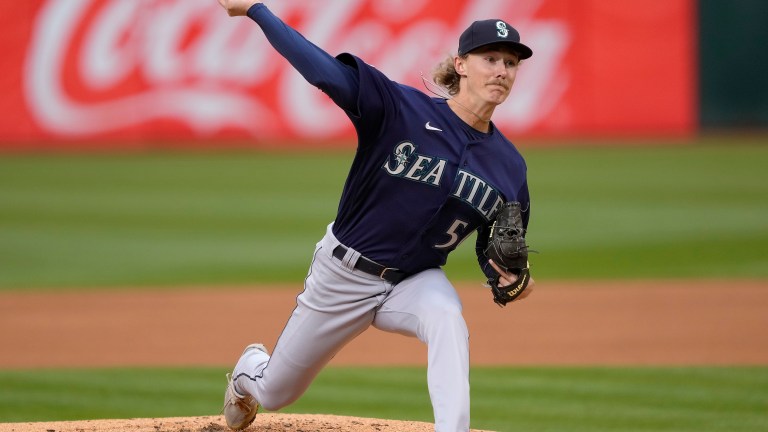 When Robbie Ray exited his inaugural start after 3.1 innings with five walks, most shrugged and expected him to bounce back five games later despite an uninspiring performance.
When it was announced he would hit the IL with a left flexor strain, the Mariners appeared to be in need of a temporary patch to the rotation's wound.
But once it was discovered a few weeks later that Ray would need to undergo Tommy John surgery, the wound turned permanent. The Mariners were in need of a replacement.
Similarly, when it was announced in early June that Marco Gonzales would miss time with a forearm strain, Seattle was in need of yet another long-term reinforcement. While it didn't result in Tommy John surgery, the injury did end up sidelining him for the remainder of the year.
Many teams don't recover from losing two starting pitchers for the season, especially clubs that have hefty postseason aspirations and rely heavily on their rotation the way that the Mariners do.
But Scott Servais' squad has not just absorbed the blows. They have deflected them right back into the faces of their opponents. Once rookies Bryce Miller and Bryan Woo settled into their big league roles, they proved to be legit assets. One could argue that the two have been upgrades over Ray and Gonzales.
In fact, they have saved the Mariners season. Despite a couple of rough starts this weekend in Texas, the team would be nowhere close to the level of success they have had without these two.
Bryce Miller
Miller has not been perfect, similar to any rookie arm. But he shot out of the gate like a rocket with a 1.15 ERA through his first five starts, and that fastball has carried him through his first year in the show.
Used nearly 60% of the time, his mid-90s heater has caused hitters fits for much of 2023. It features almost 20 inches of induced vertical break (or "rise," in other words), which is in elite territory, and he commands it on both sides of the plate at an extremely high level.
Miller is averaging just 1.7 BB/9, ranking first among rookies and eighth in all of baseball among pitchers that have tallied at least 100 innings of work (by the way, his Mariners teammates George Kirby and Logan Gilbert rank first and seventh in BB/9, respectively). He also sits ninth in baseball with a 4.8% walk rate.
So, you get the picture – he can command his heater. He has also shown the ability to get his share of swing and miss on the pitch.
While the whiffs do not always show up for Miller, especially as of late, the potential has been loudly on display in spurts throughout the year.
In his debut, he generated 11 whiffs on his heater and 13 total. That is not a gargantuan number, and he was facing the A's in front of arguably fewer than 1,000 fans in Oakland (when seeing shots of the crowd, I don't buy one bit that there was a true attendance of 2,583 that night). Still, it is not insignificant and certainly pops.
His swing-and-miss stuff was at its best the night of June 30 against the Rays. You would never know it by looking at the final score of the contest (15-4 Tampa) or the fact that Miller lasted just 3.1 innings due to a blister. But he corralled 18 whiffs on the fastball that night (19 total) in a tight window of time. Had he been stretched out to six frames that night, he almost certainly would have surpassed 30, which almost never happens, period.
When it's on, that fastball has life.
There are pitchers in the show who thrive long-term off of high fastball usage (see Spencer Strider). But one of the reasons Miller has started to get hit much harder as of late is because he really only uses two pitches, pairing his heater with a slider (that has been effective, to be fair, with a +3 run value and opponents hitting .209 against it).
Miller began his time in the big leagues using two different sliders. The hard gyro slider (which he still uses now) and the sweeper, which he seems to have ditched. Now, hitters can gear up for the fastball with the possibility of seeing just one other pitch spin across the zone. 
Alas, he could benefit from the addition of a third pitch to his arsenal. This is not something that will happen overnight (it will most certainly be an offseason project), but it will be imperative that Miller continues to build on what has been a sturdy, 2-fWAR rookie season.
Judging by the pitches he currently holds, a splitter would make a lot of sense for Miller; Gilbert and Kirby just added said pitch to their own repertoires last winter. It would give Miller a different style to attack hitters, something with bite to complement the heat and spin.
But more of that for another time. Even as Miller climbs up close to a career-high in innings (he is at 127.1 right now and tossed 133.2 in the minors a season ago), he has gone into bulldog mode and stays competitive in outings, even when his best stuff isn't there. A week and a half ago, he went 5.1 shutout innings against the Dodgers (despite just five whiffs).
And that is on top of everything else he has already added to his resume in year one. What Miller has done for the Mariners this year has been invaluable.
Bryan Woo
Woo is mesmerizing. While he does not have the pinpoint command that Miller does, he also finds much of his success from the stems of a brick-heavy fastball within a four-pitch mix. And his overall stuff? The upside is flat-out ridiculous.
Woo's fastball possesses a run value that sits in the 80th percentile of the league (per Baseball Savant). With an xBA of .195 against his four-seam this season, Woo has shown what makes it so spectacular: the release point from which he lets it fly. He releases the ball marginally lower than the league-average pitcher, creating deception for any opponent. With above-average rise as well, his fastball is an absolute menace for opposing hitters.
His four-seam fastball and sinker have been the bread and butter of his arsenal in his rookie year, and his cutter is no slouch, either (opponents have managed just a .286 wOBA against the pitch).
Woo had a forgetful debut and a disheartening outing on Sunday, both taking place at Globe Life Field against the Rangers. But when you take the 15 starts sandwiched between the two aforementioned outings, Woo has flexed a 3.32 ERA and a 1.09 WHIP, highlighted by a 1.69 ERA in the month of August.
Not to mention the fact that Woo is already well over his career high in innings for a season. This is a guy that threw under 70 total innings in college across three seasons at Cal Poly. Due to undergoing Tommy John surgery before he was drafted in 2021, he hurled just 57 innings in 2022.
This year? Woo is at 128 innings between Double-A Arkansas and the show. He has been worked. It is no surprise that his fastball velocity started to dip a little bit in early September (though it has picked back up as of late). He is in completely uncharted waters. And that's with the Mariners managing his workload very carefully throughout the year.
And throughout all of this, he has done good work limiting hard contact. Woo ranks in the 85th percentile in HardHit%, 78th percentile in xERA, 82nd percentile in average exit velocity, and 75th percentile in barrel rate.
Woo can certainly continue to sharpen his control and command going forward to limit what is currently a walk rate that sits at 7.9%. And working deeper into starts will also be a key, as he has reached six innings in just five starts this year and never anything further (although some of that is due to his rookie limitations, and deeper outings will come with time).
But the raw stuff is special. And truthfully, some of it has the chance to take yet another step forward once he further unlocks his slider and changeup that both have the potential to be plus pitches.
Woo has been such a shot in the arm for the Mariners after the injury to Gonzales. And moving forward? He has true frontline starter potential.
Final Thoughts
How is this for organizational pitching depth? Entering next season, the Mariners will be eight starters deep in their rotation: Luis Castillo, Kirby, Gilbert, Miller, Woo, Emerson Hancock (who made three big league starts and then wound up on the IL with a shoulder injury), plus the returns of Ray and Gonzales.
There is no franchise that comes close to mirroring this right now. This depth could lead to some interesting decisions for Seattle long term, regarding what to do with all of these arms and if the team might be forced to trade at least one.
But that shouldn't involve Miller or Woo. They have proven to be staples in a very young and fearsome rotation that will stay together for a very long time. And both have so much room to continue getting better, which is what makes what they are doing that much more exciting.
In year one, they have more than held up their end of the bargain. They have kept the Mariners afloat.