Analysis
Where Do the Mariners Turn With Robbie Ray Out for the Year?
Former AL Cy Young Robbie Ray will miss the rest of the 2023 season recovering from surgery. Who can the Mariners turn to as a replacement?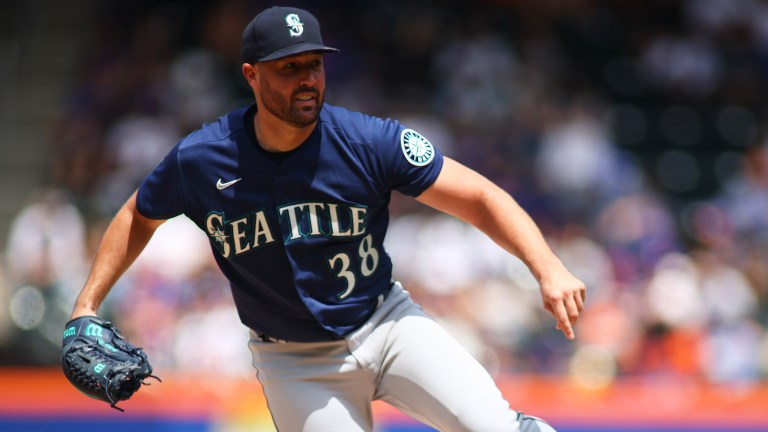 The Mariners received some gut-wrenching news on Wednesday afternoon. What was originally expected to be an IL stint of a few weeks has turned into a season-ending injury for Robbie Ray.
Ray will undergo surgery to repair his left flexor tendon, causing him to miss the remainder of the 2023 season. Aside from Tommy John surgery, this is just about the worst-case scenario for Ray. Seattle was planning to lean on the core four in their starting rotation, a core four that was expected to have similar strength to the guy you envy at your local LA Fitness.
But the Mariners can't afford to sulk and dwell on the loss. They will now be forced to reassess their rotation moving forward, with some decisions to make about who is the best candidate to fill the void. There are a few different routes they can take.
In-House Options
The most straightforward in-house option would involve sticking with right-hander Chris Flexen, who has been a cog in the rotation since 2021, and who the Mariners have leaned on heavily so far in 2023 due to the absence of Ray.
But Flexen has simply not been the same guy this season as in 2021 and 2022 when he posted sub-four ERAs. Not even close.
Through five appearances (four of them starts), Flexen has an 8.86 ERA, 6.61 xERA, 6.62 FIP and 5.42 xFIP. He has never punched out many hitters and often defied his underlying stats by simply "getting outs." This year, the underlying numbers are catching up with him. He ranks in the fourth percentile in xBA and the ninth percentile in xOBP, and his fastball has been pulverized so far (+6 Run Value per Baseball Savant).
There are reasons to believe Flexen can improve upon the results from his first month. Thus far, his HR/FB (home run to fly ball ratio) sits at 21%, which is enormously high. One of nearly every five fly balls is leaving the yard. That shouldn't continue much longer. He also has just about the best barrel rate of his career at 6.5% (ranking in the 61st percentile). Along with that, his chase rate is well above his career norm at 31.9% (ranking in the 78th percentile).
How long the Mariners leave Flexen in the rotation is yet to be determined. But with signs pointing to the possibility of a turnaround, don't bank on the club quickly yanking him just because his ERA has been suboptimal so far.
Options on the Farm
The Mariners farm system still has some shiny-armored troops waiting in the wings, with a conglomerate residing in Double-A Arkansas. The group is led by Bryce Miller, the team's top pitching prospect (ranked No. 70 on Just Baseball's Top 100 Prospects list). Emerson Hancock has looked razor-sharp in three of his four outings, and Bryan Woo holds a 2.25 ERA and a sub-one WHIP through his first three trips up on the hill.
You can also throw Prelander Berroa into this mix, but his profile is more likely suited to the bullpen long-term than the rotation.
However, this may not be Seattle's answer for the loss of Ray. Miller, more likely than not, will debut at some point in 2023. But he has had a few bumps in the road to begin his campaign (6.41 ERA, 1.32 WHIP through four starts). Hancock needs to prove he can remain on the field and fully healthy after missing portions of both 2021 and 2022, in addition to his velocity trending down in both of those years from where it was when he was drafted No. 6 overall out of Georgia in 2020. And Woo, promising as he looks, has tossed just shy of 70 professional innings (he received Tommy John surgery a few months before the 2021 draft).
Rushing prospects to the show to fill a need is not wise roster building. And the Mariners know that.
Possible Acquisitions
Jerry Dipoto did say that the team would "do something a little more creative" to augment their rotation, which makes it sound like they could look outside of the organization to fill the void.
But who could it be?
The Mariners will have to search through teams with non-competitive rosters that might be willing to ship over an arm with a shorter-term contract.
There are a few intriguing options out there that Dipoto could very well check in on.
How fast will the White Sox throw in the towel on their season? They are 7-20, fans are in disarray, and the sense around the team these days is anything but positive.
Lucas Giolito and Lance Lynn each have one year remaining on their contracts before they hit free agency (although there is a club option in Lynn's contract for 2024). If the White Sox don't turn things around, and with no signs of extensions in sight for either pitcher, GM Rick Hahn would be smart to attempt to get some pieces back in return for them.
Lynn is not off to a hot start (7.52 ERA, 5.96 FIP,) but his track record is rock solid over his career. Plus, it's only been five starts, after all.
Giolito has been more ho-hum (4.15 ERA, 3.75 FIP), but his ceiling is that of a top 10-12 pitcher in the American League, something he proved to be true by finishing top-12 in Cy Young voting every year from 2019 to 2021.
If either of those two pitches to the level they are capable of, there could possibly be no drop-off from Ray for the Mariners if Dipoto were to pull the trigger on a trade.
German Marquez is another option. With one year left on his deal, he is set to enter free agency this winter, and the Rockies aren't in any position to win in the near future. Marquez has minimized free passes exceptionally well early on (90th percentile in walk rate). He has a 4.95 ERA, but his xERA (which is extremely important to look at for any Rockies pitcher) is a much more respectable 4.00 so far. His xERA has ranged between 4.00 and 4.50 in each of the last three seasons, making him a fairly prototypical No. 4 starter – the slot in the rotation Seattle is trying to replace.
All of that said, Marquez did just exit his last start early due to injury. The severity of his injury will affect the likelihood of this potential trade.
One final option could be potential future Hall of Famer Zack Greinke (coincidently enough, a good friend of Ray's). The quirky, reserved, Chipotle-hating veteran is certainly not the pitcher that he once was in his prime. Greinke's ERA sits at 6.10 this year, and he has a 5.86 xERA. However, his xFIP is a little lower at 4.34. Greinke would profile more as a No. 5 starter than anything else at this point. But he is reliable, makes his start every fifth day, is seldom injured, and has 113 innings of postseason experience under his belt, should the Mariners need it when October rolls around.
Wrapping Up
The Mariners didn't have a starting pitcher miss a single start in 2022. To replicate that would have been almost impossible. They were certainly prepared for someone to miss time at some point with an IL stint, but no team can prepare for a season-ending injury, especially when it involves such a valuable piece of the roster.
The good news is the Mariners do have some depth. If they absolutely have to stick with Flexen, they can. When Miller is ready, the upside for what he can bring to the table will reinvigorate everybody.
But the Mariners' goal in 2023 is to contend for a World Series. Trading for a proven, high-caliber arm would signal that. Although the team is sitting in fourth place in the AL West, they are still very serious about trying to win it all.