Analysis
The Mariners Are Finally Delivering On Their Preseason Promise
After a rough month of June, the Seattle Mariners have gotten hot and pulled within 1.5 games of Toronto for the final AL Wild Card spot.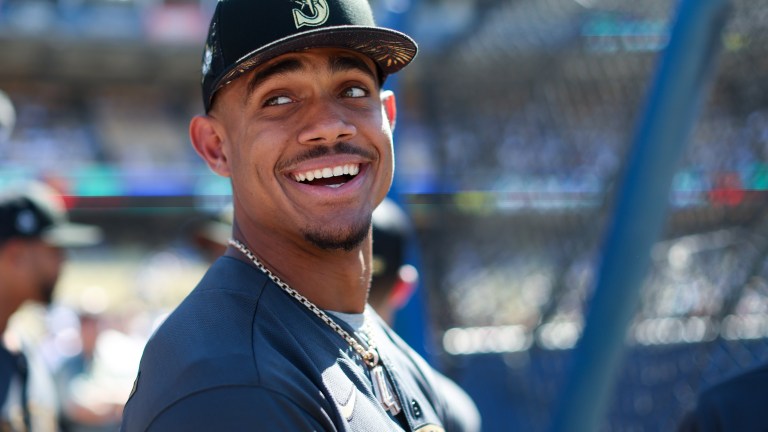 These are the Mariners we all expected.
They have arrived. And they are playing their best baseball of the year by far. 
Despite finally snapping an eight-game win streak this past weekend, the M's are on a 24-12 run. They have prevailed victorious in 13 of their last 17 games, all highlighted by the offense finally clicking the way that it was expected to.
The result? They are now just 1.5 games back of the Blue Jays for the final AL Wild Card spot while owning the tiebreaker over Toronto. Additionally, 16 of their next 19 games come against the Royals, White Sox, A's and Mets. It is all theirs for the taking.
Cal Raleigh
You're feasting your eyes on arguably the hottest hitter on earth right now. Since the All-Star break, Big Dumper is slashing .233/.327/.593/.920 with nine home runs and a 153 wRC+. It truly looks like he is seeing pitches like beach balls. After a sluggish first half that featured a 98 wRC+ from Raleigh, he has exploded in the first month of the second half. 
He is tied for second in the AL with 9 home runs in that time and has done so with far fewer plate appearances than the other three hitters he is tied with.
The Mariners catching tandem of Raleigh and Tom Murphy (who has had a phenomenal offensive season) now ranks second in home runs, wRC+, and slugging percentage, trailing only the Braves in those categories. Raleigh himself now ranks fifth among all qualified catchers in wRC+ at 112.
Similar to how Raleigh heated up in the second half of last season, this offense seems to motor with extra force when he is right. As a result, Seattle is 18-10 out of the All-Star break.
Julio Rodríguez
It has been discussed at length all season: "If Julio could just get going, it would ignite this entire team." 
It is no coincidence that Julio has had his hottest stretch while the Mariners are playing their best baseball of 2023.
Since July 1, Rodríguez has swatted six home runs to go along with an .838 OPS and a 134 wRC+. He is also striking out considerably less, with his K% all the way down to 23.2% in that time. It has brought his season K% down to 25.5% (last year he finished the year at 25.9%) after it had hovered around the 30% mark for a considerable time period. 
He seems to be seeing the ball much better these days. He is on time with fastballs more consistently and appears to be much more relaxed, wiping away the look of pressing at the plate that he had for much of May and June.
As a result, he is simply on base more often. Hitting .292 with a .351 on-base percentage since July 1, he is creating a surplus of opportunities for damage at the top of the lineup with J.P. Crawford (who is currently on a short seven-day IL stint with a concussion). And with players such as Raleigh now hot as well, the Mariners have capitalized on those opportunities as of late.
Not to mention, Rodríguez is playing the best outfield defense in the game. His 12 Outs Above Average rank first among all outfielders and tied for third in all of baseball, putting him on pace to win his first Gold Glove Award.
Pitching, Pitching and More Pitching
Look at the Mariners' current rotation: Luis Castillo, George Kirby, Logan Gilbert, Bryce Miller and Emerson Hancock, who just made his MLB debut. When Bryan Woo returns from his expected quick IL trip, the Mariners are pondering the idea of going to a six-man rotation with the aforementioned players to help manage the workloads of Woo, Miller and Hancock.
Not to mention that they also have Robbie Ray and Marco Gonzales in the fold, who are both out for the remainder of this season but are expected to return in 2024, with Gonzales making his way back a little bit before Ray.
That is eight starting pitchers that the team can rely on. And the best part? Aside from Gonzales, who is a free agent after 2024, the other seven aren't going anywhere anytime soon (with the assumption that Ray now won't opt out after 2024). Ray is under control through 2026, Castillo and Gilbert through 2027, Kirby through 2028, and the trio of Miller, Woo and Hancock through 2029.
How many other big league clubs can speak of anything close to that regarding their rotation?
And now, strictly talking about 2023, if Seattle finds their way into the dance, you would be hard-pressed to find a deadlier rotation that also features the level of depth that they have. It is not 2022 Astros level, but it is a similar idea with Miller and possibly Woo moving their way to the bullpen in that scenario.
The Mariners starting pitching is a top-five group in ERA, FIP, xFIP, and fWAR while holding the lowest collective BB/9 in baseball (2.05).
One can argue the bullpen is even better. Mariners relievers as a group rank first in xFIP, second in ERA, FIP, fWAR and K/9 while ranking fifth in HR/9. And this still holds after trading Paul Sewald to the Diamondbacks.
The likes of Andrés Muñoz and Matt Brash have been asked to do even more at the back end of the bullpen as a result, along with Justin Topa, Gabe Speier and Tayler Saucedo finding themselves in higher leverage roles more often as well. For the most part, they have been up to the challenge.
Final Thoughts
There are other pieces on offense heating up as well. Ty France has an .795 OPS and 133 wRC+ since July 20. Dylan Moore, despite playing just 30 games and getting off to a very slow start, has had a torrid last couple of weeks and has raised his wRC+ to 129 with five extra-base hits in his last seven games.
Eugenio Suárez is corralling a .771 OPS with a 118 wRC+ in the last two weeks. And Crawford, despite currently being on the IL, has been the team's most consistent hitter all season with a career-best 129 wRC+.
The last three weeks of the Mariners season will be a gauntlet, with three games against the Rays, three against the Dodgers, three against the Astros and seven against the Rangers. But if Seattle can capitalize on the latter half of their August schedule, secure themselves a Wild Card spot, and build a little bit of space between them and Toronto, they may be able to withstand the schedule at the end of the season.
And if they continue to play the way they have been playing as of late, they could very well keep their footing against the other AL powerhouses. After all, they have looked like one themselves these days. Even against the Orioles this past weekend, when Baltimore, record-wise the best team in the American League, squeaked out two extra-inning wins, the two teams looked pretty evenly matched.
The Mariners couldn't say all of that a month ago. Fast forward to now, they are in the thick of the playoff race and looking like a carbon copy of the team that everyone believed they would be.