Analysis
Alek Manoah Continues To Strengthen Early Cy Young Case
Blue Jays starter Alek Manoah continues to dominate this season, posting another scoreless outing against the Kansas City Royals earlier this week.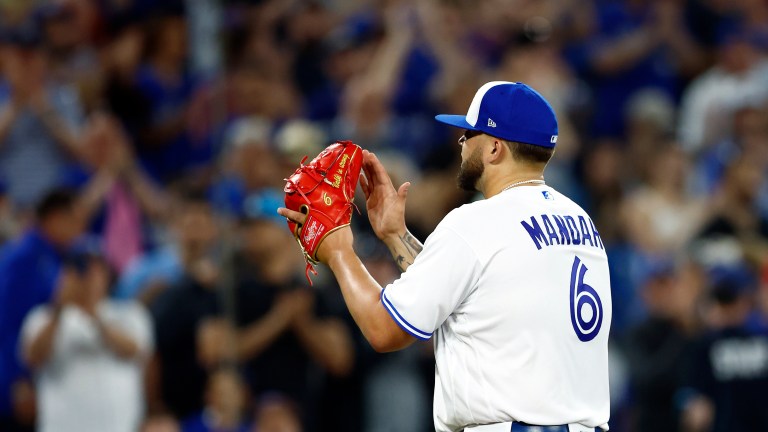 With the 11th pick in the 2019 MLB Draft, the Blue Jays selected right-hander Alek Manoah out of the University of West Virginia. At the time, the organization needed a top-tier pitching prospect to compliment Nate Pearson and Manoah fit the bill after a successful summer in the Cape Cod League and a fantastic Junior year with the Mountaineers.
Even after a lost season in 2020, due to the COVID pandemic, Manoah excelled at the professional level. He finished out the 2019 season in A-Ball with the Vancouver Canadians and joined the Buffalo Bisons in Triple-A last season. After three starts and just 35.0 total innings in the Blue Jays system, he was called up to the active roster in late May 2021.
What followed was a phenomenal season that saw the 6'6″ Florida product author a 3.22 ERA through 111.2 innings of work. He racked up 127 strikeouts to a 10.2 K/9, while crafting a 1.048 WHIP in the process.
While a bit wild, leading the league with 16 HPB and missing almost two months of the season, Manoah became one of the stalwarts of the Jays' rotation quite quickly. Had it not been for a late call-up, he would have been in the running for AL Rookie of the Year.
Fast forward to 2022, and things were a bit different heading into this campaign. Teams know who he is and as such, could develop strategic game plans to combat the Blue Jays starter on the mound. However, like the bulldog he is, Manoah continues to find ways to pitch well each and every day and is not showing any signs of slowing down in his sophomore campaign.
Through 11 starts this season, Manoah boasts a 7-1 record and has allowed just 14 earned runs through 69.2 innings. While his K/9 rate has dropped a bit compared to last season, the right-hander continues to find ways to pitch deep into ballgames and limit the damage. The strikeouts may have dropped but so have the walks, sporting a 1.7 BB/9 compared to last season's 3.2.
Blue Jays' Manoah and his advanced metrics
Looking at his statscast, a majority of Manoah's values sit in the upper 80 percentile, including xSLG (86th), xwOBA (87th), BB% (87th), xERA (87th), Barrel % (92nd), and Hard Hit % (97th). Essentially, opposing batters have trouble connecting on his pitches, which is evident by the opposing batters' .213 batting average.
His 1.81 ERA sits third in the AL and Manoah ranks just two innings behind Justin Verlander for the AL lead in innings pitched. Manoah's shortest outing this season was a five-inning affair back on May 8th and he has gone 6.0+ innings in every other start, limiting the damage to three runs or less. A true testament to not only his ability to pitch deep into games but to give the Blue Jays quality outings.
Looking at the various betting sites and rankings, Manoah has found himself entering the Cy Young Award conversation alongside teammate Kevin Gausman. While it is obviously early in the season, he could work his way into the finalist category if he can continue to stay healthy and post similar numbers, albeit a tall task through what would be his first full season in the Majors.
It is evident that the Blue Jays made the right choice with their first selection back in 2019 and Alek Manoah is quickly establishing himself as one of the top up-and-coming arms in all of Major League Baseball.